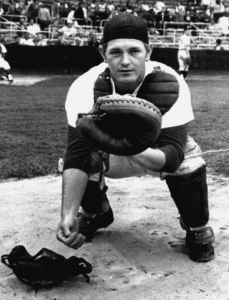 By CHUCKIE MAGGIO
When thousands of fans hopped the Silver Stadium railings and stormed the field to celebrate the Rochester Red Wings' Junior World Series title on Sept. 22, 1971, one of their heroes was absent from the fray.
Red Wings Most Valuable Player Bobby Grich was promoted to Baltimore three days prior, taking his .336 average, 32 home runs and 83 RBI with him. The Orioles originally planned to call Grich after the Junior World Series, but Mark Belanger's swollen kneecap left Baltimore without a regular shortstop for a few days and manager Earl Weaver was impatient.
"How do you spell Grich, anyway?" Weaver said, defending his decision to Democrat and Chronicle sportswriter Bob Matthews before Grich's debut. "He's starting at shortstop and he's going to bat second."
The Red Wings lost their shortstop but were not defined by any one player, even one as outstanding as Grich. The top four of the batting order combined for 10 hits in 18 at bats as Rochester pounded 16 hits in a 9-6 victory over Denver to clinch the series in six games.
"We'll never forget this," first baseman Larry Johnson remarked. "First the pennant, then the Governor's Cup, then the World Series."
Leadoff hitter Rich Coggins paced the Rochester offense, recording two of his four hits for doubles and scoring five runs. Pitcher Fred Beene drove in the game-tying run in the sixth inning and earned his second victory of the series after seven innings of work. Sam Parrilla and Johnny Oates each had three hits and an RBI double; Parrilla hit two doubles.
Beene pitched to two batters in the eighth after a perfect seventh but allowed a double and single and was relieved by Orlando Pena. Pena allowed the inherited run but otherwise threw two flawless innings.
Pena struck out pinch-hitter Lou Klimchock to end the game and commence the frenzy on the field. Police and ushers labored to deter fans from prying home plate loose from its moorings, digging up the mound and occupying the home dugout. "We want Beene! We want Beene!" they chanted, long after Beene and his teammates had sought refuge in the clubhouse.
In the clubhouse there was a champagne celebration. The 86-54 Red Wings had won it all in minor league baseball for the first time in 19 years.
"We were all great," Coggins said. "I knew we could do it."
Red Wings 9, Denver 6
Denver
AB
R
H
Rochester
AB
R
H
Mason ss
4
1
1
Coggins cf
5
5
4
Driscoll 3b
4
2
2
Baylor lf
5
1
2
Patterson lf
4
1
3
Parrilla rf
4
0
3
Shifflett p
0
0
0
Crowley 1b
4
0
1
Scheblum rf
4
0
1
Ferraro 3b
4
1
0
Grieve cf
4
0
1
Hutto 2b
4
0
0
Nen 1b
4
0
0
Oates c
4
1
3
Ragland 2b
4
0
1
Fazio ss
4
1
2
Klochock ph
1
0
0
Beene p
4
0
1
Janeski p
2
1
0
Castle ph
1
0
0
Total
34
6
9
Total
38
9
16
Denver
004 010 010 — 6
Rochester
201 013 11X — 9
Time: 2:31    Attendance: 9,043