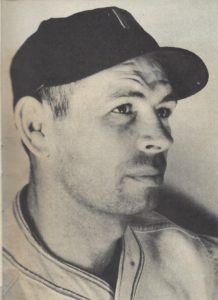 By PAUL GOTHAM
Don Miguel Ryba continued his dominance of International League hitters. The right-hander fashioned a three-hitter, and Billy Southworth's Rochester Red Wings dispatched of their thruway rivals Buffalo Bisons with a 5-o victory on this date in 1940.
Ryba improved to 24-7 for a Wings club which claimed the International League regular season pennant. He walked the first batter he faced then surrendered a single before retiring the next three batters. Ryba allowed a pair of hits in the fourth before escaping the jam and eventually retired the final 12 batters he faced.
Ray Mueller paced a 13-hit attack with a pair of triples as the Wings put single runs on the board in the third and fourth innings before posting a crooked number in the eighth to put the game away.
Ryba finished 2-for-4 at the plate including an RBI single in the third to give Rochester the only run needed for victory.
Ryba, then 37 years old, went on pitch six seasons in the majors all with the Boston Red Sox. He finished his career with a record of 52-34 including the 1944 campaign when he posted a 12-7 mark.
Rochester eventually lost to the Baltimore Orioles (then an affiliate of the Philadelphia Phillies) in the 1940 post-season.
Red Wings 5 Buffalo 0
Buffalo
AB
R
H
Rochester
AB
R
H
Mullin cf
5
0
0
Epps cf
5
0
1
Markland 2b
4
0
1
Redmond rf
4
0
0
Smith lf
4
0
1
Crespi ss
4
0
1
Pike rf
4
0
0
Davis 1b
4
1
2
Outlaw 3b
3
0
0
Cazen lf
3
2
1
Scarsella 1b
3
0
1
Kurowski 3b
3
1
2
McCullough c
3
0
0
Fallon 2b
4
0
2
Mulleavy ss
3
0
0
Mueller c
4
1
2
Cook p
2
0
0
Ryba p
4
0
2
Carnegie ph
1
0
0
Trexler p
0
0
0
Total
30
0
3
Total
35
5
13
Buffalo
000 000 000 — 0
Rochester
001 100 003 — 5
Time, 1:46