By CHUCKIE MAGGIO
Eldon John Repulski just didn't have the same ring to it, so the outfielder embraced the nickname "Rip," and Rochester baseball fans embraced Repulski in kind during his lone season here in 1952.
A second-inning home run to give the Red Wings a 2-0 lead in Game 4 of their 1952 International League semifinal series against Syracuse added to Repulski's popularity. The blast over the right field fence followed Ray Jablonski's single and provided an early lead for newcomer knuckleballer Al Papai.
The 33-year-old Papai, a wild card who joined Rochester just six days earlier and hadn't pitched in the International League in six years, retired the first nine batters he faced in a six-hitter. He earned the win as the Red Wings prevailed 5-2 to end Syracuse's season in a best-of-seven sweep on this day in 1952.
Knuckleball pitching can be as dependent on the weather as the arm; knowing how the cold weather affects the fluttery pitch, Papai opted to play in the hot Texas League earlier that season but returned to Rochester for the playoffs.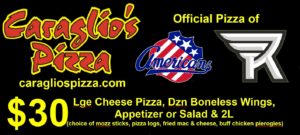 Papai and player-manager Harry "The Hat" Walker couldn't have received better conditions if they'd dialed up the weather themselves. The 7,284 spectators who filled Red Wing Stadium enjoyed the warm and humid night as their team encountered a tied situation, but never trailed.
The Chiefs found their offense in the fourth, when Andy Carey doubled with a man on first and Hank Workman cleared the bases with a two-run single to tie the game at two.
Rochester clung to a 3-2 error-aided lead until the seventh, when Jablonski hit a dramatic two-out two-run homer, his 20th of the season.


Chiefs starter Bobo Holloman won 16 games in the regular season but took two losses in the series. Papai hadn't pitched in a Red Wings uniform since 1948 but came back for just one night only, the series clincher. As a prominent radio broadcaster in New York likes to say, "That's baseball, Suzyn."
Red Wings 5, Chiefs 2
Syracuse
AB
R
H
BI
Rochester
AB
R
H
BI
Corbitt ss
4
1
1
0
Walker cf-lf
4
0
0
0
Pilarcik rf-cf
4
0
1
2
Richmond lf
4
0
1
0
Carey 3b
4
1
1
0
Riggan rf
4
0
0
0
Workman lf
4
0
1
0
Bucha c
4
0
1
1
Mole 1b
4
0
0
0
Bilko 1b
3
0
1
0
Drescher c
3
0
2
0
Kress 1b
0
1
0
0
O'Neal c
1
0
0
0
Jablonski 3b
4
2
2
2
Gillenwater cf
2
0
0
0
Repulski rf-cf
3
1
3
2
Zientara 2b
2
0
0
0
Ortiz 2b
4
0
0
0
Bell 2b
1
0
0
0
Lammers ss
4
0
1
0
Papai p
3
1
1
0
Totals
32
2
6
2
Totals
33
5
10
5
Syracuse
                                              0 0 0    2 0 0   0 0 0  – 2
Rochester
 
 
                                              0 2 0    0 1 0   2 0 X  – 5
Time- 1:50      Attendance- 7,284