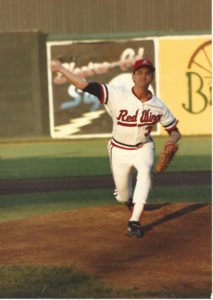 By JOHN LIKANJE
The Red Wings were the best team in the International League in 1990. Eight pitchers on the staff tallied at least five victories led by Dan Boone and Mickey Weston with 11 apiece. Three batters swatted double-digit home runs led by Leo Gomez with 26. This resulted in a league-high 89 wins.
The Wings matched up with the 87-win Columbus Clippers in the International League Finals. After the Wings raced out to a 2-0 series lead, the Clippers won back-to-back elimination games to force a winner-take-all Game 5 at Harold Cooper Stadium in Columbus, Ohio.
Despite being on the cusp of blowing this series, the Red Wings weren't deterred at all. They reminded the Clippers who the better team was with a 5-1 victory to win their league-record ninth Governors' Cup.
"Losing would have been hard to accept after winning two at our place," Red Wings manager Greg Biagini told the Democrat and Chronicle.

Joaquin Contreras, who legged out 10 doubles in 61 regular-season games, broke out of a 2-of-14 series slump with a two-run double. Juan Bell, who was second on the team in runs scored (59) and ninth in on-base percentage (.360), reached base three times and crossed the plate twice.
The bottom five batters in the Red Wings order combined for eight of the nine hits and scored all five runs.
"We flipped the order around because guys who were supposed to be on base weren't getting on base," Biagini explained. "They came through at the bottom. Maybe that took some pressure off them. When we needed it, they came through."
Weston, who pitched his sixth career minor league championship game, earned the win. The 6-foot-1 right-hander now sported a 3-0 record with a 1.88 earned run average in those starts.
"It might take a little bit of reflection to look back and see what we accomplished," Weston told the Democrat and Chronicle.