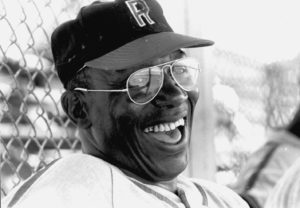 By PAUL GOTHAM
Gene Oliver erased a ninth-inning deficit. Ben Mateosky delivered a go-ahead hit one inning later, and the Rochester Red Wings avoided a third straight defeat with an 8-5 win over the Toronto Maple Leafs on this date in 1960.
Oliver's pinch hit home run in the ninth, his 15th of the season, knotted the game at five. Mateosky followed Oliver's lead with a pinch-hit, two-run single for the win.
Willard Schmidt picked up the win in relief. Schmidt struck out one over three-plus innings and improved to 11-5 on the season. Artie Kay retired the final two batters of the game for the save.

The Wings jumped to an early 4-0 lead before Toronto rallied. Jim King connected on a two-run home run to cut the deficit to two at 4-2. The Maple Leafs scored three in the seventh to take a 5-4 lead.
Jim Frey, who later managed the Kansas City Royals and Chicago Cubs, started the winning rally for the Wings with a double. Billy Harrell singled, and Jerry Buchek walked to set up Mateosky's heroics.
Buchek's base on balls agitated Maple Leafs' second baseman and future MLB hall-of-famer Sparky Anderson who was ejected after arguing the call. Anderson went on to coach Cincinnati's "Big Red Machine" to a pair of World Series titles in the 1970s and the Detroit Tigers to a WS title in the 80s.
Toronto tried to rally in the bottom of the 10th. King came to the plate with two aboard and one out. Kay came out of the bullpen to end the threat. With the win, Rochester maintained a two-game lead over Buffalo for third place in the International League.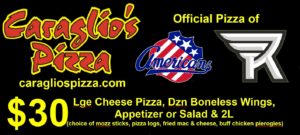 Luke Easter finished 3-for-4 with a double, triple an RBI and a run scored in the win.
Red Wings 8 Toronto 5
Rochester
AB
R
H
RBI
Charlotte
AB
R
H
RBI
Burton cf-1f
2
1
1
0
Waters cf-3b
5
1
1
1
Glenn cf
2
0
0
0
Anderson2b
4
0
0
0
Frey rf-lf
5
1
2
2
Shakles rf
1
0
0
0
Harrell 3b-1b
5
2
1
0
Tanner lf
5
0
2
1
Easter 1b
4
1
3
1
Hersh 1b
4
1
3
0
Buchek ss
0
1
0
0
King rf-cf
3
1
1
2
Wagner 1f
4
0
1
1
De'eter 3b-2b
4
0
1
0
Mateosky rf
1
0
1
2
Thompson c
4
0
1
0
Shannon 2b
5
0
1
0
Moran ss
4
1
1
0
Gotay ss-3b
3
0
0
0
Negray p
0
0
0
0
Oliver 1b
2
1
1
1
Scantlebury p
1
0
0
0
Connizzaro c
5
1
2
1
Dillard
1
0
0
0
Keegan p
2
0
0
0
Hawkins p
0
0
0
0
Schmidt p
3
0
1
0
Plews
1
1
1
0
Kay p
0
0
0
0
Heman p
0
0
0
0
Ridzik p
1
0
0
0
Total
43
8
14
8
Total
38
5
11
4
Rochester
220 000 001 3 — 8
Charlotte
020 000 300 — 5
2B – Burton, Frey 2, Hersh 3, Easter; 3B Easter; HR — King, Oliver
E — Frey; LOB Rochester 7, Toronto 6.
Pitcher
IP
H
R
ER
BB
SO
Rochester
Keegan
5 2/3
6
2
2
1
1
Schmidt (W,11-5)
3 2/3
5
3
2
2
1
Kay
2/3
0
0
0
0
0
Toronto
Negray
2
6
4
4
0
0
Scantlebury
3
1
0
0
0
2
Hawkins
2
1
0
0
0
2
Heman
2
2
1
1
0
1
Ridzik (L14-10)
0
2
3
3
1
0
Smith
1
2
0
0
0
0
Time — 2:54 Att — 2,214