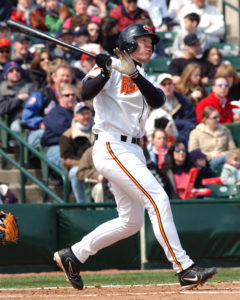 By PAUL GOTHAM
With four games remaining in the the 2006 International League season, the Rochester Red Wings cut their magic number to three for clinching a spot in the playoffs.
And it took a familiar combination to do it.
Terry Tiffee connected on a bases-loaded single in the 14th inning, and Rochester downed thruway rival, Buffalo 5-3 at Dunn Tire Park.
Tiffee improved to 13-for-27 (.481) in bases-loaded situations during his career with the Wings. Of those 17 knocks, five were grand slams with a total of 43 RBI.
"I hit it off the handle and it snuck through," Tiffee told the Democrat and Chronicle.


The Wings improved to 17-3 in extra-inning affairs and eliminated the Bisons along with Louisville and Ottawa from wild-card contention.
"It was a huge win for us," Cliburn said.
Stan Cliburn's club went on to beat IL North rival Scranton/Wilkes-Barre in the first round of the postseason before falling to Toledo in the Governor's Cup.
Tiffee, a 26th round selection of the Twins in the 1999 MLB Draft, played at Pratt Community College (KS). The corner infielder logged 97 games in the Bigs over three partial seasons with Minnesota and another with the Los Angeles Dodgers. Tiffee spent the summer of 1998 playing with the Hornell Dodgers of the New York Collegiate Baseball League.