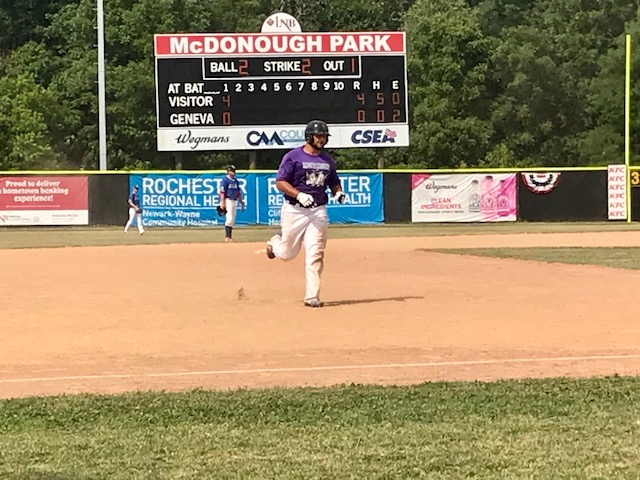 BLUE JAYS (14-8) 15
DP GREEN (1-19) 3         (6 INNINGS)
Jason Story (Utica) and Trent Wasserman (Niagara CCC) combined for four RBI and two homers in the sixth to put the contest to bed early. Ahead 10-3, Story led off the inning with a solo shot for his third hit of the day. Two outs later, Wasserman put the mercy rule into effect with a three-run homer.
Eight of the Blue Jays' 12 hits were for extra bases. In the top of the third, Shane Hake (Elmira) tripled in two runners and Nolan Hicks added an RBI double to make it 8-0. DJ Berry (Tampa University) drove in two on a triple, Jeff Wilson (LeMoyne) collected an RBI double, and Tyler Holmes (Hartford) picked up his team-leading fifth double of the season.
Owen VanNewkirk (Misericordia) collected two hits, crossed home twice and gathered an RBI. The first baseman now has three multi-hit games in his past five outings.
In the bottom of the third, Preston Prince retaliated with a three-run triple of his own for Green's only offense of the day. Owen Martin, Zach Prior and Tanner Degrazia each finished with a hit and run scored. Gage Ziehl and Keenan Calenzo had a hit in the contest as well.
Ryan O'Mara (Niagara University) was given the win after tossing five innings with eight strikeouts. He surrendered three runs on six hits and two walks. The 6-foot-4 righthander's record improves to 2-0 on the season. Tanner Frank (FLCC) threw the sixth inning and struck out one.
The Blue Jays have one more game remaining in their regular season schedule. They trail the Monarchs by 1.5 games in the Rochester East Division, but will retain third place overall in the ICBL.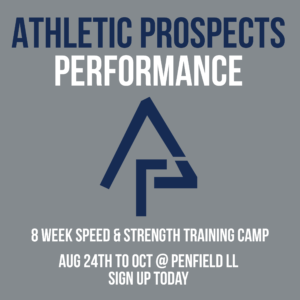 DP GREEN (1-20) 2
MONARCHS (15-7) 3
Bobby Sellers (Alfred State) tallied two doubles in consecutive innings to give the Monarchs a lead it wouldn't surrender. The second baseman led off the bottom of the first with a two-bagger and later scored. In the second, his double drove in another run to increase the score to 3-0.
The Monarchs captured a 2-0 lead in the first on a Frank Fernandes (Monroe CC) double and Ryan Hill (Monroe CC) single.
Three different Monarch pitchers combined to hold Green to three hits and two runs. Joey Puglia earned the win after striking out five and allowing zero hits against seven batters faced. Zach Ciprich (Keuka) allowed two runs on one hit and two walks over two innings. Marty Williams (St. John Fisher) closed out the game with a three inning save. The righty gave up two hits, a walk and struck out four.
Following three runs scored on five hits, the Monarchs were held to just one hit over the final five innings. DJ Stoianovich tossed four innings and gave up three runs on five hits while striking out three. Justin Kuebel pitched the final two innings and allowed one hit against eight batters faced.
Tanner Degrazia led Green's offense with a two-out, two-run double in the third. Camden Chierchella and Calenzo both scored after reaching via walk. Degrazia now has hits in seven of his last eight games. Devin Cannon and James Stanek each had a hit in the contest as well.

MONARCHS (16-7) 6
SNOW CATS (18-4) 2
John Gassler (NYU) tossed five innings of two-hit ball to halt the Snow Cats' winning streak at 11 games. The 6-foot-1 southpaw allowed two hits and three walks but struck out 10 of the 19 batters he faced. He had nine strikeouts by the fourth inning and escaped a bases-loaded jam in his final inning of work. Gassler is now 4-0 on the season and sports an ERA of 2.45.
John Gassler works a clean fourth with two Ks. Left-hander has allowed one hit. Monarchs 6 @GenevaSnowCats 0 @interstateCBL pic.twitter.com/8EMWVyHdMA

— Paul Gotham (@PickinSplinters) August 15, 2020
The Monarchs opened the game with two runs on three straight hits. Frank Fernandes (Monroe CC) led off with a single and was driven in on a Gavin Moore (Alfred State) triple. Two pitches later, Ryan Hill (Monroe CC) smacked a base hit to drive in Moore. Jourdan Plaisted (Elmira College) followed a Justin LoTemple (Alfred State) double with a two-run single.
After striking out in the first, Nick Serce (Alfred State) came up big with a two-run shot in the second to increase the lead to six. The power lefty finished 2-for-4 with two RBI and a run scored.
Nick Serce takes a 2-2 pitch deep. Monarchs up 6-0 with 1 out in the second. @interstateCBL pic.twitter.com/b1mQWgN5K7

— Paul Gotham (@PickinSplinters) August 15, 2020
The Snow Cats attempt at a rally came too little too late in the bottom of the seventh. David Bermudez (Rider University) smacked his first home run of the season to cut the lead to four. Garrett Bell (Ithaca) and Lachlan Charles (Cornell) followed with two singles of their own, but Anthony Roides (Alfred State) induced two pop-ups to get out of the inning.
Mark Trotta (William and Mary) and James Cronin (St. Lawrence) both had a hit apiece for the Snow Cats. Bell struck out two, walked two and gave up two hits over two innings. Rojo Prarie (William and Mary) threw one inning and struck out two batters.
With the win, the Monarchs finish their regular season with a record of 16-7 and clinched the ICBL East Division title. The second place Blue Jays are 1.5 games behind with one game remaining.
SNOW CATS (19-4) 4
DP ORANGE (9-13) 1
Led by strong pitching performances, the Snow Cats managed to brush off Game 1 and resume their winning ways in Game 2. Allen Murphy (St. John Fisher) gave up just one run on three hits over four innings of work. The righty struck out four of the 16 batters he faced. Rojo Prarie (William and Mary) faced the minimum in the final three innings for his sixth save of the year. He gave up no hits and struck out two.
Tied at one, Bermudez led off the fourth with a double and stolen base. James Cronin (St. Lawrence) followed with a two-bagger of his own, driving the score to 2-1. The second baseman swiped third and allowed Branden Myers (St. Bonaventure) to drive him in on a single. Mark Trotta (William and Mary) added an insurance run in the sixth with a solo shot for his first homer of the season.
CJ Phelps drove in Jack Zawacki with a single to tie the game at one in the second. That same inning, Braden Consaul recorded the second of the three total hits Orange would tally in the contest. Aiden Stewart was the only other batter to register a hit.
Murphy is now 2-0 in his two starts for the Snow Cats. Prarie has not given up an earned run since his third appearance of the season, 18-plus innings ago. The righty has accumulated 47 strikeouts in 26 1/3 innings and sports a 0.26 ERA.
Matt Smith (Ithaca) and Zach Morrison (FLCC) both finished with a hit while Patrick Blackall (RIT) registered an RBI on a fielder's choice. Bermudez and Cronin finished with two hits apiece and three runs scored collectively.
The Snow Cats finished their season at 19-4 and the ICBL West Division champions which they clinched earlier in the week.
| | | | | | | |
| --- | --- | --- | --- | --- | --- | --- |
| ICBL Standings 2020 | | | | | | |
| Rochester East Division | W | L | Pct. | GB | Last 10 | Strk |
| Monarchs | 16 | 7 | .696 | 0 | 8-2 | W2 |
| Blue Jays | 14 | 8 | .636 | 1.5 | 6-4 | W3 |
| DP Orange | 9 | 13 | .409 | 6.5 | 2-8 | L3 |
| Orioles | 8 | 12 | .400 | 6.5 | 7-3 | W3 |
| | | | | | | |
| Rochester West Division | | | | | | |
| Snow Cats | 19 | 4 | .826 | 0 | 9-1 | W1 |
| Cardinals | 11 | 10 | .524 | 7 | 5-5 | L4 |
| Flyin' Fish | 8 | 12 | .400 | 9.5 | 3-7 | W2 |
| DP Green | 1 | 20 | .048 | 16 | 0-10 | L18 |
ICBL Upcoming Schedule
August 16
Diamond Pro Orange vs. Flyin' Fish
Flyin' Fish vs. Orioles
Orioles vs. Cardinals
Cardinals vs. Blue Jays
END OF REGULAR SEASON