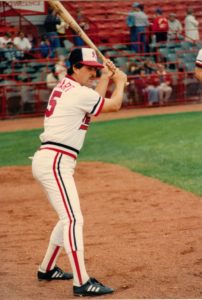 By TOM GARIGEN
August 6, 1986
Luck can often play a big role in the game of baseball.
A lucky bounce can mean the difference between fair or foul, a hit or an out, and a win or a loss. Over the course of a season, those breaks can sometimes make or break a team's chances.
Ken Gerhart wasn't always on the good end of the luck spectrum. His promising 1987 season with the Baltimore Orioles – he hit 14 homers in 92 games and hit safely on 13 of 14 games during one stretch – was cut short after he was hit by a pitch and suffered a hairline fracture in his wrist.
He was front and center on the 1988 Orioles team that began the season with an unfathomable 21-game losing streak. He was projected to move to centerfield that season, but the move was put on hold after he injured his ankle playing basketball in the offseason.
And then, because of a clerical error, Gerhart was placed on the 21-day disabled list instead of the 15-day list, costing him a week of action while he waited to be activated.
But during the Summer of 1986, all was seemingly right for the 6-foot, 190-pound outfielder from Charleston, SC. That included a big two-run home run to lead the Rochester Red Wings to a 3-0 International League victory over the Columbus Clippers on this day 34 years ago.

The fourth-inning blast also extended the rookie's hitting streak to 17 games and helped the Wings into a tie for first with Tidewater in the IL standings.
"The streak is nice but it's always nice to get a big hit that helps win the game," Gerhart told the Democrat & Chronicle. "I just want to go up and try to see the ball and try to hit it somewhere."
The home run was his 22nd of the season, including the ninth against the Clippers. Gerhart would go on to finish the season with 28 roundtrippers and 72 RBI.
The key hit helped back a strong performance from starter Eric Bell, who improved to 5-1 after tossing 7 ⅔ innings of six-hit ball. He walked three and struck out four, working around a handful of Clipper scoring opportunities in the process. 
"I love pitching before a big crowd," Bell said of the 11,634 fans in attendance at Silver Stadium. "It makes it more exciting."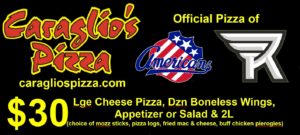 The overflowing crowd was due to the presence of The Famous Chicken. It was the largest crowd since Aug. 29, 1982, when 12,000 were on hand to watch Rochester take on Pawtucket as a different bird made a Silver Stadium appearance – Sox pitcher  Mark "The Bird" Fidrych.
The Clippers mustered one final rally in the top of the ninth, getting the first two runners on against Tony Arnold. But Arnold got a ground ball out and a double play to close the win and register his eighth save.
Red Wings 3, Clippers 0
Coulmbus
AB
R
H
BI
Rochester
AB
R
H
BI

McNealy cf

4

0

3

0

MHart cf

2

1

0

0

Stegman dh

2

0

1

0

Jones ss

4

1

1

0

Lombardi c

4

0

0

0

Torve 1b

4

0

1

0

Delana 1b

3

0

1

0

Gerhart lf

4

1

1

2

Herndez 3b

4

0

2

0

Pardo dh

3

0

1

0

Cotto lf

4

0

0

0

Rayford 3b

4

0

0

0

Mata rf

4

0

0

0

Young rf

3

0

1

0

Zuvella ss

2

0

1

0

DoScott c

3

0

1

0

DiScott 2b

3

0

0

0

Hudler 2b

3

0

0

0

Totals

30

0

8

0

 

Totals

30

3

6

2

Columbus
                                              0 0 0    0 0 0   0 0 0  – 0
Rochester
 
 
                                              0 0 0    2 0 1   0 0 x  – 3

GWRBI – Gerhart. E – Hernandez. DP – Rochester 3. LOB – Columbus 7, Rochester 8. 2B – Young. HR – Gerhart (22). SB – McNealy, Hart, Do. Scott.

Columbus
IP
H
R
ER
BB
SO

Armstng L, 4-8

7

5

3

2

3

8

Tirado

.2

1

0

0

2

0

Bradley

.1

0

0

0

0

0

Rochester
IP
H
R
ER
BB
SO

Bell W 5-1

7.2

6

0

0

3

4

Arnold S, 8

1.1

2

0

0

0

0

WP – Bell. T – 2:41. Att. – 11,634