ORIOLES (3-9) 3
DP ORANGE (7-7) 2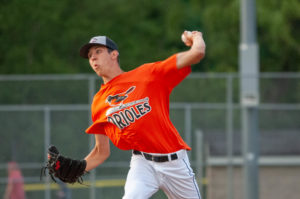 Patrick Sherron (Monroe Community College) combined with Zach Carpin (Clarkson) on a relay from right field, throwing out the tying run at home to end the game as the Orioles won their second straight. Sherron collected two hits on the night and scored a run. Sean Flannery (Monroe Community College) broke a scoreless tie in the fourth inning, scoring off an error after leading the inning with a single. Jon Catapano (Grand Valley State) came into score on a passed ball pushing the lead to 2-0. Carpin and Sherron teamed up once again to produce an insurance run in the sixth inning, giving the Orioles a 3-1 lead. Sherron started the inning with a double and Carpin drove him in with a single. Flannery ended 2-for-3 with a run scored, Troy Leibert (Niagara CCC) added a base-knock and Jorge Oropeza (Finger Lakes CC) had an RBI.
Donnie Moffat (St. Bonaventure) started and picked up the win hurling four shutout innings allowing four hits and striking out nine for the Orioles. The six-foot-two left-hander improved to 2-0 on the season. Dylan Boprey (Houghton) fanned four over three innings to pick up the save.  The right-hander allowed four hits. CJ Phelps (McQuaid) went 2-for-3 for DP Orange moving his batting average to .321 on the season. Braden Consaul (Fairport) and Edward Hall (McQuaid) both finished 1-for-3 and scored a run. Will Taylor (McQuaid) had an RBI double in the game. Max Stuver started and struck out four over five-plus innings of work.
Donnie Moffat fans a pair and gets this ground ball to end the fourth. Orioles 2 DP "Orange" 0. Moffat's night is done: 4IP/4H/OR/9K/BB @interstateCBL pic.twitter.com/LEVRfZEwr3

— Paul Gotham (@PickinSplinters) July 31, 2020

MONARCHS (8-5) 13
BLUE JAYS (8-5) 3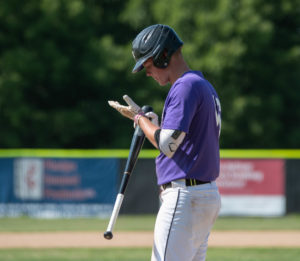 Lucas Sulimowicz went 3-for-4 with two RBI and two runs scored as the Monarchs tied the Blue Jays for the East Division lead. He and Nick Serce (Alfred State College) both scored on passed balls as part of a four-run second inning. Sulimowicz hit an RBI double in a four-run fifth as well.
Justin LoTemple (Alfred State College) drove in Frank Fernandes with a single and Lucas Jackson (Onondaga Community College) scored on a dropped third strike in the second. Gavin Moore (Alfred State College) had two hits. Ryan Hill (Monroe Community College) had a hit, two walks and two runs scored. Fernandes scored drew two walks and crossed the plate three times. Will Carlone (Virginia Commonwealth University) and Serce both had a base knock apiece.
The pitching quartet of Hayden Ewell (Southern New Hampshire University), Trevor Povlock (Rochester Institute of Technology), Anthony Roides (Alfred State College) and Serce compiled 13 strikeouts. Ewell and Serce both hurled two hitless innings. Serce fanned five hitters of his own.
For the Blue Jays, Noah Campanelli (St. John Fisher College), Owen VanNewkirk (Misericordia College) and Jason Story (Utica College) all had a hit apiece. Campanelli and Story both drove in a run.
Justin LoTemple plates a run with single to left, part of a four-run second. Monarchs 4 Blue Jays 0 @interstateCBL pic.twitter.com/9GPDaiFtiu

— Paul Gotham (@PickinSplinters) August 1, 2020
| | | | | | | |
| --- | --- | --- | --- | --- | --- | --- |
| ICBL Standings 2020 | | | | | | |
| Rochester East Division | W | L | Pct. | GB | Last 10 | Strk |
| Blue Jays | 8 | 5 | .615 | 0 | 5-5 | L1 |
| Monarchs | 8 | 5 | .615 | 0 | 8-2 | W1 |
| DP Orange | 7 | 7 | .500 | .5 | 4-6 | L2 |
| Orioles | 3 | 9 | .250 | 5 | 3-7 | W2 |
| | | | | | | |
| Rochester West Division | | | | | | |
| Snow Cats | 10 | 3 | .769 | 0 | 8-2 | W2 |
| Cardinals | 8 | 4 | .667 | 1.5 | 8-2 | W4 |
| Flyin' Fish | 5 | 7 | .417 | 3.5 | 3-7 | L3 |
| DP Green | 1 | 10 | .091 | 7 | 0-10 | L10 |
ICBL Upcoming schedule
August 1
Flyin' Fish vs. Orioles DH
Cardinals vs. Blue Jays DH
August 2
Snow Cats vs. DP Orange DH
DP Green vs. Monarchs DH