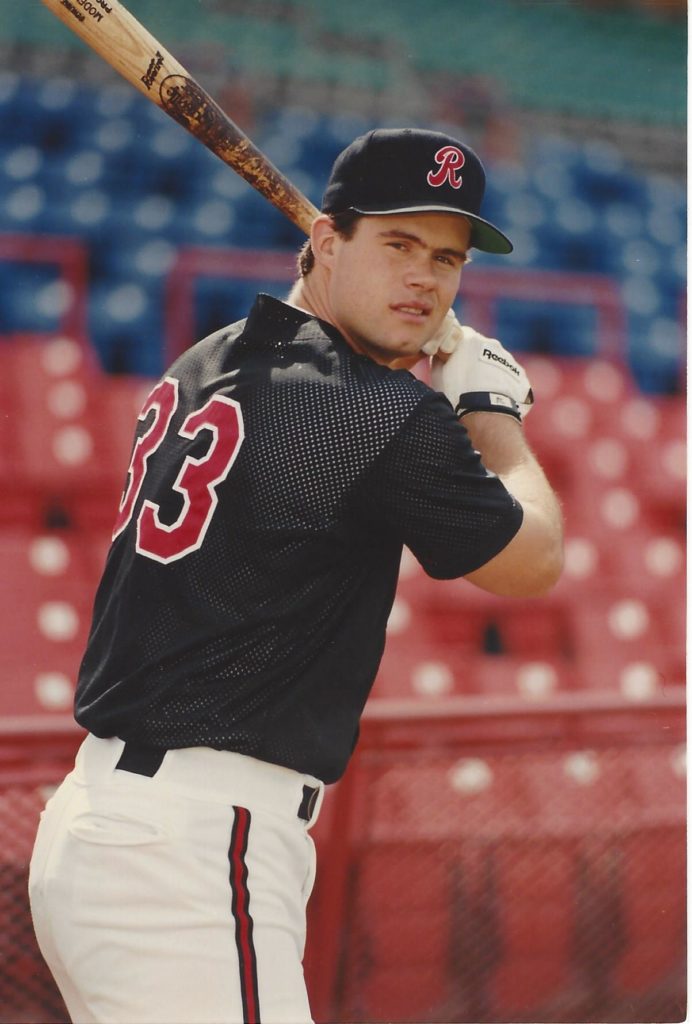 By PAUL CIFONELLI
The Rochester Red Wings awaited Paul Carey's return in 1994 from the time he broke his wrist in Spring Training with the Baltimore Orioles. He made a splash in his first game back, hitting a go-ahead two-run blast in the fifth inning as Rochester went on to win 9-6.
Carey's homer gave the Red Wings the lead after being down 6-0 through two innings. Earlier in the inning, Mark Smith hit a sacrifice fly to cut the deficit to 6-5.
Carey, who batted .311 with 12 homers and 50 RBI in Triple-A that season, immediately aided the Red Wings both in the locker room and on the field, according to manager Bob Miscik.
"We've missed Paul all year," Miscik told the Democrat & Chronicle. "He's a quality person with a great work ethic, and the things he does rub off on people."
Smith kick-started Rochester's rally in the fourth inning with a solo home run. Just four batters later, Gregg Zaun launched a three-run homer to put the game within striking distance.
In the sixth, Damon Buford and Manny Alexander both drove in a run to give Rochester a little more leeway.
Jim Dedrick picked up his second win of the season for Rochester by allowing only three hits over four scoreless innings. He relieved Arthur Rhodes, who threw 90 pitches through the first four frames. Dedrick's other win of the season was also a part of a big comeback for the Red Wings, a 12-8 victory over Charlotte when his team was down 5-0. In long relief situations when his team is down, Dedrick doesn't look to do too much on the mound.

"In games like this, I'm just trying to keep us in the game," Dedrick told the Democrat & Chronicle. "With our offense, and with Paul back, our lineup is every bit as good as (Syracuse's)."
Beginning in the 1990 season until this point of the 1994 season, the Red Wings had a .604 winning percentage after the All-Star break. This was the first of those games in the 1994 campaign and the victory put Rochester 2.5 games out of second place in the International League East.
Syracuse batting
| | | | | |
| --- | --- | --- | --- | --- |
| Player | AB | R | H | BI |
| Alex Gonzalez | 4 | 1 | 1 | 0 |
| Shawn Green | 5 | 1 | 3 | 2 |
| Robert Perez | 4 | 1 | 1 | 2 |
| Howard Battle | 4 | 0 | 2 | 1 |
| Carlos Delgado | 4 | 0 | 0 | 0 |
| Joe Lis | 4 | 1 | 1 | 0 |
| Jason Townley | 3 | 1 | 0 | 0 |
| Rob Montalvo | 3 | 0 | 0 | 0 |
| Rich Butler | 3 | 1 | 1 | 0 |
| Marty Pevey | 1 | 0 | 1 | 0 |
| Ray Giannelli | 1 | 0 | 0 | 0 |
Rochester batting
| | | | | |
| --- | --- | --- | --- | --- |
| Player | AB | R | H | BI |
| Damon Buford | 4 | 1 | 2 | 1 |
| Jim Wawruck | 4 | 0 | 0 | 0 |
| Mark Smith | 3 | 1 | 1 | 2 |
| Paul Carey | 4 | 1 | 2 | 2 |
| Jeff Manto | 3 | 1 | 0 | 0 |
| Bruce Dostal | 3 | 1 | 2 | 0 |
| Gregg Zaun | 4 | 2 | 2 | 3 |
| Kevin Baez | 4 | 0 | 0 | 0 |
| Manny Alexander | 4 | 2 | 2 | 1 |
E- Wawruck, Alexander  DP- Rochester 1  LOB- Syracuse 5, Rochester 3  2B- Perez, Lis, Pevey, Alexander  HR- Carey, Smith, Zaun  SF- Smith  SB- Buford, Dostal, Alexander  CS- Dostal
Syracuse  0 6 0 0 0 0 0 0 0- 6
Rochester  0 0 0 4 3 2 0 0 X- 9
Syracuse pitching
| | | | | | | |
| --- | --- | --- | --- | --- | --- | --- |
| Player | IP | H | R | ER | BB | SO |
| Jesse Cross L(8-9) | 4.2 | 7 | 7 | 7 | 1 | 1 |
| Ken Robinson | 1 | 4 | 2 | 2 | 0 | 0 |
| Anthony Ward | 0.1 | 0 | 0 | 0 | 0 | 1 |
| Jimmy Rogers | 1.2 | 0 | 0 | 0 | 1 | 2 |
| Randy St. Claire | 0.1 | 0 | 0 | 0 | 0 | 1 |
Rochester pitching
| | | | | | | |
| --- | --- | --- | --- | --- | --- | --- |
| Player | IP | H | R | ER | BB | SO |
| Arthur Rhodes | 4 | 6 | 6 | 0 | 2 | 4 |
| Jim Dedrick W(2-4) | 4 | 0 | 0 | 0 | 0 | 1 |
| Steve Adkins S(5) | 1 | 1 | 0 | 0 | 0 | 1 |
Time- 2:54  Attendance- 6,381