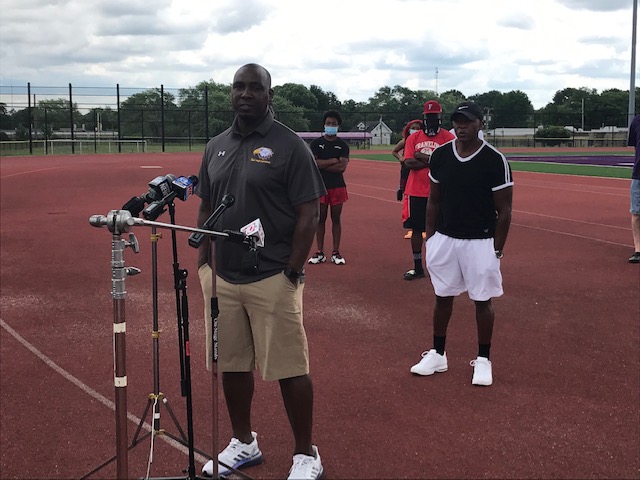 By PAUL GOTHAM
ROCHESTER, N.Y. — Like their colleagues from across the country, Rochester City School District (RCSD) coaches were faced with the task of trying to help student-athletes cope with a lost season this past spring. Added to those challenges, RCSD coaches found more obstacles that came from within their district.
On May 20th, an email from central office informed RCSD spring coaches that they would just receive just 8.45 percent of their original stipend. The amount derived from 6/71 or the six days (March 9-14) of the spring season that occurred before sports were postponed and eventually canceled because of COVID-19. 
"Districts outside of us that we compete against all the time, every day, suburban schools, they got paid their full amount," said East United lacrosse coach Sean Banks. "That's a big difference in how they value their coaches out there in the suburban districts." 
Banks, who has coached in the district for 20 years, started the lacrosse program from scratch.
"This is a new program, and we're behind. We have to do a lot of stuff in the off-season, a lot of skill development, a lot of camps, workouts. The last five years I've been holding workouts throughout the summer, every Sunday. We're constantly doing work with our kids. It's not just our kids. We're trying to grow the sport. We're inviting kids that never played the sport before to our workouts."
The district's decision to cut salaries suggests that's those coaches who put in time, like Banks, during the off-season are not being paid for that work.
"The district said you're not salaried year-round," stated East High baseball and NE Douglass basketball coach Kyle Crandall when discussing the decision. "Your salary is good only for your season."
The implications of that decision extends from there. The move prompted Crandall and coaches to seek legal advice.
"The union's attorneys have said is that if we do stuff with our kids in the off-season, we could personally be held liable if anything happens to our kids," Crandall explained. "The union's attorneys have advised us not to do workouts with our kids. That affects our kids. Now, as coaches, we're going to speak out. We're making this a public issue now not because of our selfish gain. We're making this a public issue because it is yet another obstacle that puts our kids further and further behind."
The decision to cut coaches' salaries comes not long after the district changed course on an earlier agreement. A Memorandum of Understanding (MOU) was signed in December 2018 , where coaches requested that additional funds be allocated toward the hiring of program assistants. 
"It's a huge benefit for our kids," Crandall said of the position of program assistant. "We had signed an MOU. Once that document was signed, it was sent out to coaches and the district backed out of it."
A common practice in suburban districts, a program assistant provides each sport with an additional adult available to work with student-athletes at all levels.
"With an assistant, I could give him the first 15 minutes to work with the guards; I could go work with the big guys," explained School of the Arts head coach Al Nash. "Then we could come back together to work collectively to get what we need accomplished. That money would have come in handy for an assistant. That's what we're here for, get more help for our young people."
Nash, who also coaches the school's varsity volleyball team, has led teams in the district for 17 years.
"We didn't ask for them to be paid an outrageous amount," he added. "We just wanted some help. We had some young people who were willing to help. We had some young people in mind, but it never came to fruition. It still hurts us today especially. I'm the head coach. Sometimes I try to work with the JV players, the modified players then with the modified boys. I even work with the varsity girls on the sideline."
Nash knows better than anyone that coaching in the city is more than getting students to understand a game. That responsibility requires a coach to work with players year-round.
"Sometimes we're mentors. Sometimes we're that parent figure in their lives outside of the sport that we coach.
"I'm always coaching basketball. I coach from November to March, and I'm still coaching after the season. I wanted to meet with my players. We were going to do a social-distance thing. I was going to work them out. An email came across that we had to stop all off-season training due to some legalities as well as COVID. I told my players by text message we were not going to be able to get together to do those things, but I know there are other programs or individuals that are working themselves out outside of our district. We are trying to keep pace with those districts, but somehow we are being told not to do what we need to do to make our kids better."
For RCSD coaches who already have among the lowest salaries in the area, the recent trend only adds to the problems. Coaches in the district have received just one raise of $500 in the last 25-plus years. That puts varsity coaches in the city at a lower pay rate than some junior varsity and modified coaches in the suburbs. 
Banks left his position in the East football program to take on a similar role at Webster Schroeder. The rationale was simple. He saw that the suburban district provided more support.
"The coaches have felt devalued for quite a long time," said Crandall who is the league chairman for boys' basketball and baseball. "We have not made an issue of any of these things public. If they are talking about the fact that city coaches are some of the lowest paid coaches in Monroe County, they would be correct on that. You have not heard us talk about that. We're here because we want what's best for kids."
Carlos Cotto, RCSD's Executive Director of Athletics, responded via text message: 
"All of this is subject of the collective negotiations that are ongoing with the RTA (Rochester Teachers' Association), and since we don't negotiate via the media we are respectfully not in position to comment further at this time."
"If there's collective bargaining stuff that's going on and the district is going to work with our union to solve these issues, that would be wonderful," Crandall said. "This is a decision that was made at central office which has adverse effects that I'm not sure the people who made this decision realized it was going to have. We're simply asking them to reconsider that decision and get us back to being full-year salaried employees. We can continue to work through these other issues through collective bargaining, but we want to work with our kids."
Coaches cited Brockport, Honeoye Falls-Lima, Penfield and the Webster districts as some that paid coaches in full for the spring. A source also confirmed that Brighton remained consistent with its original agreement. Churchville-Chili was among the districts in which coaches saw their stipends cut. The Monroe County school paid 45 percent of the original stipend.