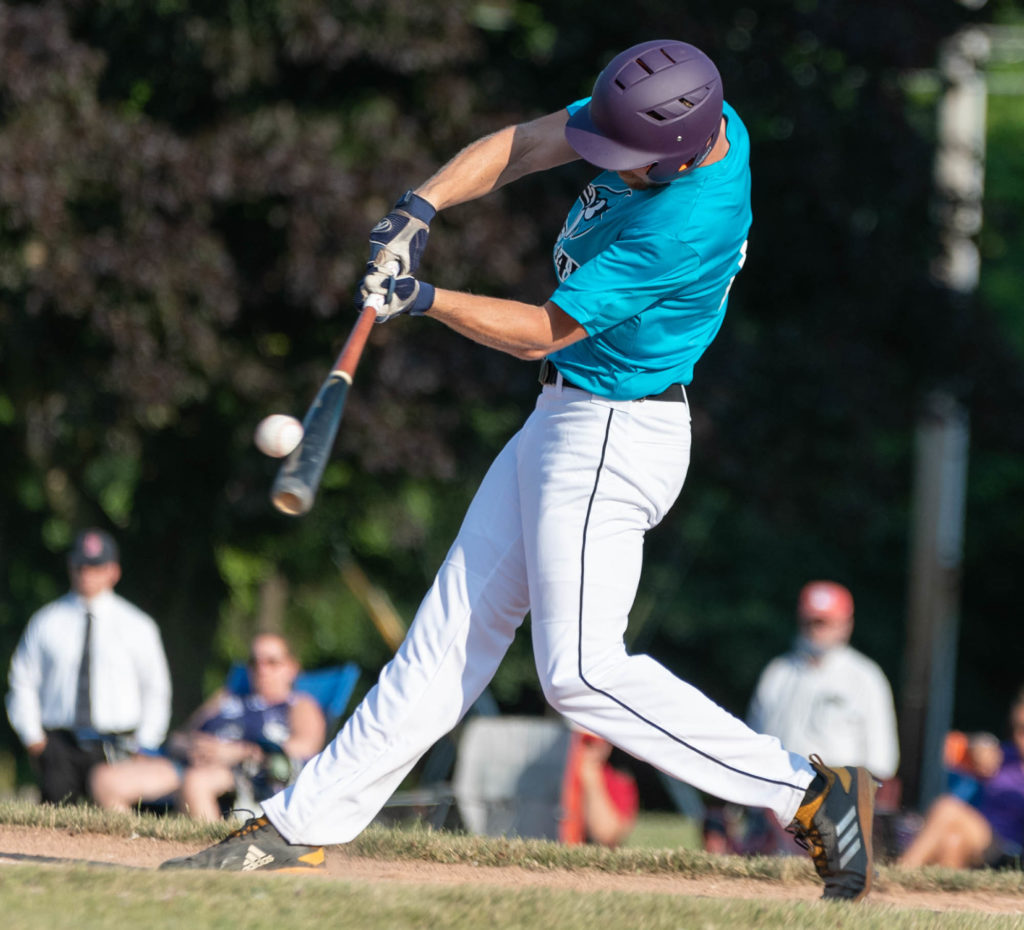 MONARCHS 4 (1-2)
CARDINALS 3 (1-2)
Down by two in the bottom of the seventh, the Monarchs strung together four hits and three runs to steal their first win of the season.

Ryan Hill (MCC), Lucas Sulimowicz and Will Carlone (VCU) had two hits apiece while Ray Specht (NCCC) and Andrew Sanchez (Mercyhurst) collected one apiece. Specht, Sanchez, Sulimowicz and Hill each scored a run as well.

Hayden Ewell (SNHU) threw three innings for the Monarchs and gave up three runs on three hits and three walks. Anthony Roides (Alfred State) and Alex Crysler (Elmira) split the final four innings and combined for one hit, a walk and two strikeouts. Crysler was credited with the victory.

Santino Rosso (Hofstra) was responsible for all three Cardinal runs in the game. The infielder hit a three-run home run in the top of the third inning. Seth Vigneri (Cortland) and Joshua Ferris (FLCC) both scored on the long drive.

Stephen Kemp (Medaille), Vigneri, Ferris and Rosso accounted for all four Cardinal hits with one apiece.

Starting pitcher Jackson DeJohn (St. Bonaventure) held the Monarchs to one hit over four innings, giving up zero runs and striking out seven.

CARDINALS (1-2)
MONARCHS (1-2)
Suspended in the fifth.

BLUE JAYS 7 (3-0)
FLYIN FISH 4 (1-2)
Jeff Wilson (LeMoyne) smacked two extra-base hits to help the Blue Jays snag its third straight win to open the season. The outfielder's home run and double gave him six bases on the day and drove in three runs in the process.

Owen VanNewkirk (Misericordia College), Tyler Holmes (Hartford), DJ Berry (Tampa U) and Tanner Frank (FLCC) all registered a hit in the game. Berry accounted for three of the Jays' seven runs and stole a base. Patrick Bigham (Fredonia) and Holmes added a RBI apiece as well.

In the first three innings, Hayden Smith (North Eastern) held the Fish hitless while striking out three and walking two. Tyler Smith (MCC) tossed the final three innings and allowed two runs on three hits and no walks. The righty also struck out five of the 12 batters he faced.

Three players for the Flyin Fish accounted for the entirety of the team's offense in game one of the double header. Dylan Mackenzie (Cortland) led the way with two hits, three RBI and a run. Keith Van Dyke (Houghton) finished with a hit, RBI and a run while Zach Harter (FLCC) followed with a hit, walk and two runs scored.

Patrick Xander (PSU) started for the Fish and gave up one earned run on two hits, three walks and four strikeouts. Korey Canton threw two innings in relief and gave up one unearned run despite allowing no hits. He walked one and struck out four as well.

FLYIN FISH (1-2)
BLUE JAYS (3-0)
Suspended in bottom of first.