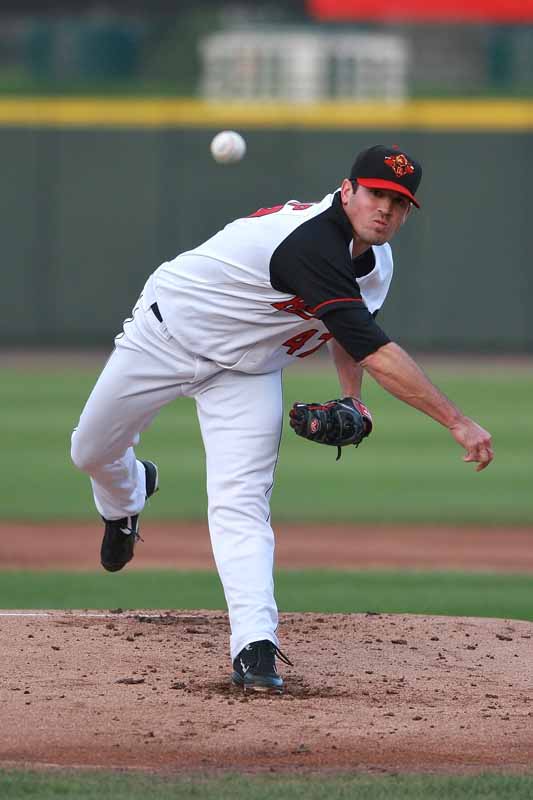 By PAUL GOTHAM
Professional baseball in Rochester dates back to the late 1800s. For the first century-plus of existence, hurlers representing the Flower City had not combined on a no-hitter.
That changed on this date in 2011.
Four pitchers held Lehigh Valley hitless as the Wings downed the IronPigs, 7-0 in front of 4,143 fans at Frontier Field.
Jeff Manship, on a pitch count, started, fanned four and walked two on 51 pitches over four innings. Jake Stevens picked up the win with three innings of relief work. Kyle Waldrop and Jim Hoey tossed an inning apiece out of the bullpen to etch their spot in history.
Current Wings manager Toby Gardenhire preserved the no-no with a sliding, back-handed stop at shortstop for the second out of the ninth.

"The biggest play was Toby saving us," Manship said.
The no-hitter was the first for the Wings since Dan Boone completed the feat in a seven-inning game in 1990. Wayne Garland's nine-inning no-no in 1974 represented the most recent accomplishment over 27 outs.
The four pitchers also broke an International League record with the previous mark being set by three Columbus hurlers (Adrian Hernandez, Bob Scanlan and Levin Lovingier) who combined in 2002.
The no-hitter was the 21st in Wings history.
Three years later, Wings pitchers Trevor May and Logan Darnell matched the feat.
Chase Lambin paced the offense with three RBI. Dustin Martin drove in two runs for the Wings who put crooked numbers on the scoreboard in the fourth (3), sixth (2) and eighth (2) innings.
"It's not an easy thing to do," Wings manager Tom Nieto said of the no-hitter. "So many times you get late in the game and someone gets a hit."
Gardenhire was named the 45th manager of the Wings earlier this year. Due to COVID-19, the Wings 2020 season along with that of the International League and all of MiLB has been cancelled.
Red Wings 7  Lehigh Valley 0
Lehigh Valley
AB
R
H
RBI
Rochester
AB
R
H
RBI
Thompson cf
4
0
0
0
Roberts cf
4
0
2
0
Orr 3b
4
0
0
0
Plouffe 1b-rf
4
0
1
0
Moss lf
2
0
0
0
Young dh
4
2
1
0
Larish 1b
3
0
0
0
Martin 1f
3
3
2
2
Young rf
3
0
0
0
Dinkelman 2b
3
2
1
0
Barfield 2b
3
0
0
0
Lambin 3b
3
0
1
3
Overbeck dh
2
0
0
0
Bailey rf-1b
4
0
1
1
Sardinha c
3
0
0
0
Gardenhire ss
4
0
1
1
Bocock ss
3
0
0
0
Zaun c
3
0
1
0
Total
32
0
0
0
Total
36
8
14
7
Lehigh Valley
000 000 000 — 0
Rochester
000 302 02x — 7
2B — Martin, Young. 3B — Bailey. SB — Dinkelman, Martin. CS — Roberts. E — Barfield,
Lambin. LOB — Lehigh Valley 3, Rochester 4.  DP — Lehigh Valley 1, Rochester 1.
IP
H
R
ER
BB
SO
Lehigh Valley
Bass L, 4-6
6
8
5
3
2
4
Walrond
1
0
0
0
0
1
Zagurski
1
3
2
2
0
1
Rochester
Manship
4
0
0
0
2
4
Stevens W, 1-1
3
0
0
0
1
4
Waldrop
1
0
0
0
0
0
Hoey
1
0
0
0
0
0
T — 2:21 Att — 4,143