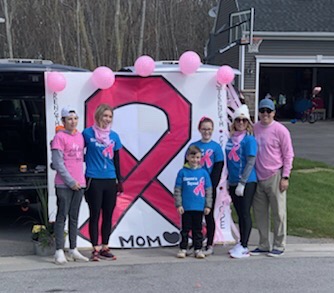 By PAUL GOTHAM 
Sunday's forecast called for clouds with occasional rain.
The sun made an appearance in North Chili at 10:30 a.m. Its rays came right on time to cast a spotlight on young Sloane Miller.
Running in honor of her late mother, the Churchville-Chili middle school student completed her second 5K race.
"I keep running to remember that I fundraise to help people who have breast cancer," she said. "I don't want people to lose their moms like I did."
Sloane was six years old when her mother, Kim, passed away from breast cancer. Last year, she took part in the 5K at Genesee Valley Park.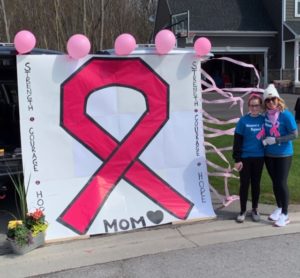 The coronavirus pandemic forced organizers to cancel the large gathering this year, but a virtual run took shape from there. Sloane, with the help of her future step-mom Tara, organized the event to take place in their neighborhood.
"When the walk went virtual, we kinda thought that since we couldn't run it there, we'd run it in the neighborhood," Sloane said.
Neighbors posted signs in their yards and cheered from driveways and yards as Sloane passed on the street.
"I was a little bit upset because I couldn't share the day at the park at the course where we ran the 5K last year and that I couldn't see all of my friends and family," she said. "I don't think the neighborhood and my friends and family could have supported me more. I don't think it could have been better."
A police escort started the day. Those family and friends who could partake,  "Sloane's Squad," followed along. Sloane's future step-sister, Madi, and step-brother, Carter, ran their first 5K races along with Tara and Sloane's younger brother, Johnny. Her dad, Tim, helped her finish the last leg of  the race.
"It was fantastic," Tim said. "The neighbors really came through. One of our next-door neighbors sent out a message saying that Sloane was going to run the 5K. Our neighbor Ron was the police escort. To have people put posters and be at the end of their driveways, it was pretty cool to have that level of support."
Not your everyday morning jog. Sloane Miller continues the tradition of honoring her late mother who passed away from breast cancer. #SloanesSquad @CCCSDtweets pic.twitter.com/r2ub2461ip

— Paul Gotham (@PickinSplinters) May 10, 2020
Last year, Sloane's fund-raising efforts earned her the "Do The Right Thing Award" through the Rochester Police Department. This year, with the help of Tara the two sent out emails to generate interest. They have raised over $7,000 to date.
"We had a lot of people that obviously couldn't come out to our street to run it that did it virtually on their own," Tim Miller added. "They sent texts or put up Facebook posts. A lot of family members as well.  She gets a lot of support."
Kim Miller, an elementary school teacher in the East Irondequoit Central School District, passed away in March of 2015. She had planned to participate in a 5K race later that year.
"The big thing is she doesn't identify with her mom having cancer," said Tim, who has coached Churchville-Chili boys' basketball for the past 11 seasons. "She identifies with her mom being fun-loving and a teacher. This is her connection to help other people.
"It's never going to be an easy day. To have something to look forward to and something that she really gets into, it's been nice. On Mother's Day, this is a good way for her to do something positive.
"I want to keep my mom's life, in a way, still living," Sloane said. "People remember her because she was such an amazing woman. I just always try to think happy thoughts and remember that's who I run for."
Readers can contribute to "Sloane's Squad" here.