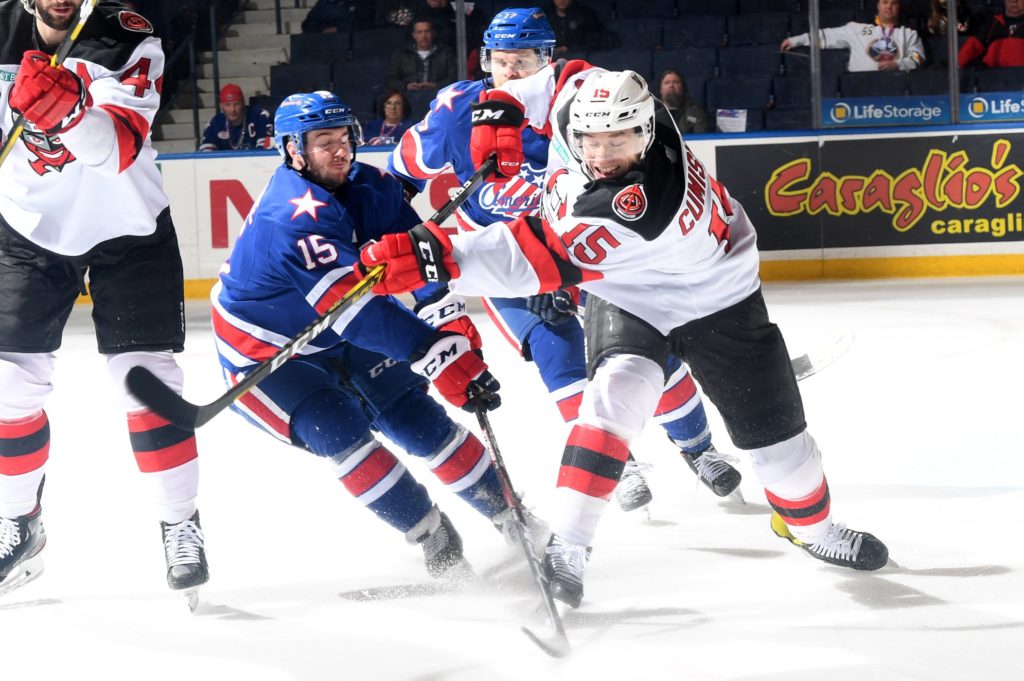 By KEVIN OKLOBZIJA
Four days after reviving their chances for a run at their first division title in 15 years, the Rochester Americans promptly said they'd rather not add a banner to the rafters.
At least that's pretty much what they indicated with their effort on Wednesday night.
The streaking Binghamton Devils made quick work of the Amerks, building 2-0 and 3-1 leads en route to a 5-2 victory at Blue Cross Arena at the War Memorial.
"Tonight we just didn't bring it," defenseman Jacob Bryson said.
And that was so distressing, because last weekend the Amerks went to Belleville and swept a pair from the Senators, who at the time had the best record in the Eastern Conference.
In winning those two games, the Amerks crept within six points of the first-place Sens in the North Division, too.
But then they came home and, in front of an announced crowd of 3,127, played with all the passion of a September preseason game.
"This was a big game for us and we blew it," captain Kevin Porter said.
If there was one consolation prize — and it's a tiny one — it's that the third-place Utica Comets also lost, so they remain two points behind the Amerks.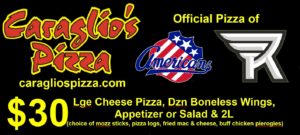 That hardly appeased  Amerks coach Chris Taylor, however.
"It's wanting to play the right way all the time," Taylor said.
He admitted that's not "an easy thing to do." Battling hard on every shift, wanting to outwork the opponent on every shift, that's all determination. It's not easy. Which is why winning is special.
And why this Amerks team can look so good one weekend — as they did in upending Belleville 5-3 and 4-2 — and how they can look so disinterested four days later.
"We know Belleville is the best team in our league and we wanted to beat that team," Bryson said, saying the Amerks relished that underdog role.
Truth be told, they were probably underdogs on Wednesday. Binghamton has won seven straight, 12 of 13 and 27 of 36. The fourth-place Devils have vaulted from cellar-dwelling also-ran to playoff contender. Wednesday's victory kept them three points ahead of Syracuse and moved them within three of the Amerks.


Neither team did much in the first period, and that was fine with the Devils, who are willing to grind it out, play defense and pounce on opportunities.
Which is just what they did to score two goals. Egor Sharangovich broke a scoreless tie 4:42 into the second period off a three-on-two fast break. The scoring chance, however, arose only after Amerks winger Eric Cornel shot wide at the other end and then watched the puck carom all the way to center for Chris Conner.
The Amerks had pulled within 2-1 on a Taylor Leier power-play goal late in the second when yet another carom off a miss-the-net shot — this time by Rasmus Asplund — sent Sharangovich away for a short-handed goal 3:28 into period three.
Some would say they were lucky bounces. Porter didn't. He said the Devils worked for their bounces — and the Amerks didn't.
NOTES: Amerks defenseman Casey Nelson was hit in the jaw or head by Binghamton's Jesper Boqvist 7:52 into the game and didn't return.