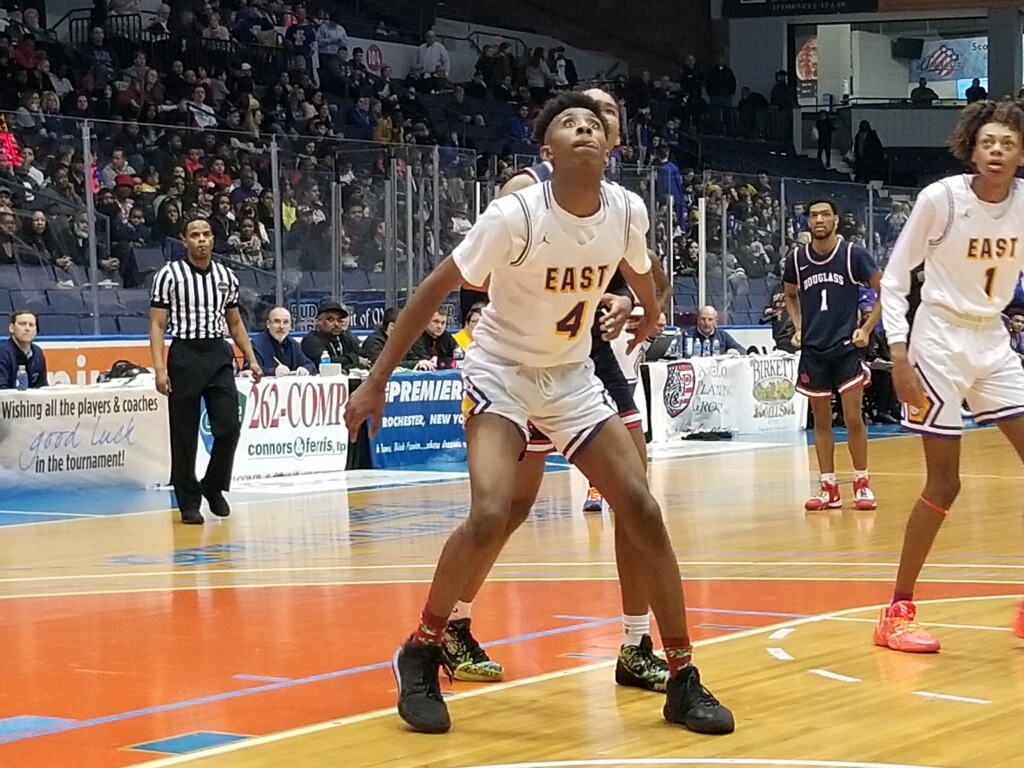 By JOHN LIKANJE
ROCHESTER, N.Y. – While the final buzzer sounded, East High's Zechariah Harris-Scott hugged NE Douglass' Adonis Flagler. A fitting embrace for a pair of seniors who are the captains of their respective teams. Harris-Scott knew exactly how Flagler was feeling because he had experienced the same emotions three straight years: making it all the way to the sectional final only to fall short.
Now, the East High senior forward could be all smiles. Harris-Scott exploded for a game-high 33 points while running the point yet again and led the Eagles past the Panthers, 69-60, in the Class A2 final.
"My emotions are all over the place right now," Harris-Scott acknowledged. "I was happy that we won. I've been here three times. This is the best time for me."
Clinging to a 48-44 edge early in the final stanza, Kaori Barley, Freddie Brock and Harris-Scott scored during an 8-2 run to take a double-digit lead. Brock finished a contact layup down the lane. Harris-Scott banked in a turnaround jumper from the left wing. Barley completed a traditional three-point play to extend the lead to 56-46 with three minutes left. The Eagles forced two missed field goals and two turnovers during the run.
The Eagles looked primed to run away with the game early as they took an 11-point lead in the second quarter. Leading 13-8, Harris-Scott finished a pair of layups, including one for a three-point play, as part of a 9-3 run. Damani Barley and Brock made a layup apiece as well to round out the scoring during the spurt. The Eagles forced two misses and three turnovers.
However, the Panthers stormed back with a 15-0 run. Lamar Lovelace poured in nine points on a floater, jumper, layup and three free throws. Flagler, Delzair Hanks and Nicolas Jeanty finished inside as NE Douglass took a 26-22 edge.
Floater for @13Lamar1 and a 26-22 Douglass lead. @PickinSplinters @jml5798 pic.twitter.com/6xDqS1uRXW

— Billy Heyen (@BillyHeyen) March 7, 2020
The Eagles quickly recovered thanks to a Damani Barley three and Brock layup and took a 27-26 lead into intermission. Both squads exchanged blows in the third quarter and took early three-point leads before East attempted to pull away with a 9-0 run. Trailing 36-34, Harris-Scott ignited the Eagles with a three-point play and breakaway dunk.
"(Coach Barley) just said to finish it out," the senior forward said about the team's locker room talk during halftime."
Near the end of the third, @ScottZechariah threw down his second dunk. He's got 21 through three quarters for @goeasteagles @EastEpo. @PickinSplinters @jml5798

East up 43-38 after three. pic.twitter.com/KU9g2Bvm9K

— Billy Heyen (@BillyHeyen) March 7, 2020
Damani Barley hit a reverse layup and Clinique Jackson finished inside while being fouled. NE Douglass' Trynzeir Parker made a putback to make it 43-38 going into the fourth quarter.
The Eagles attempted to put the game away quickly with five quick points – a fastbreak layup by Harris-Scott and a right-wing three-pointer by Jackson to force a Panthers' timeout. NE Douglass responded with back-to-back long-range shots from Jeanty and Lovelace before East pulled away and won.
Harris-Scott made 10 of his 11 shots from inside the arc. The senior forward connected on 10-of-10 free throws as well. Harris scored seven in the first quarter, five in the second, nine in the third and 12 in the fourth. The senior forward now has 1,131 career varsity points.
"I just go wherever my coach need me to win," Harris-Scott said. "He wants me to be the point guard, I'll be the point guard. He wants me to be the shooting guard, I'll be the shooting guard. No matter what position he wants me to play, I just want to win."
"He kept telling us at the beginning of the year, 'Three is a charm,'" Barley said about Harris-Scott. "I reiterate this: he's the best player in Rochester. You can put him on any team and that team will become better. Instantly. I love his energy. I love the way he uplifts other players. He did a total 360. He's more personable now. Zach is the man."
Damani Barley complemented Harris-Scott with 13 points. Brock (9), Kaori Barley (8), Jackson (5) and Kai McCullough (1) rounded out the scoring for East.
Lefty scoop for @BarleyDamani and a 39-36 @goeasteagles lead with 1:01 left in the third against Douglass. @PickinSplinters @jml5798 pic.twitter.com/neiWbxnBNi

— Billy Heyen (@BillyHeyen) March 7, 2020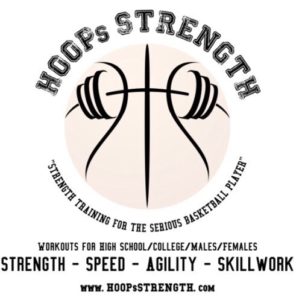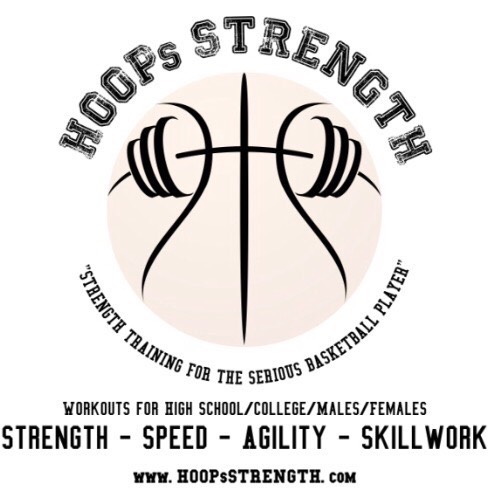 For NE Douglass, Lovelace scored all 19 of his points after the opening period. Flagler and Jeanty added 16 points apiece. Flagler completed his career with 1,189 varsity points.
"They've put our program on the map, the three of them," NE Douglass head coach Kyle Crandall said about the senior duo of Flagler, Jeanty and Lovelace. "I'm just so grateful for everything they've put in. We would not be where we were today without the three of them."
Flagler floater precedes a Douglass time-out with 2:47 left. East leads 56-48 in the A2 sectional title game. @PickinSplinters @jml5798 pic.twitter.com/9Jtr5L1E3a

— Billy Heyen (@BillyHeyen) March 7, 2020
Parker (7) and Hanks (2) rounded out the scoring for NE Douglass, which finished the season with a 12-12 record and made its second sectional final appearance in three years.
"We've been facing adversity all season," Crandall said. "In the second half, we had a really, really tough schedule. We played East, who was No. 1 in A2 at the time. A few days later, we played Leadership, who was No. 1 in A1. A few days later, we played Victor, who was No. 1 in AA.
"Those tough games really helped to prepare us for sectionals. We're gonna keep battling here and eventually, we're gonna get the school a sectional title."
East notches its 25th sectional title in program history and first since 2014. The Eagles have seven sectional titles this century (2003, 2005, 2008, 2010, 2012, 2014) as well.
East advances to the NYS Far West Regional and will take Class A1 champion Eastridge, which defeated Irondequoit, 52-43.