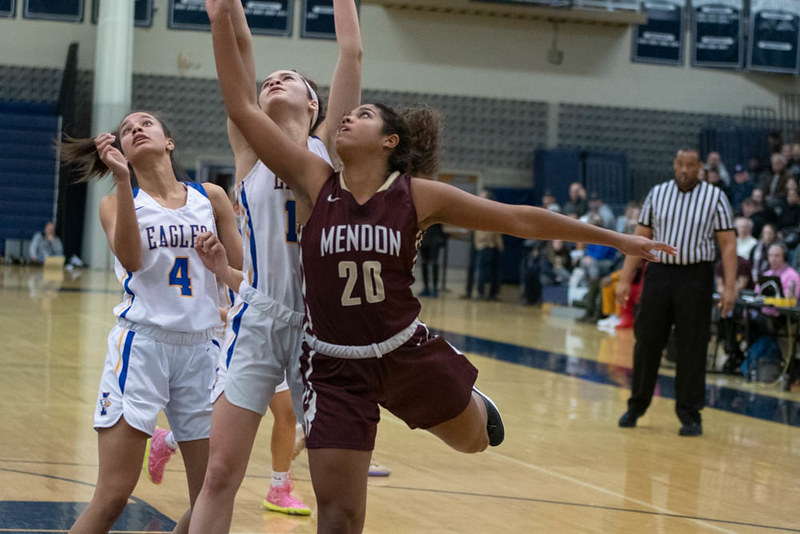 By JOHN LIKANJE
GATES, N.Y. – A typical cliché for a sports team that wins multiple championships in a row is that they must have gotten lucky. Not Pittsford Mendon. Friday night at Gates-Chili High School, the Lady Vikings proved that they have tradition and built their entire program from the ground up.
Katie Bischoping and Lexi Green, the co-captains who have exemplified the program's motto, stepped up and led Pittsford Mendon to its fourth straight title with a 53-47 victory over top-seeded Irondequoit.
The duo combined for 15 straight fourth-quarter points as the Lady Vikings outscored the Lady Eagles, 22-15.
"Lexi and I have always played together," Bischoping said. "We've always been on the same page. In times like this, when it's a close game, you got to come together."
"We graduated eight kids, four starters last year," Pittsford Mendon head coach Todd Julien explained. "Lexi and Katie had some experience. Lexi started. Katie played a lot. But at the end of the year, they all morphed into walls that assimilated last year.
"I'm just so proud of those two kids. Lexi was a significant player, but Katie just came through for us. It wasn't just tonight. It was gradual, evolving to that over the season."
Leading 35-32 early in the stanza, Green finished a contact layup to cap off a 10-1 run extending back to the third period. Then, Bischoping exploded for 11 consecutive points on a putback and three long-range shots.
"You just got to keep shooting," the senior forward said. "I missed a ton of threes in the first half. You just got to keep shooting and keep going and keep taking those shots that are open. If it's not me scoring, then it's someone else. We want the whole team to score. It's not my shot, it's our shot."
Crazy. @katiebischoping has 11 in the fourth, including three 3s. @mendonGVBB leads 48-42 with 2:18 to play against Irondequoit with a four-peat within reach. @PickinSplinters @jml5798 #ROC pic.twitter.com/EQEtoxacVy

— Billy Heyen (@BillyHeyen) March 7, 2020
Despite Irondequoit responding with a three-pointer and forcing a turnover, the Lady Vikings got a stop and Green drove all the way to the cup for the bucket and the foul to extend the lead to 50-45.
And1 for @lexigreen_20 with 1:12 to play gives her 16 and puts @mendonGVBB up 50-45 with 1:12 to play. @PickinSplinters @jml5798 pic.twitter.com/HfE3oafsat

— Billy Heyen (@BillyHeyen) March 7, 2020
Anaya Coleman and Danielle Strauf combined for 3-of-4 free throws in the final 24.9 seconds to secure the victory and the block.
Green battled through an ankle injury and finished with a team-high 16 points. The junior guard scored the Lady Vikings' first seven points of the game as part of a 9-0 start. Despite sitting out the entire second quarter, Green convinced Julien and the staff that she was not going to let the ailment hinder her from being out there for the team.
VIEW MORE SUE KANE PHOTOS HERE.
"It was scary because one thing I've been thinking about is that I can't get hurt and then I go down," Green said. "I knew that it was just an ankle and I could come back in the game. It was definitely sore. But I was able to push through it."
"You can see that she really didn't have the lift that she had in the beginning of the game," Julien said. "But man, did she give us some big moments. Just her being in there kind of stabilized us from a scoring standpoint and a rebound standpoint."
Bischoping scored all 14 of her points in the second half as Pittsford Mendon outscored Irondequoit, 32-26. The senior forward earned tournament MVP honors as well. Coleman made four layups and 3-of-4 from the charity stripe for 11 points.
Anaya Coleman bucket puts @mendonGVBB up 19-11 with 5:31 left in the first half. @PickinSplinters @jml5798 pic.twitter.com/eGzq0WAd4g

— Billy Heyen (@BillyHeyen) March 6, 2020
Bridget Miller (5), Strauf (5) and Ellen Henry (2) rounded out the scoring for the Lady Vikings. Pittsford Mendon held Irondequoit to four made field goals in 32 possessions through the first half, including one make in 18 possessions in the opening stanza. For the game, the Lady Vikings forced 19 turnovers and 37 missed shots in 58 possessions.
"Mixing up the defense definitely helped us," Bischoping acknowledged. "We threw different things at them to get them confused and change their offense a little bit and I think that helped us win tonight."
"We know that they're a great team," Green said. "Just being able to get stops on defense. That translated to our offense and that's something that we really emphasized."
"Our kids are taking a lot of pride in it," Julien said about his squad's defensive effort in the postseason. "We are primarily a man-to-man program. That's where we're at our best. It's been slow, but it's here now. It showed off tonight. We were really on our game in the first quarter."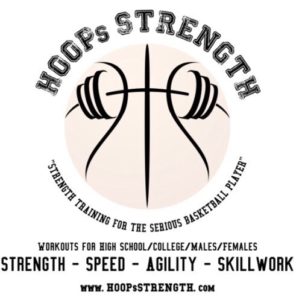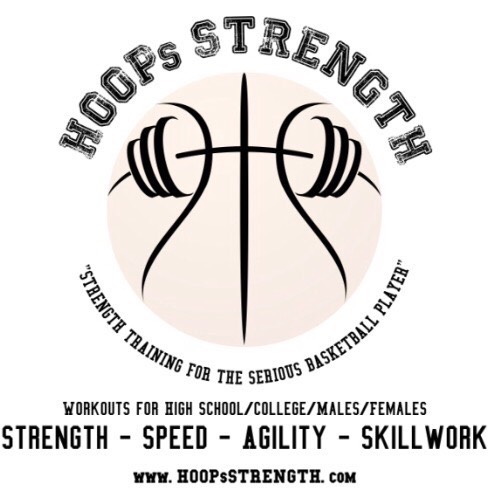 For Irondequoit, Alahna Paige, who came into Friday's game averaging 29.2 points per game, was held to 18. All four of her made field goals came in the second half – two floaters, a three-pointer and a layup. Paige connected on 9-of-11 free throws as well while battling through double teams and Pittsford Mendon's zone defense.
"Alahna Paige is such an amazing player," Bischoping said. "We play AAU together, actually. Our mindset was the less shots that she gets and she takes is better for us. I think that we accomplished that goal tonight."
Paige hit a 3. Then Bischoping answers. 42-38 Mendon 3:53 to go. @PickinSplinters @jml5798 pic.twitter.com/4v9zz9a9QE

— Billy Heyen (@BillyHeyen) March 7, 2020
Tatum Clarke knocked down three shots from beyond the arc as part of her 11-point night. Drew Kemp (7), Leah Memmott (6) and Morgan Nicholas (5) rounded out the scoring for Irondequoit.
Tatum Clarke brings @wieagles within 3 with 1:36 to go. @PickinSplinters @jml5798 pic.twitter.com/iD3nRI3apu

— Billy Heyen (@BillyHeyen) March 7, 2020
Pittsford Mendon advances to the NYS Far West Regional and will match up with the Section VI winner. Game is slated for next Saturday at 7 p.m. at Rush-Henrietta High School.