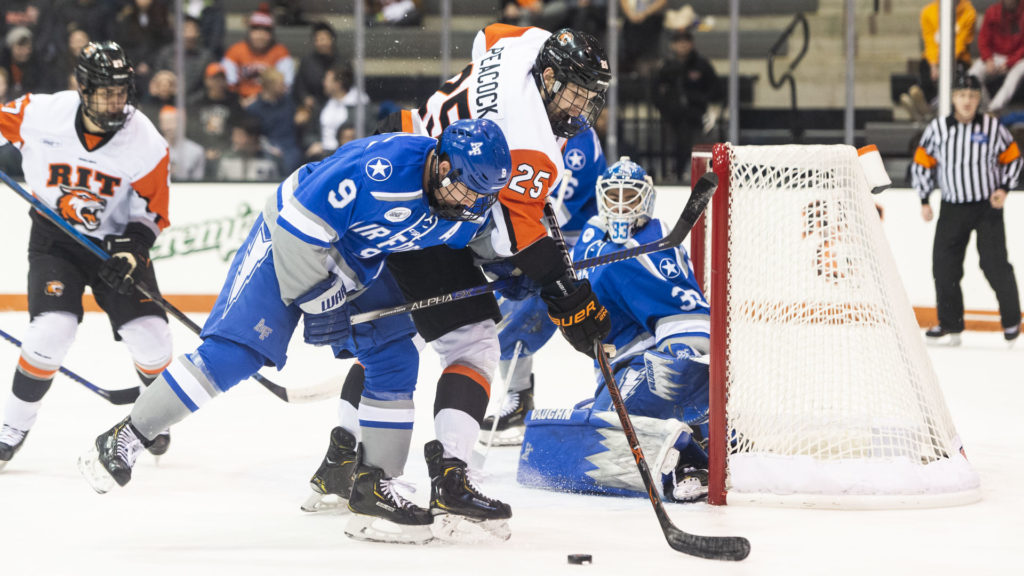 By KEVIN OKLOBZIJA
The Atlantic Hockey playoffs will begin a little early for Rochester Institute of Technology's men's hockey team.
Sort of.
In coach Wayne Wilson's opinion, Saturday night's season finale against Air Force is a critical showdown for positioning, even though the Tigers have already clinched a first-round bye.
That's because Wilson places significant value on finishing in third place, and the Tigers can still get there if: they defeat Air Force on Saturday and Army loses at American International College, or if they earn one point by reaching the three-on-three portion of overtime and Army loses in regulation.
They actually could have been in an enviable position had they won on Friday night, because Army was idle. But a sleep-walking first period paved the way to a 3-0 loss to Air Force at the Gene Polisseni Center.
Luke Manning's goal just 13 seconds into the game after a steal of the puck from Dan Willett behind the Tigers net staked the Falcons to an instant lead.
The score didn't change until 1:13 remained, when Brady Tomlak scored the first of two Air Force empty-net goals. Air Force goalie Alex Schilling stopped all 26 RIT shots, the first time the Tigers have been blanked since Oct. 26, 2018, at Robert Morris.

"They're a team that's won zero games when they're behind in the first period," Wilson said. "I thought our first period was poor, our second period was better and our third period was our best."
Still, that didn't mean it was good.
"Our fourth line (Andrew Petrucci, Ryan Kruper and Jordan Peacock) was the only line that worked," Wilson said. "Our skilled guys did not work very hard."
That would explain why on a power play midway through the first period the Tigers went offside on one rush, iced it on a second and shot it into the protective netting at the end of the ice on a third rush.
Because of the loss, fourth-place RIT (14-9-4 conference, 18-13-4 overall) remains one point behind Army, 48-47. If they lose to Air Force again, they'll stay fourth and could very well end up hosting the Falcons in two weeks in the best-of-three second-round series.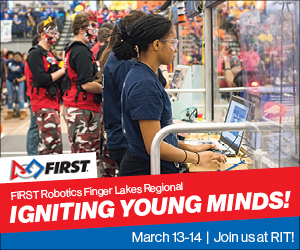 "(Saturday's) game is a very, very, very, very big game for Air Force and RIT," Falcons coach Frank Serratore said. "If we win, we get a bye."
Wilson wants third place because it means the Tigers start the playoffs on March 13 at the Gene against an opponent that already played a series.
"Then we're not playing a rested team, then we're not playing a team that has two weeks to prepare for us," Wilson said. "That's an advantage, that's what finishing third means."
The Tigers thought they had tied the game at 12:05 of the second period when Adam Brubacher's shot off a two-on-two fast break slithered past Schilling.
Air Force, however, challenged that the Tigers had made an illegal line change and the referees waved off the goal following video review. Serratore credited his director of hockey operations, Ben Kinne, with spotting the infraction, one that Wilson didn't dispute.
Then with 7:56 remaining in the third period, Jake Hamacher was awarded a penalty shot but he Schilling wouldn't bite on any fake and the Tigers' second-leading scorer didn't really even get a shot on goal.