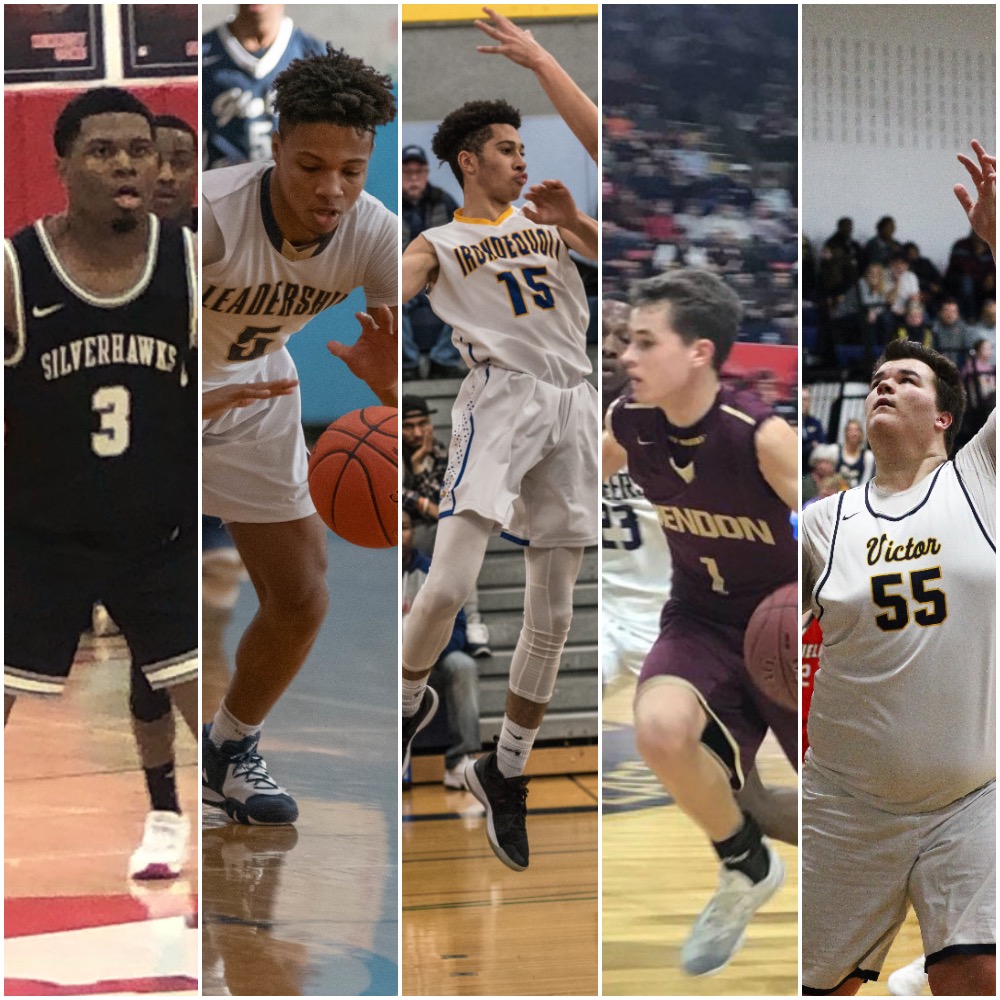 By PAUL GOTHAM
With the Section V boys' basketball playoffs set to tip off, a survey of the 2021 class.
ETHAIN CLARKE-DESOUZA 6-foot-1 Jr. G School of the Arts Silverhawks (Rochester City Athletic Conference – Lower Division) – Exciting potential, rugged guard who sheds contact on his way to the basket, able to finish with either hand in traffic, impressive mid-range game, able to create his own shot and get opportunities for teammates, still developing a consistent long-range game which will make him all the more difficult to stop; advanced rebounder with strong hands, able to release quickly with outlets, at the same time can bust it up the middle of the floor when the situation warrants; impressive defender who guards one through five on the floor, gives up little in any head-to-head situation. Averaging 23.1 points per game he has scored 1,233 career points, has accounted for 10 double-doubles this season. SOTA will host Pittsford Sutherland in the Class A2 quarterfinals. A 5 p.m. tip off is scheduled Saturday, February 29 at School No. 33.
MAURICE McKINNEY 6-foot-1 Jr. G Leadership Academy (Rochester City Athletic Conference – Upper Division) – Fearless ball handler who works well in tight spaces, strong set of shoulders helps him protect the ball and get to the basket where he finishes well with either hand, understands when to dish off, developing into a 3-point threat which will make him a handful to defend, shows midrange accuracy; moves feet well on the defensive end of the floor and jumps passing lanes, opponents have to account for him on every possession or he will create a turnover; active rebounder with strong hands, he stays with the play. Averaging 21.8 points per game, McKinney has seven double-doubles this season including a pair of the triple-double nature. Leadership will host the Spencerport/Canandaigua winner in the Class A1 quarter-finals. A 5 p.m. tip off is slated Saturday, February 29.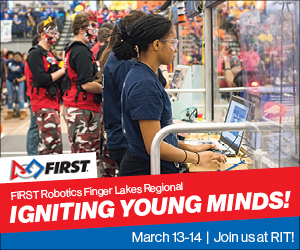 KEENAN ROBERTSON 6-foot-5, Jr. F Irondequoit Eagles (Monroe County Division II) – Inside – outside threat with an impressive blend of athleticism and skill; long and lanky, he is comfortable playing in the post where his advanced footwork creates problems for defenders, he is comfortable catching, facing and finishing in the paint – his up-and-under move shows his maturity, what sets him apart is the ability to step out 8-10 feet along the baseline and knock down a jumper, has to be defended beyond the 3-point arc and because of this creates space for his teammates to work off the dribble; defends before his man catches the ball and forces opponents out of their comfort zone, mature shot blocker who rarely gives up rebounding position; active rebounder who can climb above opposing players and still run down longer caroms. Averaging 18.6 points per game. Irondequoit will host the Churchville-Chili/Brighton winner in the Class A1 quarter-finals. A 7 p.m. tip off is scheduled Saturday, February 29.
JACOB SHADDERS 6-foot-1 Jr. G Pittsford Mendon Vikings (Monroe County Division III) – Crafty playmaker with an impressive dose of bravado; possesses a unique blend of agility, court vision and strength, capable of finding teammates in transition with surprising pace on passes, knows how to use the dribble effectively to create passing lanes in the half-court; elevated release point on jumper makes him difficult to defend, has to be defended beyond the arc, quick first step makes him a threat to get to the basket, smooth mechanics getting the ball from the catch to release point, thrives in big moments; uses length as a disruption to opponents on the defensive end; active rebounder. Averaging 22.9 points per game with 7.5 rebounds, he has scored 1,008 career points. Pittsford Mendon will host Brockport in the Class A1 quarter-finals. A 7 p.m. tip off is scheduled Saturday, February 29.
CONNOR WILLIAMS 6-foot-11-inch Jr. C Victor Blue Devils (Monroe County Division I) — Physically imposing player who serves as the focus of Victor's half-court offense; equipped with strong hands, Williams makes a great target in the post, sees the floor well and is able to fan the ball from the block where his teammates benefit from opposing defenses looking to collapse and take away inside scoring opportunities, his 1.4 assists per game do not completely tell the impact Williams has on the offense, deft touch around the basket he uses smooth footwork to face up, finishes with either hand around the rim, steps away from the basket where consistent from 15 feet but can also step out behind the 3-point arc where he has to be defended (hitting 61 percent from long range); active rebounder, he averages 8.2 boards per game; Scoring 12.3 points per game. Victor will host the Aquinas/Fairport winner in the Class AA quarterfinals. A 7 p.m. tip off is slated Friday, February 28.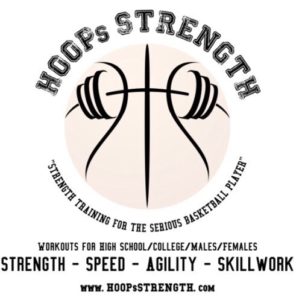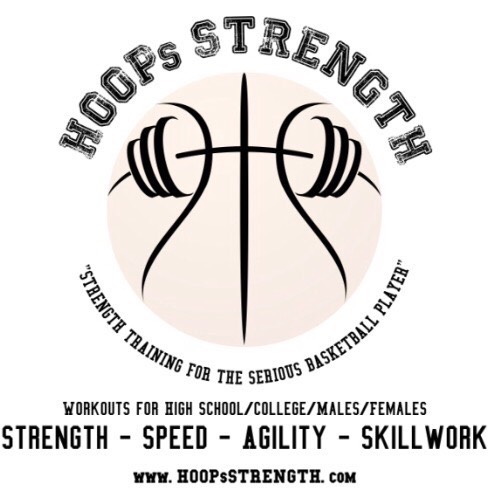 Names to know of other student-athletes from the 2021 class: Nate Askin/Geneva, Horace Betts IV/Lyons, Rayshawn Boyd/Leadership, Romel Brown/WOI, Joe Cairns/McQuaid, Camden Chance/Clyde-Savannah, Jaden Courtemanche/Avon, James Crowder/Prattsburgh, Jaleel Davis/Irondequoit, Chase Dickens/Victor, Chuck Domm/East Rochester, Shaheem Ellis, Jr./Edison, Kenny Freeman/Greece Athena, Chaheim Fowlks/Edison, Andrew Gabbard/Gananda, Zach Gilebarto/Batavia, Devin Green, Jr./UPrep, Michael-John Grover/Perry, Steffan Gwyn/Livonia, Wesley Henderson III/Aquinas, Ryan Herod/Marcus Whitman, Jalen House/Rush-Henrietta, Luke Hoyser/Pittsford Mendon, Luke Insley/Webster Schroeder, Clinique Jackson/East, CJ James/Victor, Kris Johnson/Prattsburgh, Ryan Judd/Brockport, Ryan Kurtz/Hilton, Cam Loucks/Scio, Patrick Lustyk/HF-L, Gerard Marchand/Chesterton, Jayden McKinney/Clyde-Savannah, Ky'Mere Meeks/Webster Schroeder, Alex Minnehan /Livonia, Shawn Minnehan/Livonia, Ke'Vion Mitchell/SOTA, Andrew Newcombe/Northstar Christian, Quinton Norris/North Rose-Wolcott, Tyler Ortiz/Brighton, Trynzeir Parker/NE Douglass, JoJo Plummer/Webster Schroeder, Jake Priesser/Pittsford Sutherland, Matt Rennie/Brockport, Tyler Reynolds/Wayne, Jaquis Robinson/Rochester Prep, Aidan Royston/Marcus Whitman, Kenny Saunders/LeRoy, Jeshua Shaw/World of Inquiry, Christopher Sleeper/Rush-Henrietta, Kyle Slywka/Waterloo, Justin Smith/Lyons, Reggie Smith/SOTA, Sean Smith/Northstar Christian, Jah'Meir Speed/Monroe, Will Tehan/Victor, Albert Tomlin/Rochester Academy, Patrick Uebelacker/Spencerport, Keith Warren/McQuaid, RJ Wilkins/Penfield, Adam Williams/Gates-Chili, Tyler Williams/Webster Thomas and Adam Wright/Geneseo.