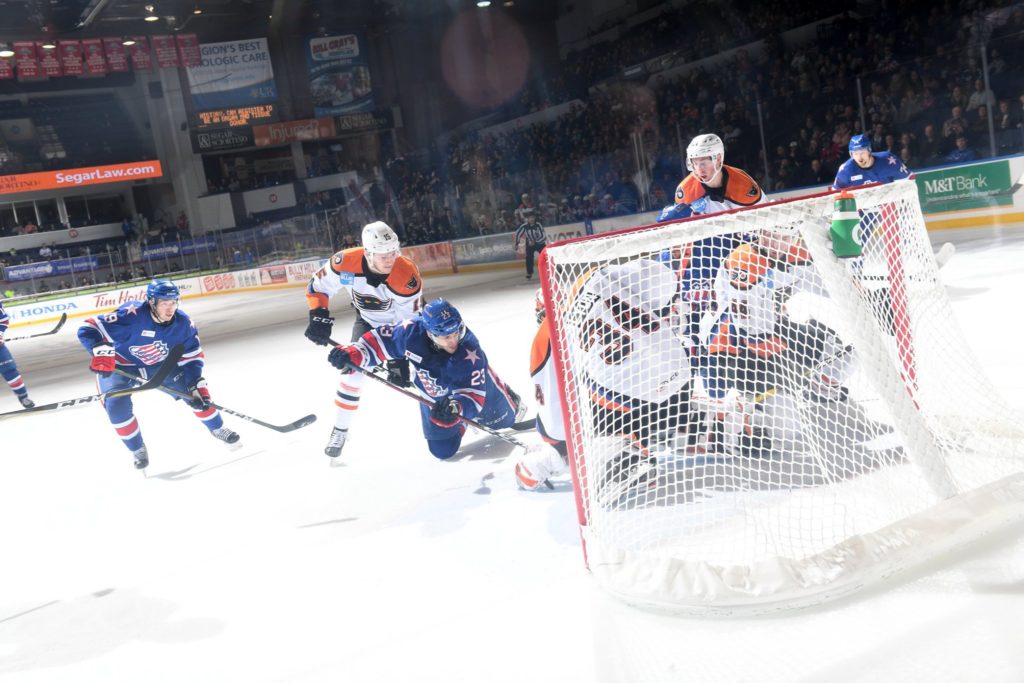 By KEVIN OKLOBZIJA
Way back on opening night, Rochester Americans assistant coach Gord Dineen talked about how impressed he was with the skating abilities of rookie defenseman Jacob Bryson.
But only over the past few weeks has Bryson really begun to show what he's capable of producing.
It's amazing what a shot of confidence can do.
Bryson continued his emergence on Friday night, setting up one goal before scoring the winner 35 seconds into overtime as the Amerks defeated the Lehigh Valley Phantoms 3-2.
It took Bryson until his 52nd game to score his first professional goal, converting a Rasmus Asplund pass off a two-on-one fast break on Wednesday night.
Now he has goals in back-to-back games. This time, as Casey Mittelstadt was angling through the right circle toward the net, Bryson charged toward the deep slot.
Mittelstadt's pass hit traffic but dropped right at the top of the crease and Bryson swatted it into an open net.
"Mittsy made a great play and I was in the right spot at the right time," Bryson said.
The goal saved the Amerks from another possible crushing loss. On Wednesday they squandered a 2-0 third-period lead and lost 3-2 in overtime to Belleville.
On Friday night, they carried a 1-0 lead into the third, gave up the tying goal, went ahead with 51.1 seconds remaining on a Sean Malone goal, then watched the Phantoms tie it 20 seconds later.
Goalie Andrew Hammond, who played especially well, blocked an attempted centering pass but the puck caromed across the deep slot and Mikhail Vorobyev slammed it in.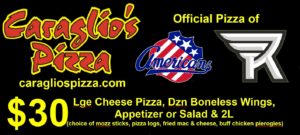 "I thought we were doing all the right things and I go to block a pass and it goes to the backdoor," Hammond said.
Said Malone: "It was an emotional roller coaster. I was very amped up (after scoring) and 10 seconds later it's in our net."
They didn't collapse, however, with Bryson scoring before there was ever a line change in overtime.
The goal gave him 10 points in his past 13 games (2 goals, 8 assists). He has 2-19-21 in his 53 games this season.
"There's newfound confidence," Amerks coach Chris Taylor said. "He's getting more points lately and any time you get rewarded you start to gain confidence. Some guys get an empty net goal and it gives them liftoff."
That was very evident when he set up Malone's goal in the final minute. He held the puck in near the Phantoms blue line and, without hesitation, bolted down the right wing boards.
That forced defenders to chase while trying to recover. Bryson's pass for Andrew Oglevie deflected away from the Amerks winger but Malone was following the play in the high slot and fired high into the net for his 11th goal.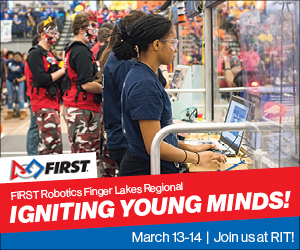 "I grabbed that puck and I felt I could beat those guys wide," Bryson said. "I'm trying to use my speed to the best of my ability."
Considering that skating ability — not just his speed but his all-directions mobility — is his biggest asset, the new mindset is making him much more dangerous.
"He's jumping in plays because he can recover," Taylor said. "It's making him tough to control for other teams."
The Amerks (30-17-3-4, 67 points) also gained on first-place Belleville as the Senators lost at home 6-3 to Utica. The six-game homestand continues Saturday night against Cleveland.