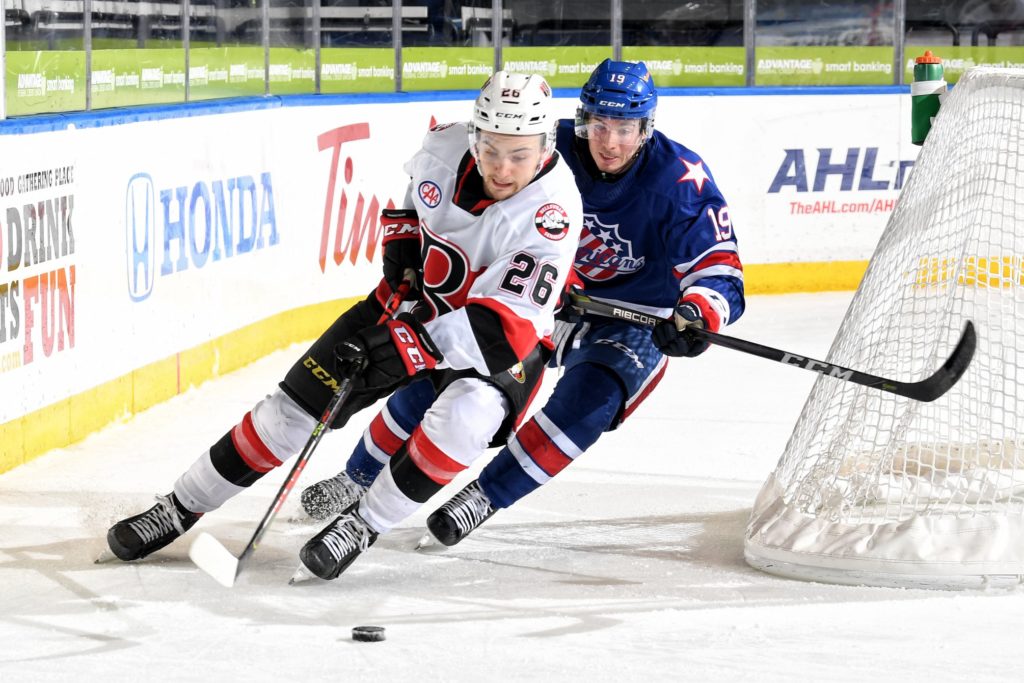 By KEVIN OKLOBZIJA
If the Rochester Americans were realistically going to take a run at first place in the American Hockey League's North Division, then victory on Wednesday night was paramount.
The Belleville Senators came to Blue Cross Arena at the War Memorial with a seven-point lead over the second-place Amerks.
They left with an eight-point lead — and left behind a perplexed Amerks team and a dismayed Amerks coach.
Ahead 2-0 and in total control through two periods, the Amerks allowed Josh Norris and the Senators to tie the score in the final 10 minutes before winning the game 72 seconds into overtime.
Norris set up the first Belleville goal by Vitaly Abramov 10:23, tied the score with a slick mid-slot deflection with 4:49 to play, then ended the game by driving a shot from the left circle past goalie Ukko-Pekka Luukkonen.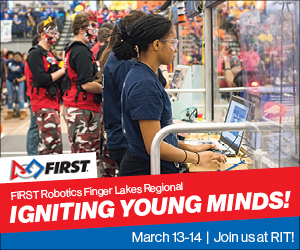 "Tonight was a big game," said rookie defenseman Jacob Bryson, who scored his first goal as a pro at 10:56 of the second period. "They have a lot of young talented forwards. That's the team to beat right now."
The Senators (35-15-4-1, 73 points) joyously celebrated the comeback victory, and rightfully so. They erased a late-game deficit on the road against a team that entered Wednesday with a 20-1-2-2 record when leading after two periods.
Then again, the Amerks (29-17-3-4, 65 points) have hardly mastered the great-from-start-to-finish playbook, and they know it.
"I think that's what we have to work on, playing a full 60 minutes," said winger Jean-Sebastien Dea, who scored his team-leading 15th goal. "We either don't start strong or don't finish strong."
The winning goal was scored after defenseman Lawrence Pilut attempted to dangle down the slot and between two defenders. It ended up being a rather nothing scoring chance that the speedy, look-to-attack Senators exploited.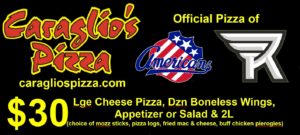 Rudolfs Balcers passed to Norris, who sped away down the left wing before unloading from the left circle for his 30th goal, second-most in the AHL.
"He's a game-changer for sure," Taylor said.
Taylor is very familiar with Norris. He was a teammate of Norris' father, Dwayne, in Germany a dozen years ago.
"Josh is the same age as Sami (his daughter, Samantha)," Taylor said. "I used to drive them to school."
On Thursday he'll try to again drive home the point to his team about finding a killer instinct.
While the overtime play by Pilut didn't resemble anything you'd draw up, and consequently Dea and Taylor Leier weren't in position to defend.
"I'm not even looking at the overtime, there shouldn't have even been an overtime," Taylor said. "It's hard to win games, it's hard to finish teams off. We weren't willing to finish that team off."
He was especially perturbed at the overall play in the third period.
"We play four lines, there's no excuse not to have fresh legs," Taylor said. "You have a power play … you have no shots on it."
Thus, the Amerks learned again why the Senators are in first place.
"We have to give them credit," Dea said. "They're talented, they're young, they're hungry."
Taylor is hoping the Amerks find a little more late-game hunger soon.