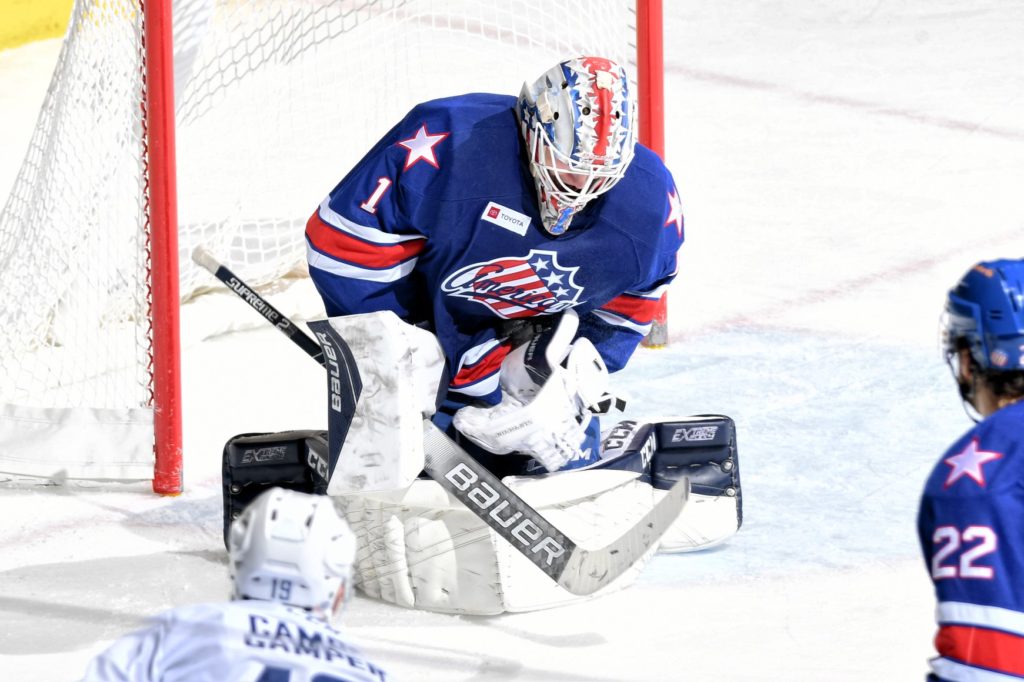 By KEVIN OKLOBZIJA
Of the 6,769 fans, 40 players, two referees, two linesmen, plus the dozens of support personnel in Blue Cross Arena at the War Memorial on late Sunday afternoon, all but three no doubt thought the Rochester Americans had just bungled sure victory in the final minute.
"I'm sure it went through everybody's mind," Amerks coach Chris Taylor admitted.
A 3-0 second-period lead had already been whittled to 3-2, and now the Utica Comets had the greatest of great chances to tie it with 33 seconds remaining.
One of those believers, however, was Amerks goalie Ukko-Pekka Luukkonen.
And if there's one person you need to believe, it's the guy in goal.
So when Utica winger Kole Lind corralled a rebound in the middle of the slot and fired toward a mostly open net, Luukkonen had no thoughts of giving in, or giving up.
After kicking out with his left leg the initial shot from the left circle from Comets sniper Reid Boucher, the rookie goaltender shifted quickly across his crease and somehow got his left leg and/or catching glove in front of Lind's instant shot off the rebound to preserve the 3-2 victory.
"He's capable of making those big saves and we have confidence in him," said winger Eric Cornel, who scored his career-high 10th goal.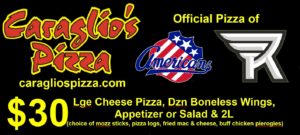 Remi Elie and Taylor Leier also scored goals as the second-place Amerks (29-17-2-4, 64 points) moved three points ahead of third-place Utica in the battle for home ice in the first round of the Calder Cup playoffs.
They were thanking their goalie for the cushion, too. "He kept them from getting a point," Taylor said. "That's a big-time save. He's maturing right before us."
While the Amerks played quite well in the two weekend games — a 4-3 shootout win at Syracuse on Saturday before the win on Kids' Day Sunday — they were in danger of giving up at least a point to their division rival.
Needing Luukkonen to be the last-minute hero wasn't in any coaching game plan.
"For us to give up that opportunity, it's not good," Taylor said. "We can't allow that if we want to go where we want to go (in the post-season)."
Then again, there will always be times when a goaltender must make the impossible save, and guy labeled the Sabres goalie of the future proved he can do it at the American Hockey League level.
"It just felt like he owned that crease," Taylor said, "and nothing we getting by him."
Luukkonen was playing just his seventh game of the season for the Amerks. He was an ECHL All-Star with Cincinnati before a January one-week looks-see in Rochester. He came back up to the Amerks after Sabres goalie Linus Ullmark suffered a lower body injury late last month.
"It's a big step up from the East Coast and junior and for sure I've been adjusting to that game more and more here," Luukkonen said.
In his seven games, the 20-year-old native of Espoo, Finland has a 3-3-1 record, 3.31 goals-against average and .887 save percentage.
Those aren't All-Star numbers, but he's just beginning his development journey. He showed on Sunday what he's capable of achieving, not so much with his 27 total saves in the game, but the one with 00:33 showing on the clock.
"It was one of those where you try to get something in front of the puck," Luukkonen said. "It feels good; you want to help your team as much as you can."