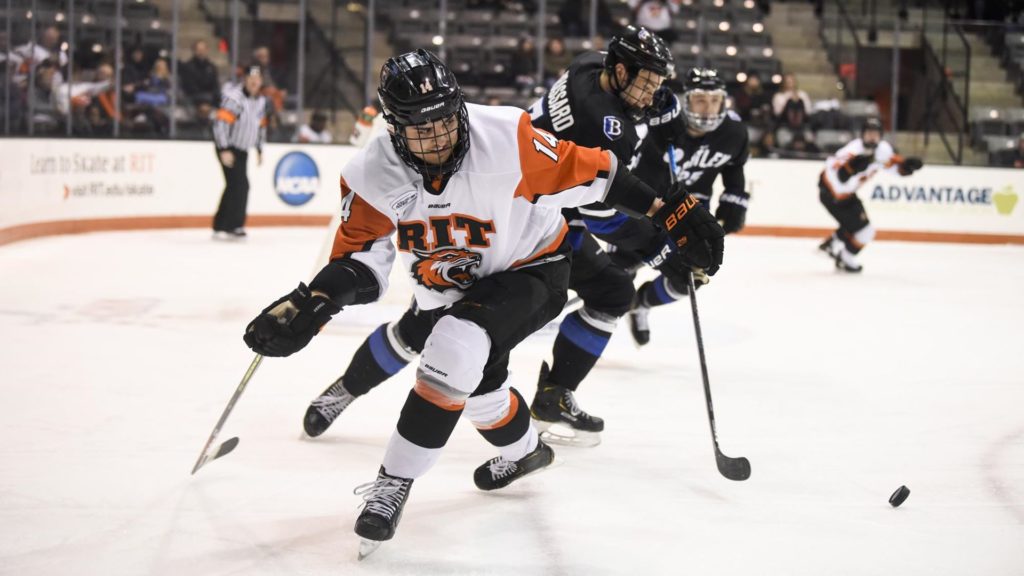 By KEVIN OKLOBZIJA
There are nights on the hockey rink that, no matter where you get the puck and no matter where the goalie might be, you're just not going to score.
The incredible save, a defenseman slides in front, you hit the post.
Jake Hamacher had a few of those nights this year. Afterward, he's told himself to stay positive, which is pretty much always his mantra.
And then there are nights when everything you touch turns to gold. Passes hit defenders and deflect right to you, giving the goalie no time to react. Passes deflect in off the goalie. Your linemate makes a great play to set you up for with an empty net.
Hamacher had that night on Friday. He scored three goals off the aforementioned plays and paced Rochester Institute of Technology to a 4-1 victory over Bentley University at the Gene Polisseni Center.
And after that type of night, you rejoice.
"You remember why you love hockey so much," the junior winger said with a big smile after the Tigers won for the fifth time in the past seven games (5-1-1) and improved to 12-7-4 in Atlantic Hockey and 16-11-4 overall.
With five conference games to play, RIT sits fourth, just two points behind third-place Army and six ahead of fifth-place Bentley. The top five teams receive a first-round bye and the No. 4 seed has home ice in the second round.
Hamacher may be heating up at the perfect time. Through the first 29 games, the native of Corona, Calif., had scored only 5 goals. A passer before a shooter, he still had 13 assists and ranked third on the team in scoring.

But he scored 14 goals as a sophomore, and natural progression said he score even more this year.
Ah, but not so fast. In the 11 games between Dec. 7 and Feb. 7, he never found the net. Then last Saturday he scored twice. And his first collegiate hat trick on Friday — his first since maybe the PeeWee level, he said — got him to double digits.
"He never complained about not scoring," Tigers coach Wayne Wilson said, "but you could see it was weighing on him."
That's only natural, of course. Top-six forwards, guys recruited because of their scoring ability, know the team is counting on them to produce. And they believe that's how they bring value to the team.
"That's when you have to explain the value to playing good defensively, about doing other things well," Wilson said.
Hamacher said he usually can stay upbeat. He has help, too.
"Part of it is having great teammates (Gonsalves and Caleb Moretz)," Hamacher said. "They're always picking you up."
He was happy for them on Friday. Moretz assisted on the first goal, which gave the Tigers a 1-0 lead 13:34 into the first period.
Hamacher then scored a power-play goal 3:41 into the second period to make it 2-0. He was trying to set up Shawn Cameron at the top of the crease but the senior winger was upended. The puck still went in, off the goalie.
Will Calverley stretched the lead to 3-0 at 18:36 with another power-play goal. Hamacher's hat-trick goal came into an empty net with 1:16 to play, after Gonsalves made a nifty play at the Bentley blue line before making the pass.
"It definitely feels good for our line, especially going into tomorrow and going for the sweep," Hamacher said.
Notes: Freshman defenseman Ryan Nicholson is starting to make big-time contributions. After collecting just two assists in his first 23 games, he has a goal and seven assists in the past eight games, including an assist on Friday. … Senior defenseman Adam Brubacher picked up two more assists, giving him 22. He's second on the team in scoring with 24 points. … The Tigers power play is finally producing again. They went 2-for-4 on Friday and are 7-for-24 (29.2 percent) in the past six games. That's after going 7 of 71 in a 19-game stretch. … Goalie Logan Drackett lost his shutout with 8:40 to play but was very good when tested, making 26 saves, including 14 in the third.