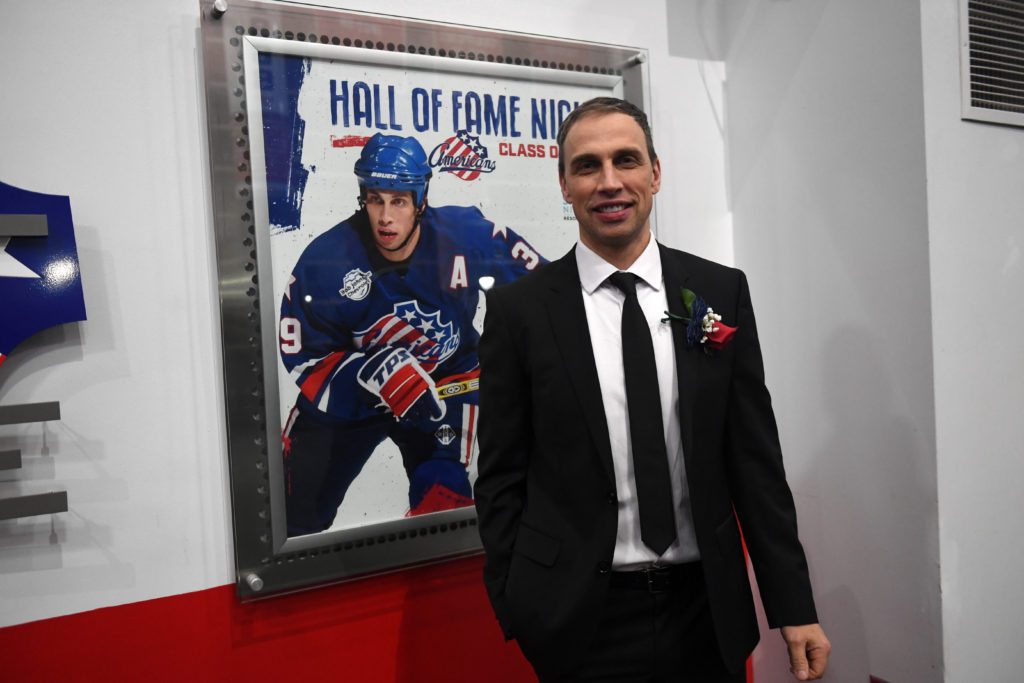 By KEVIN OKLOBZIJA
When Domenic Pittis played in Rochester as a member of the Syracuse Crunch in 1997-98, he knew it was a special place.
He admired the teams the Amerks built. He adored the passion of the fans.
"I was envious," he said.
The next two seasons, as a member of the Amerks, Pittis was a big reason that passion and excitement grew even stronger.
With his slick passing and desire to be the best he could be on every shift, Pittis led the Amerks to the Calder Cup finals in 1998-99 and 1999-2000. He was the teams leading scorer both seasons, and again in 2003-04 when he returned for an encore before taking his career to Europe.
On Friday the team paid Pittis the ultimate tribute. He was inducted into the Amerks Hall of Fame in on-ice pregame ceremonies.
"When Jody (Gage) called and told me, you start thinking about all the great guys you played with," Pittis said. "It's so humbling."
Pittis is the Amerks last 100-point scorer. He led the American Hockey League in scoring in 1998-99 with 104 points, fifth-most in franchise history. He holds the club record for playoff assists with 54, even though he played just three seasons in Rochester.
He was in no way one-dimensional, however. Yes, he won a league scoring championship and averaged well over a point a game (1.21) in his three regular seasons with the Amerks.
Yes, he averaged better than a point a game with the Amerks in the playoffs, amassing 16-54-70 in 57 post-season games (1.23).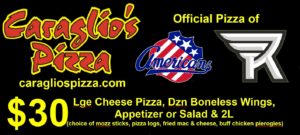 But the most remarkable stat may have been his penalty minutes. In each of his three seasons in Rochester, he piled up more penalty minutes than points: 108 compared to 104 in 76 games in '98-99, 85 compared to 65 in 53 games in 1999-2000 and 137 compared to 77 in 75 games in '03-04.
"Every now and then we had to have a chat and explain he was more valuable on the ice than in the penalty box," said Brian McCutcheon, the Amerks head coach during Pittis' first two seasons. "He was a great competitor."
Which meant he was perfect for prospects to emulate. In his three seasons, the Amerks went to the Calder Cup finals twice and the conference finals once.
"With his work ethic, he was a great example for younger players, showing them how to be pros," said McCutcheon, who drove in from his home in Ithaca to be present for induction ceremonies.
Pittis also played his personal doubleheader. On March 28, 1999, he played for the parent Buffalo Sabres in the afternoon, then drove down the Thruway to play for the Amerks that night.
He assisted on two goals for the Amerks. He ended up winning the AHL scoring title by two points over Randy Robitaille of Providence.
"When they asked if I wanted to play that night, I said, 'Sure, why wouldn't I?' " he said. "I never thought about it as something outside of your job description."
Throughout Friday's game, video tributes from former teammates played on the videoboard, including Ryan Miller, Scott Nichol, Jason Botterill, Martin Biron and Doug Houda.
During his induction speech, Pittis thanked the Amerks veteran core that was he learned from when he arrived: Craig Fisher, Mike Hurlbut, Randy Cunneyworth and Houda. He also thanked current coach Chris Taylor, his teammate in 1999-2000 and in 2003-04, as well as McCutcheon and former assistant coach Jon Christiano.
He had praise for equipment manager Dave Williams and trainer Kent Weisbeck. "There was 20 of us and one of you and somehow you did it all," he said.
And he thanked the fans for their passion, something he knew all about.