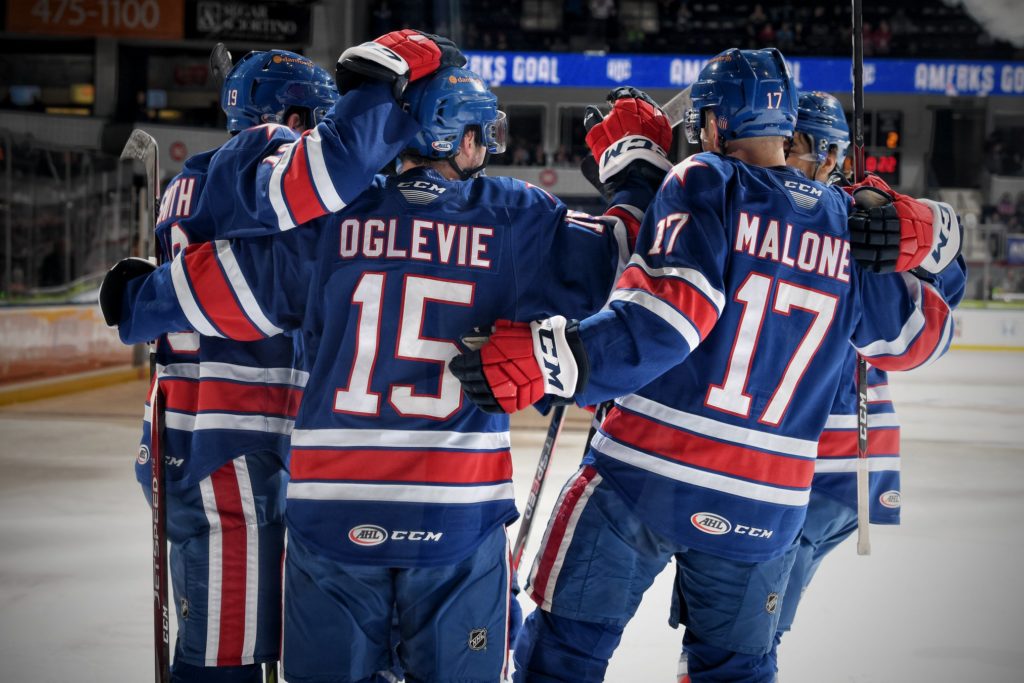 By KEVIN OKLOBZIJA
The Rochester Americans billed Friday as Seneca Niagara Legends Night, with Hall of Fame quarterback Jim Kelly signing autographs for fans before the game.
The Amerks players themselves apparently decided to proclaim it something else. Like end-a-slump night.
Andrew Oglevie and Sean Malone finally found the net again as the Amerks, scuffling for better than two weeks, defeated the Laval Titan 5-2.
Losers of seven straight before a 3-2 overtime victory in Cleveland on Wednesday, the Amerks continued their return to a more passionate style of play by dispatching of Laval in convincing fashion.
Oglevie scored twice, his first goals since Dec. 11, Malone was credited with his first since Jan. 3, and goalie Jonas Johansson made key stops when necessary as the Amerks improved to 23-13-2-4.
"We're at our best when we have an identity, and it feels good to get back to playing the way we can," Malone said. 
Before any goals were scored, Johansson made maybe his best save of the game just 6:36 after the opening faceoff. Charles Hudon, he of 19 goals this season and 119 NHL games in his career, was alone in the slot and fired for the top corner but Johansson snared the shot with his glove.
"The goal for a goalie is to come up with a save when your team needs one," said Johansson, who will be the Amerks lone playing representative in the AHL All-Star Classic Sunday and Monday in Ontario, Calif.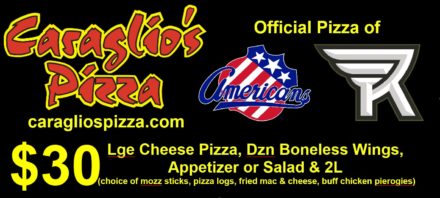 Oglevie then put the Amerks ahead at 12:32 with his 11th goal, redirecting John Gilmour's thigh-high wrist shot past goalie Keith Kinkaid. The deflection ended up being a quick one-hopper that even All-Star shortstop Francisco Lindor would have had a difficult time grabbing.
The second-year winger had gone 10 games without a goal, and along the way in that slump were another seven games missed because of injury.
So to say he was elated when the goal light went on would be a bit of an understatement.
"I was pretty fired up scoring that one," said Oglevie, whose empty net goal with 1:25 to play clinched the victory.
Then at 16:21, Malone was credited with his eighth goal, but he had little to do with the puck actually entering the net.
He dumped the puck in from the neutral zone and turned to head to the bench for a line change.
At the same time, Kinkaid was gaining control of the puck and trying to fire an outlet pass from just above his crease.
He instead hit his own defenseman, Josh Brook, who was maybe 12 feet away, and the puck caromed right back into the net.
Malone had no idea why the 6,039 began cheering wildly.
"I had no idea it went in," the third-year centerman said. "I think it all evens out eventually. Good karma."
Like Oglevie, Malone hadn't found the net on a regular basis in ages. He went eight games without a goal and had scored just once in his past 16 games.
C.J. Smith and Scott Wilson also scored for the Amerks, who play at Syracuse Saturday night.
Notes: Defenseman Lawrence Pilut, who scored the overtime goal in Cleveland on Wednesday, is not hurt but did not play. Taylor didn't provide a precise explanation of why, other than saying they have a lot of defensemen. … Captain Kevin Porter (lower body) and winger Remi Elie (lower body) also couldn't play, and won't on Saturday at Syracuse, either.