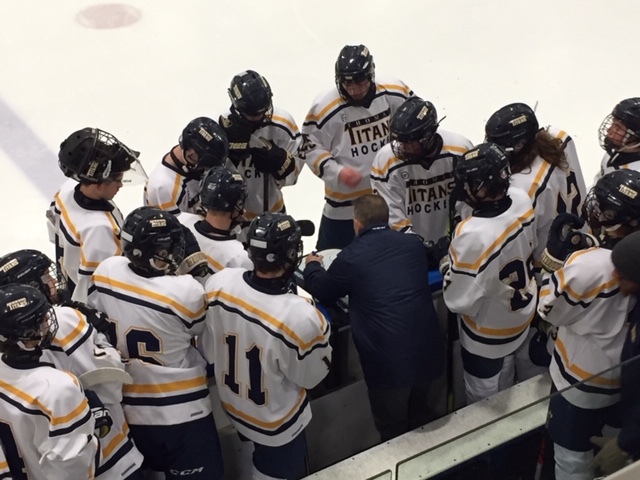 By KEVIN OKLOBZIJA
Webster Thomas may play in Division 2 but the Titans have never been afraid to play the big boys.
Never.
In fact, coach David Evans believes a schedule that includes high-level competition is the best way to prepare his team for the Section V tournament — and beyond.
So while the Titans are classified a Class B team in Section V and a Division 2 in the state, they chose to play a Class A regular-season schedule. And they don't just hope to compete; they expect to win.
That's just what they do, too, posting another victory on Tuesday evening in against Penfield. Cullen Hennessy and Liam Mayer scored goals and Connelly Springer made clutch saves when necessary as Thomas edged the Patriots 2-1 at Webster Ice Arena.
"I feel as a coach it's my job to allow my players to experience top teams, so they can grow not only as hockey players but it helps with life lessons as well," Evans said after the Titans improved to 12-1.
"When you're playing top teams, you have to work hard all the time. In life, things aren't always going to come easy. You have to work hard."

There was not shortage of hard work by either team in Tuesday's showdown of Webster Ice Arena tenants. Penfield (8-4-2, ranked 10th in Division 1) led 1-0 after the first period on a goal by Billy Kernan.
The Titans tied it on Hennessy's power-play goal a minute into the second period. His pass across the crease was blocked but he pounced on the loose puck and roofed it.
"It was sigh of relief to get that tying goal," Hennessy said. "This is a bit of a rivalry game and we want to establish this as our house, our barn."
Thomas then took the lead at 8:18 when Mayer converted an in-tight, goal-mouth feed from Dylan LaChance off a three-on-two fast break.
The goal was pretty much a who-can-pass-it-last exhibition, with Mayer reacting quickly to the last-instant set-up by LaChance to score his first goal of the season.
"I saw we had numbers so I decided to step up into the play," the defenseman said. "I was just trying to be ready for anything."
Ahead by a goal, Thomas relied on its stout team defense to protect the lead for the final 22 minutes. While Springer wasn't tested often, he did make key saves to prevent the tying goal.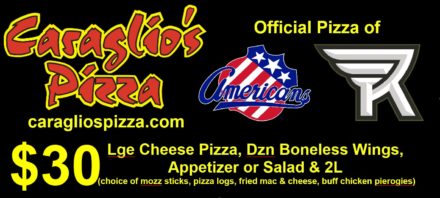 "He can make that big save when we need one," Evans said. "He's sort of the backbone to our D-zone."
Penfield continues to build from its own stinginess as a team. Goalie Brandon Holmes was especially sharp in holding the Titans to just two goals.
"We're a good defense-first team and that's how we're going to win," coach Nathan Miller said. "Thomas is the same. They've got a great hockey team and they deserve their state ranking."