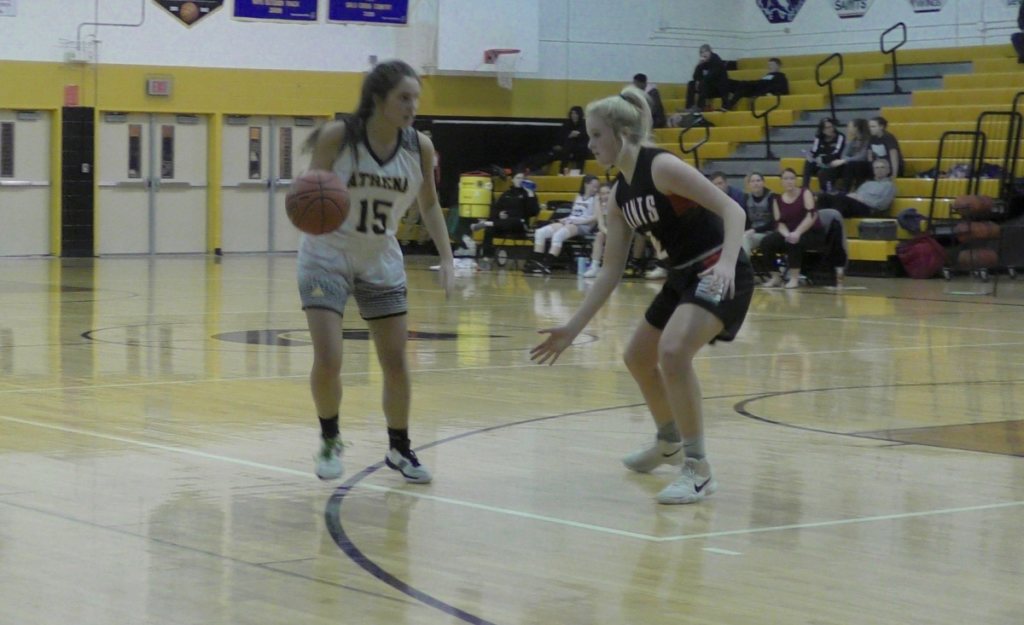 By PAUL GOTHAM
ROCHESTER, N.Y. — Freshman Sydney Postell scored a game-high 13 points, and the Churchville-Chili girls' basketball team used a decisive second-quarter run to down Greece Athena, 37-27 in Section V basketball action, Tuesday night. 
Deadlocked at eight midway through the second stanza, the Saints scored the final seven points of the half to take a lead they did not surrender. 
Jordan Loewke converted a pair of free throws to start the run. Postell hit one of two from the free throw line before Loewke scored on a drive from the wing. Jasmine Gibbs capped the quarter taking a a pass from Mikayla Shipley and finishing a two-on-one break for the seven-point advantage heading into the locker room. 
Jordan Loewke get to the rim for two. HALFTIME: @CCCSDathletics 15 @AthenaHigh 8 pic.twitter.com/adtmDvyi07

— Paul Gotham (@PickinSplinters) January 22, 2020
The Saints improved to 6-6 with the win. 
"I love these kids," Churchville-Chili head coach Todd Esposito said of his squad. "We're coming. 
"Our kids are talented. It's a matter of slowing down, running stuff and taking good shots. We're trying to get them to play a little bit more relaxed."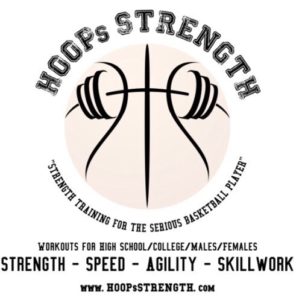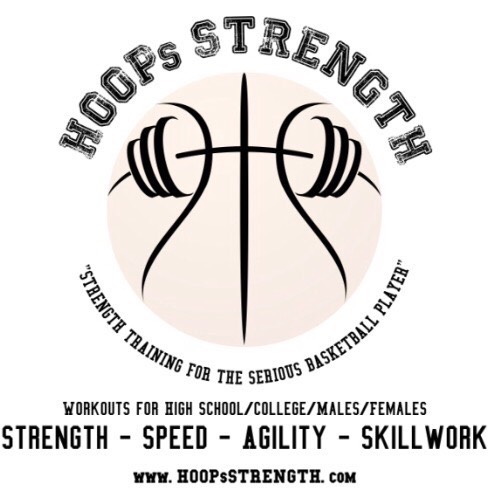 Postell took advantage of a second-chance opportunity early in the third quarter to finish at the rim. Loewke went end-to-end for another basket, and Shipley drained a 3-pointer from the top of the key to give Churchville its first double-digit lead of the night at 22-10. 
Sydney Postell takes advantage of a second-chance opportunity to give @CCCSDathletics a 17-11 lead over @AthenaHigh pic.twitter.com/x8HFaD6dqG

— Paul Gotham (@PickinSplinters) January 22, 2020
"We had 12 steals at halftime, but had only scored 15 points," Esposito explained. "It's just a matter of us slowing down."
Postell also helped keep Athena's Isabella DeRubeis in check. The Trojans senior scored 30 points in Athena's recent 53-48 win over Pittsford Sutherland. 
"She is talented," Esposito said of the Athena forward. "We were bound and determined to not let her beat us."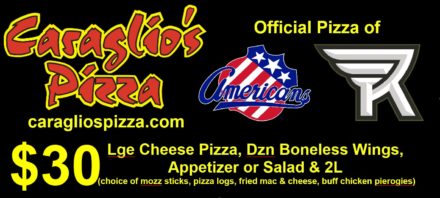 Postell connected five times from the floor including a 3-pointer in the fourth quarter. Loewke scored eight points. Jade Distant has six. Gibbs finished with five points. Isabella Smith rounded out the C-C scoring with two points. 
Jade Distant connects from the wing to give @CCCSDathletics a 24-16 lead @AthenaHigh heading to the 4th. pic.twitter.com/F4ULPtCAZu

— Paul Gotham (@PickinSplinters) January 22, 2020
DeRubeis paced Athena with seven points. Jade Talone added six, and Katie Fiannaca had five. Lauren Branigan (4), Kiera Osier (3) and Lynia Thomas (2) rounded out the scoring for Athena (5-6). The Trojans had won back-to-back games coming into the contest. Athena plays Brockport on Friday. 
Laura Branagan converts the rebound and putback to cut the @AthenaHigh deficit to 7. @CCCSDathletics leads 30-23 pic.twitter.com/VGQnKYv5d2

— Paul Gotham (@PickinSplinters) January 22, 2020
Churchville travels to Webster Thomas on Thursday to play the Titans.