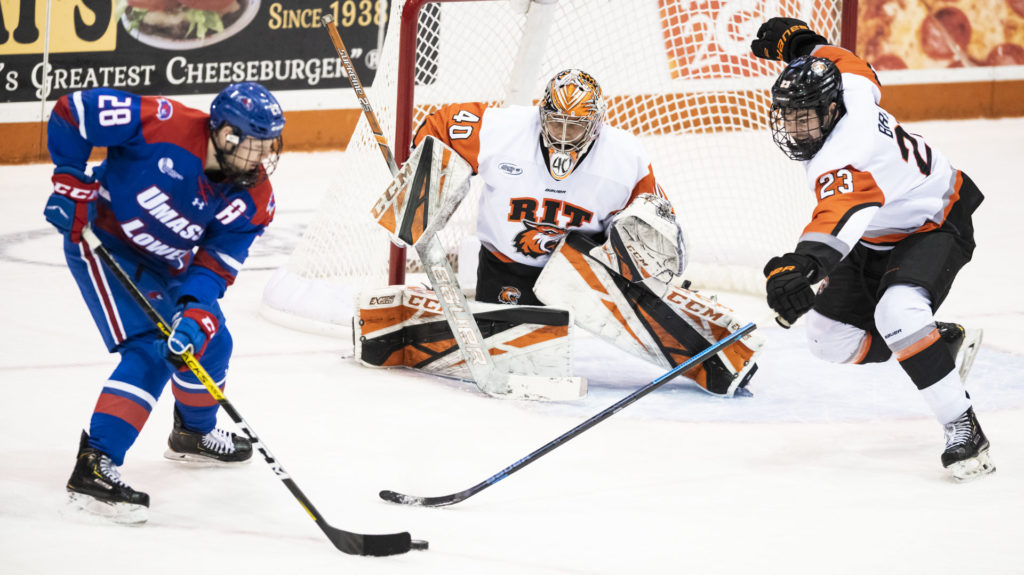 By KEVIN OKLOBZIJA
When you've been recruited to join an NCAA Division I hockey program, you already know you have some pretty solid credentials.
But as a goaltender, until you actually get a chance to start a game, until your coaching staff shows confidence in you, well, you really don't know how you stack up to life in D-I.
Kolby Matthews finally got to find out on Saturday night for the Rochester Institute of Technology Tigers.
He proved he can play.
The freshman goalie from Coquitlam, British Columbia, played with confidence and poise, making 28 saves as RIT upended No. 13-ranked UMass-Lowell 3-2 at the Gene Polisseni Center.
"The most important thing is getting a win for my team," Matthews said. "The fact we pulled it out against a ranked team makes it even better."
RIT (11-8-3) lost 6-4 to the River Hawks (12-5-4) on Friday night, with No. 1 goalie Logan Drackett taking the loss.
Since each team took a break from league action to play the two-game, non-conference set, both head coaches opted to rest their top goaltenders.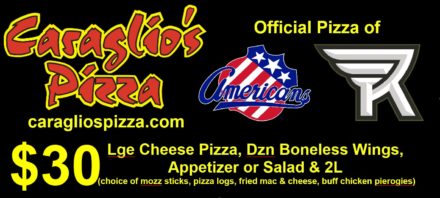 "The added bonus is we get a chance to play one of our other goalies," Wilson said. "The goalies that don't play much, everyone realizes so hard they work every day in practice, so it's nice to be able to give them a chance to play.
It's even nicer when they reward the confidence shown by the coaching staff. Until Saturday, he had played just 10 minutes, 54 seconds for RIT, and that was two months ago.
"My goalie coach (Len Perno) always says you have to be confident," said Matthews, who learned after Saturday's morning stretch that he'd get the start.
"You have to know that you can be the best goalie in the league, even if you're not. When you get your chance, you have to go into the net thinking you're the best."
Matthews had a to chance to show both teams that he belonged on center stage just two minutes into the game. River Hawks defenseman Chase Blackmun was free to move into the high slot and fired from prime scoring range.
Matthews, however, made the save and kept the game scoreless.
"Of course there's a few butterflies," Matthews said about the beginning of the game, "but once I made my first save I felt good. The fact you can make a couple big saves gets the crowd into the game."
The Tigers scored first, with Caleb Moritz connecting from the slot on a bullet shot to the top left corner as the trailer on a quick-developing three-on-two fast break at 12:18.
UMass-Lowell needed just 43 seconds to tie it, with Andre Lee sweeping in a rebound.
The score stayed 1-1, with Matthews having a big say in denying the River Hawks over the next two periods.
The Tigers finally broke the tie with 8:28 remaining in the game. Senior winger Shawn Cameron established position in the deep slot and, with his back to the net and his stick about waist high, redirected a point shot by Darren Brady for his eighth goal.

Since he had his back to the net, Cameron was seemingly the last RIT player to raise his arms.
"I saw my defenseman that shot the puck, I saw his reaction, and the fans were pretty loud so I knew it was in," Cameron said.
Freshman winger Andrew Rinaldi extended the lead to 3-1 with just 3:01 to play, taking a pass from Bryson Traptow off a two-on-one to score his eighth goal.
The River Hawks did pull within a goal with an extra-attacker, power-play goal at 19:23, but RIT held on.
The Tigers are 4-2 in non-conference play, their best mark ever, but they do still have two more games next week at Arizona State.
"We face these teams that are ranked and we' doing well," Cameron said. "At the start of the year we were right up there with Bowling Green (a 3-2 win) and Ohio State (a 3-1 loss). Doing that after Christmas, to still be doing that now, it shows what we can do."