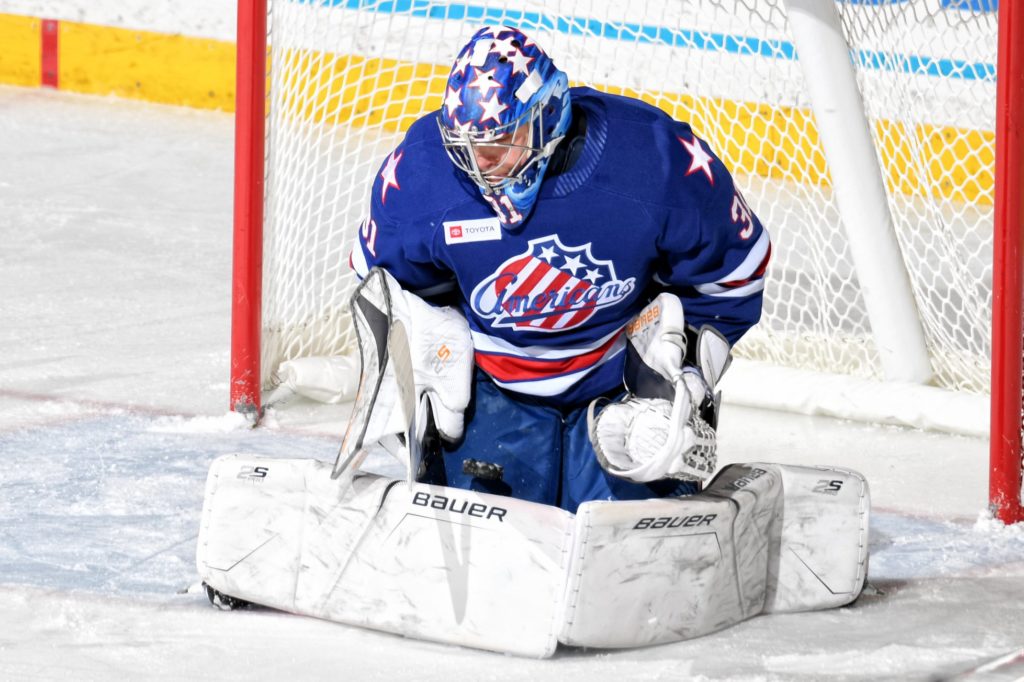 By KEVIN OKLOBZIJA
That Ulrica Johansson is getting to spend a little time with her son, Jonas, in December is surely enough of a treat in itself.
When you live 3,800 air miles away from Rochester, you don't get to prepare many home-cooked meals for your hockey-playing son.
But Jonas made his mother's trip from Galve, Sweden, even more special by posting his first career American Hockey League shutout Friday night as the Rochester Americans blanked the visiting Charlotte Checkers 4-0.
"You work hard every day to reach success, so obviously it feels good," Johansson said after the Amerks ran their point streak to 12 games (10-0-1-1) by upending the defending Calder Cup champions.
His mother made a visit last season but never got to see Jonas play. This time, she saw him play perhaps his best game as an Amerk with at least six terrific stops among his 26 saves.
The Checkers blitzed the Amerks in the first period, unleashing an unrelenting speed-based attack. They outshot the Amerks 8-1 through the first 10 minutes and created at least two no-way-they-can't-score chances.
Yet somehow Johansson made those saves, the first by kicking out his left leg to rob Max McCormick just 18 seconds into the game and the second by lifting skyward while in a crouch to block with his right shoulder a shot by Jake Bean at 9:50.
"He saved us in the first period," said captain Kevin Porter, who scored the second goal. "It was mostly because of him that we won."
Sean Malone, off a strong play by Dalton Smith, Brady Vail and Eric Cornel scored the other goals as the Amerks improved to 15-3-2-2, the best record in the AHL's Eastern Conference.
They haven't lost in regulation since Oct. 30, 38 days ago.
"We're playing well right now, we have some confidence, a little bit of a swagger," Porter said.
That they're without five of their top nine forwards to either injury or recall hasn't mattered because they're getting secondary scoring nearly every game.
Vail's goal was his first since his recall from ECHL Cincinnati six games ago. His last AHL goal came with the Amerks in 2016-17. And his only other AHL goal was scored for the Hamilton Bulldogs in 2012-13.
Cornel's goal was his fourth and Malone scored his fifth.
"There's nothing better than getting secondary scoring," coach Chris Taylor said.
Well, getting great goaltending might be better. Andrew Hammond made 20 saves in a 4-0 home victory over the Toronto Marlies. On Friday it was Hammond who secured the puck during the post-game celebration so Johansson would have a souvenir.
The Amerks have recorded back-to-back shutouts for the first time since 2012-13, when Nathan Lieuwen won 3-0 at San Antonio on March 24 before David Leggio blanked Syracuse 1-0 on home ice three days later.
"The way they're playing, it gives us confidence to make mistakes," Porter said.
The Amerks were intent on not making mistakes in the third period in order to ensure Johansson the shutout.
"Everybody talked on the bench, make sure we protect our goaltender for the last 10 minutes," Taylor said. "To me, that makes a special team."