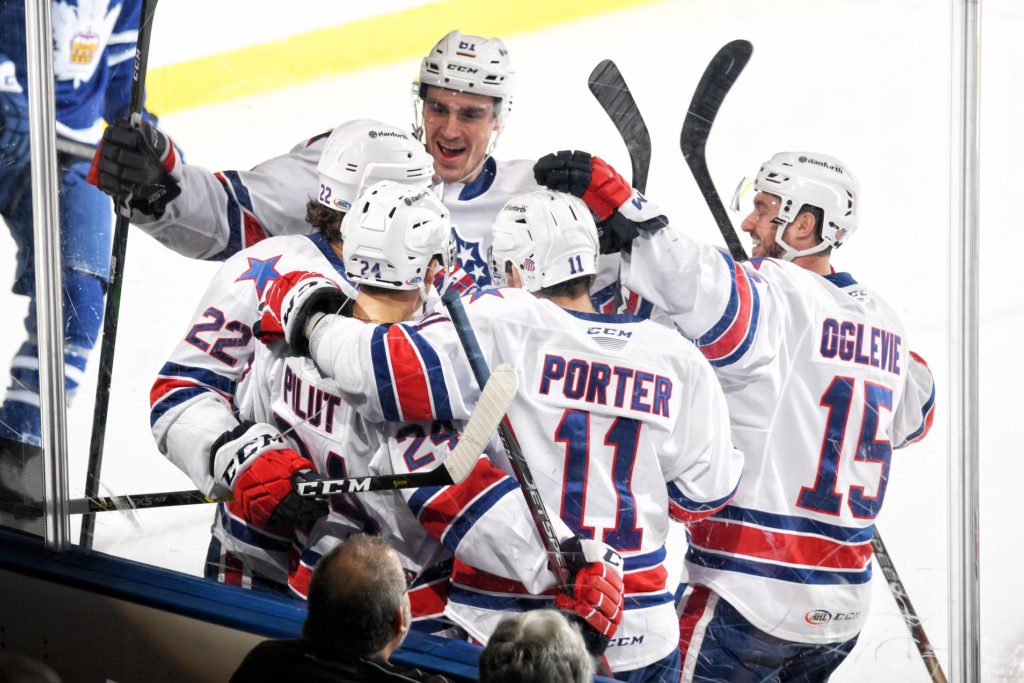 By KEVIN OKLOBZIJA
Two of their top six forwards remain on recall, another three of their top nine are injured and a defenseman is playing forward.
And yet the Rochester Americans just keep winning.
Andrew Hammond stopped 20 shots and Zach Redmond, Pascal Aquin, Curtis Lazar and Casey Fitzgerald scored goals as the Amerks blitzed the visiting Toronto Marlies 4-0 on Wednesday night.
With the victory, the Amerks (14-3-2-2) moved within a point of the first-place Marlies in the American Hockey League's North Division. They have points in 11 straight (9-0-1-1) and haven't lost in regulation since a 4-3 setback at Providence on Oct. 30.
Their .762 points-earned percentage is second only to Milwaukee (17-4-1-2, .771) in the 31-team AHL.
Not bad considering the talent that is out of the lineup. But whoever fills in excels. On Wednesday the Amerks got goals from a guy up who played the first six weeks of the season in the ECHL, Aquin, and a defenseman-turned-forward, Fitzgerald.
"We have that next-man-up mentality," said Fitzgerald, a rookie out of Boston College who has 2 goals, 5 assists and 7 points in 16 games. "Guys are going to step up and do what they can for their team."
Some would say the adjustment from D-zone to forward shouldn't be that difficult for Fitzgerald. His father, Tom, played 17 pro seasons up front and brother, Ryan, is in his fourth pro season on the wing.
"My first game at forward I was pretty lost," he said. "I've been a defenseman my whole life."
Yet while his future surely is on defense, he has worked hard to learn to be an effective forward, Amerks coach Chris Taylor said.
"I always like that guys are sometimes playing different positions," Taylor said. "Fitzy's done a great job."
Aquin also did on Wednesday. A free-agent signee before the 2018-19 season, he produced 27-32-59 in 68 games for ECHL Cincinnati last year and had a one-game call-up to the Amerks as well.
But he went without a goal in his first 10 games for the Cyclones this season, and hadn't scored in his first seven with the Amerks until 3:15 of the first period on Wednesday.
"It was a good feeling," he said. "I struggled a little with it in Cincinnati, just trying to do too much. Normally I keep it simple; straight line."
He was back to that style of play on Wednesday, often using his speed to disrupt the Marlies in their own zone.
"I thought this was one of his best games," Taylor said. "He was all over the puck and his forechecking was really good."
Aquin stared on a line with Fitzgerald and Brady Vail but ended up with Jean-Sebastien Dea and Lazar after Scott Wilson suffered an upper body injury. Taylor had no update on the severity.
Of course, it never hurts to have a reliable goalie just in case their are breakdowns.
Hammond wasn't required to do much in the first period when the Amerks built a 2-0 lead, but was tested on occasion over the final 40 minutes.
The shutout was his third of the season, all in his past six starts, and sixth in his past 22 starts dating back to last year with the Iowa Stars.
On Wednesday, however, he gave most of the credit to the players in front of him.
"More than anything this was a team shutout," said Hammond, who lowered his goals-against average to 2.44, 12th-best in the AHL. "The guys are giving up so little and when they do, you want to be there for them."
In case you were wondering …
Remember the odd play from the third period on Friday night, where Toronto scored a power-play goal but play continued and then Amerks winger Pascal Aquin took a penalty?
While all four officials somehow missed a puck shot into the middle of an open net, they did make the proper rulings in the aftermath.
When an apparent goal is missed, play continues until the next whistle. The officials then review video to determine if the puck entered the net. In this case, it did, so the goal is awarded and the clock is wound back to the time the puck entered the net.
In this case, the goal came at 8:43, while the Amerks were short-handed. Because the clock is wound back, that ensuing penalty officially is recorded at that same time. That means the original penalty is wiped out by the goal, but the delayed penalty is enforced because the Amerks "officially" were short-handed at the time.