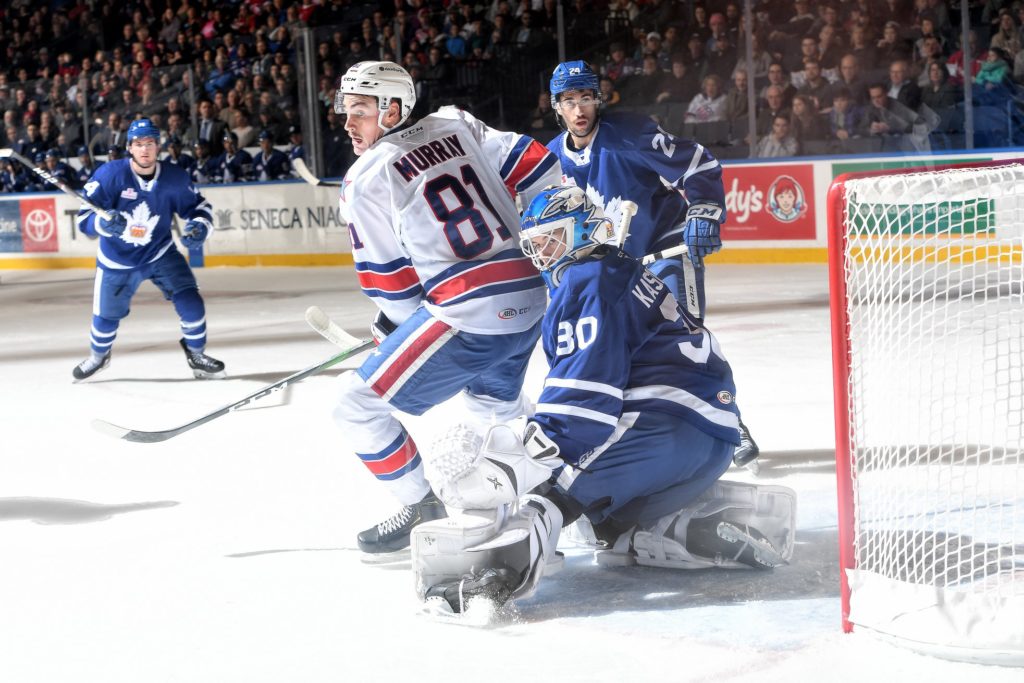 Brett Murray scored a goal in the loss. (Photo By Micheline V/ Rochester 
Americans)
By KEVIN OKLOBZIJA
Sometimes you don't play all that well but manage to win. Sometimes you play quite well and lose.
The latter was true for the Rochester Americans on Friday. Despite a multitude of scoring chances, the Amerks lost 3-2 in overtime to the Toronto Marlies after giving up a goal to Pontus Aberg.
Boy, doesn't that sound familiar. Play well, pile up scoring chances, but fail to score. That was pretty much the theme of the playoff series against the Marlies last spring, when the Amerks did pretty much everything necessary except score enough goals and were swept out of the first round.
Here's your Friday Amerks six pack.
1. Building chemistry as a line
The trio of center Kevin Porter, right winger Andrew Oglevie and left winger Brett Murray fired 11 of the Amerks' 35 shots on goal — and had a few of the misses of the net as well.
They also produced the game's first goal, with the hustle of Oglevie, vision and passing of Porter, and quick roof-it shot of Murray providing a 1-0 lead at 13:24 of the first period.
"They all have different things in their game that add value to the line," said coach Chris Taylor, whose Amerks are 12-3-2-2.
2. Murray continues to blossom
The 6-foot-5, 235-pound rookie winger was drafted by the Buffalo Sabres in the fourth round of 2016 but didn't sign a contract until two days before the season began.
He was good in development camp in the summer and then showed promise in training camp.
He didn't make his pro debut until Oct. 19 but is one of the steadiest forwards now.
On Friday he had his season high for shots on goal with six. Overall he has produced 3 goals, 9 assists and 12 points in 14 games. That includes points in four straight, and 1-6-7 in his past six games.
"From development camp to now, he's lost some weight, he's put some muscle on and he's taking care of his body," Taylor said. "He wants to be a pro."
3. The coach returns
Taylor was running the bench for the first time since training camp. He spent the first eight weeks on "recall" to the Sabres as an assistant coach, filling in after assistant Don Granato was hospitalized by pneumonia.
"Just the way the guys competed was great," Taylor said. "I thought we outplayed them, we had a lot of chances to win it."
Amerks assistant coach Gord Dineen filled in as interim coach in Taylor's absence.
4. Free hockey … and more free hockey
When is a 60-minute hockey game 62 minutes and change?
When the officiating crew somehow doesn't see a puck shot into a virtually wide open net from 10 feet.
Toronto's Darren Archibald hammered home a rebound on a power play after a Teemu Kivihalme's shot hit the post, apparently tying the game 2-2 at 8:43 of the third period.
The puck ricocheted back out off the netting almost instantaneously.
Referee Brandon Biggers, standing maybe 10 feet from the net, somehow didn't see it go in, and the remainder of the officiating crew didn't stop play either.
So they continued to play for another two-plus minutes — which is proper procedure. That was long enough for the Amerks to kill off the power play and take another penalty.
On the next stoppage of play, the referees went to video, realized Archibald had scored, counted the goal, assessed the penalty and reset the clock to 8:43.
All of that was done according to the rules.
What baffled Taylor was that the entire officiating crew never saw it go in.
"I was thinking maybe I saw it wrong if all four of them missed it," he said.
5. Extra hockey was the last thing the Amerks needed
Injuries and recalls have taken six of the Amerks top 12 forwards out of the lineup, so defensemen Nathan Paetsch and Casey Fitzgerald again played at forward.
The added time played because of the no-goal/yet-it's-a-goal wasn't necessarily appreciated.
"We had to play an extra 2 1/2 minutes and then kill another penalty, too," Taylor said.
6. That's points in nine straight
The loss snapped the Amerks six-game winning streak but it did extend their points-earned streak to nine games (7-0-1-1), which is every game in November.
They remain in second place in the North Division with 28 points, three behind Toronto.
Through 19 games, the Amerks have lost just three times in regulation. Only the Marlies, at 14-2-2-1, have lost fewer regulation games in the 31-team AHL.