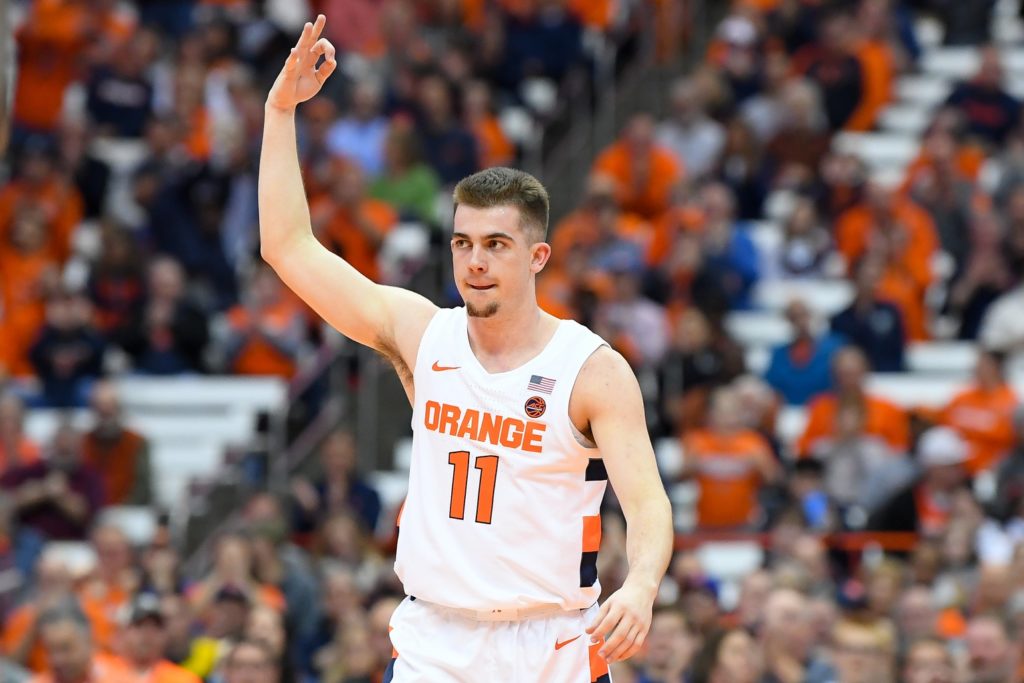 By BILLY HEYEN
Elijah Hughes had just swung his right hand for a monster block. Syracuse had pushed the ball in transition and found Joe Girard III wide open on the right wing. In his first career start for the college team he considered "home" in a first half in which he couldn't miss, Girard drained the triple.
As he ran back down the floor, he stole Hughes' patented celebration: Girard played the air guitar.
"I think one reason Joe has an easy adjustment is he had to do everything every game for four years," SU head coach Jim Boeheim said on Syracuse's Youtube channel. "He's used to having the whole world on his shoulders every game."
The freshman from Glens Falls, N.Y. led Syracuse (2-1) to an 89-67 win over Seattle (2-3) on Saturday night in the Carrier Dome. Girard finished with 24 points on 7-of-8 from the floor, Marek Dolezaj added 19, Hughes had 15 and Quincy Guerrier had 14 as the Orange picked up their second-straight win.
There was always a mystique about Girard in high school, when he scored more than 4,700 points as New York state's all-time leading scorer. But Saturday was just his first collegiate game, taking over for sophomore Jalen Carey as the starting point guard. Surely, it'd be more about blending in than taking over.
But Girard was the final Syracuse starter introduced. Whatever the reason, this wasn't a normal freshman, at least on this night.
JG3 joins this list as freshmen to start as point guards under Jim Boeheim at #Syracuse. pic.twitter.com/p8UQaJabLJ

— Billy Heyen (@BillyHeyen) November 17, 2019
He scored SU's second basket, a pull-up jumper from the left elbow off a quick drive. He set a screen for a Buddy Boeheim 3, then got a hockey assist by pushing the ball up the floor en route to an Elijah Hughes triple.
Girard got back into the scoring shortly after, drilling a 3 from the right wing to force a Seattle timeout. Heading to the bench, Girard flashed a smile.
"Starting off the game, I felt it a little bit," Girard said via Syracuse's Youtube channel. "(My teammates) noticed that."
With Carey starting at point guard, Syracuse's offense had been stagnant. On a radio show earlier this week, SU head coach Jim Boeheim constantly referenced "six mistakes" Carey made against Colgate that got him benched. It seemed like Girard couldn't make a mistake in the early going against Seattle.
Girard nailed another 3-pointer later in the first half, taking one dribble right around a Marek Dolezaj screen before rising up and connecting. The freshman set up Guerrier for a near-dunk off a fastbreak bounce pass. Then Girard drained a couple free throws and then the 3 to unleash the air guitar (ironically, that celebration was borrowed by Hughes from Lance Stephenson, who Girard passed on the New York state scoring charts as a junior).
"Joe's not gonna play like that every night, maybe he will," Boeheim said. "We'll see."
He wasn't perfect. Girard's last two main actions of the first half were errant passes. And SU was playing Seattle, not exactly a known power.
But the encouraging signs continued in the second half. Girard swished a deep 3 from just right of the top of the arc about three minutes into the latter stanza. The next possession, he lobbed a pass in transition to Bourama Sidibe for two at the rim. After being fouled on a 3, Girard made all three freebies.
Seattle threatened to cut into the lead with a stretch of 7-of-8 made 3s, but then Girard leaned in the lane for two to bring SU's lead back up to nine. Girard missed his next shot, a left wing 3, long for an airball. But the Orange continued to expand their lead and wouldn't be closer than that nine-point margin again. And then Girard banked in a 3 from the top of the key. It was that kind of night for the freshman.
"He was good," Boeheim said. "He made shots."
There will be tougher opponents and tougher days ahead for Girard and the Syracuse offense. He'll make freshman mistakes. The shots won't always fall. 
But the news after Syracuse's last game was that Girard would be starting Saturday. That won't be news heading into Wednesday's game against Cornell, just a fact. Girard made sure of that.