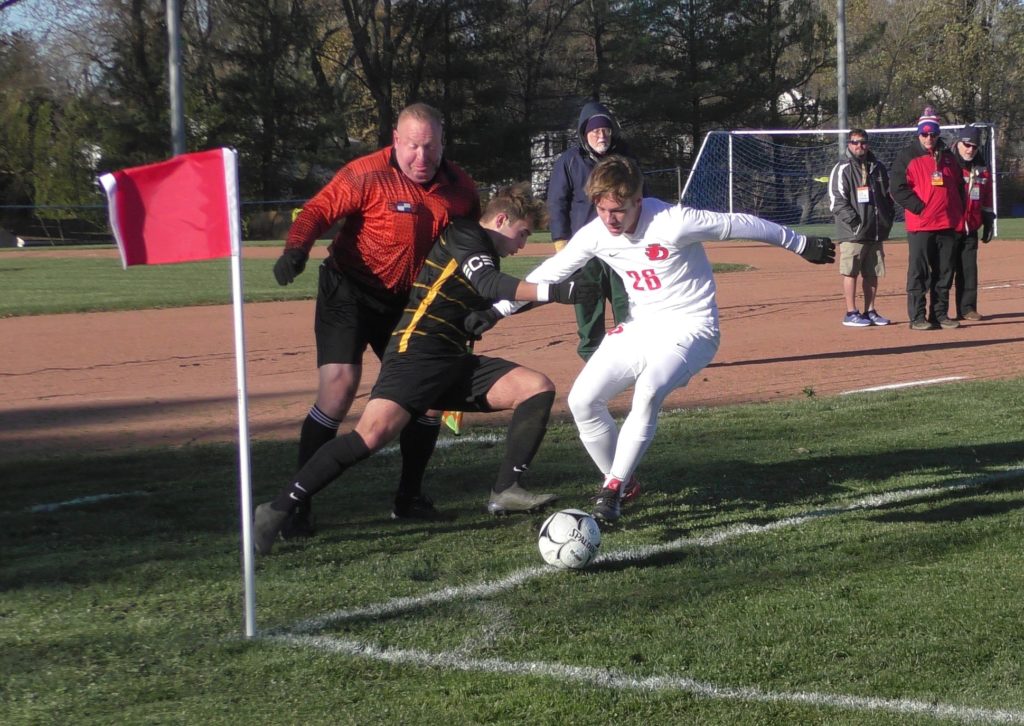 By PAUL GOTHAM
MIDDLETOWN, N.Y. — Minus one starter and having another limited didn't slow the Greece Athena boys' soccer team on Saturday.
Ryan Fitzgerald and Brian Piendel scored a goal apiece as the Trojans defeated Jamesville-Dewitt (III), 2-0 in the New York State Public High School Athletic Association (NYSPHSAA) Boys' Class A semi-final from Faller Field.
Fitzgerald slashed through a tangle of defenders and headed in a Dylan Rice cross from the left flank to get Athena on the scoreboard in the first half. Piendel connected midway through the second half. The junior took a Rice service from 40 yards out, turned and connected from inside the 18-yard box for his fifth goal of the season.
"It was good to see Brian get on one and put it away," Athena head coach Mike Butler said.
Fitzgerald's goal was his second in as many games. The junior delivered on the opportunity presented with an injury that has slowed teammate Othman Belhseine.
"Fitz has been getting on some stuff lately, and we played him up top a lot today because of 'Oth,'" Athena head coach Mike Butler said. "We tried to add an extra kid in there today. We went three up top a little which we don't usually do."
Belhseine shares the team lead with Rice scoring 19 goals apiece. The senior attacker missed games earlier this season with a hamstring injury. He sat out the second half of Athena's win over Niagara Wheatfield (VI) in the New York State Far West Regional.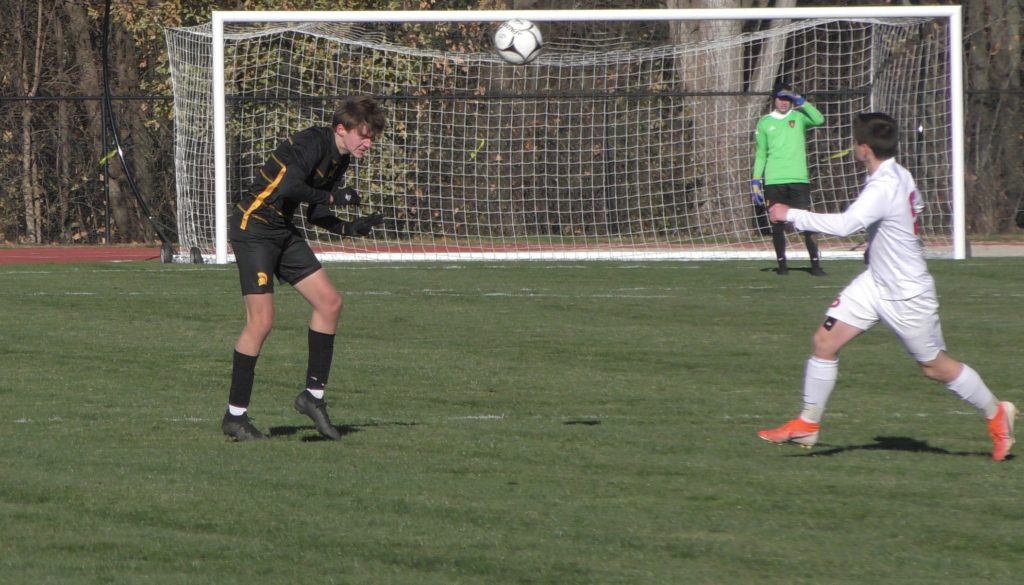 "'Oth' is hurt still. He didn't make a lot of hard runs. He was effective still for us, so that was good."
Mark Maio sat out Saturday's match per concussion protocol. The junior defender will be available for Sunday's championship game.
Athena improved to 18-2-2 on the season. The Trojans are undefeated in their last 15 and have won 12 straight. They have outscored postseason opponents by a combined total of 19-2.
The game was the first postseason meeting between the two schools. Jamesville-Dewitt fell to 14-6-1 with the loss.
"They were definitely pretty athletic," Butler said of the Red Rams. "They didn't give us anything easy. I thought we controlled the ball more than them, but we couldn't find a lot of opportunities to get something going."
With Athena's win, Section V improved to 23 wins-13 losses and 2 ties all-time against Section III in the post-season.
The Trojans claimed the 2014 NYS Class A championship downing East Hampton (XI) in the final.
Athena will play Jericho (VIII) in Sunday's title game. The Jayhawks (18-1-1) downed Rye (I), 3-0 in the other semi-final. Jericho has won 18 straight games scoring 81 goals on the season while allowing 10.
A 12:30 PM kickoff is scheduled on Sunday on Faller Field's turf surface. Saturday's semifinals were played on grass.