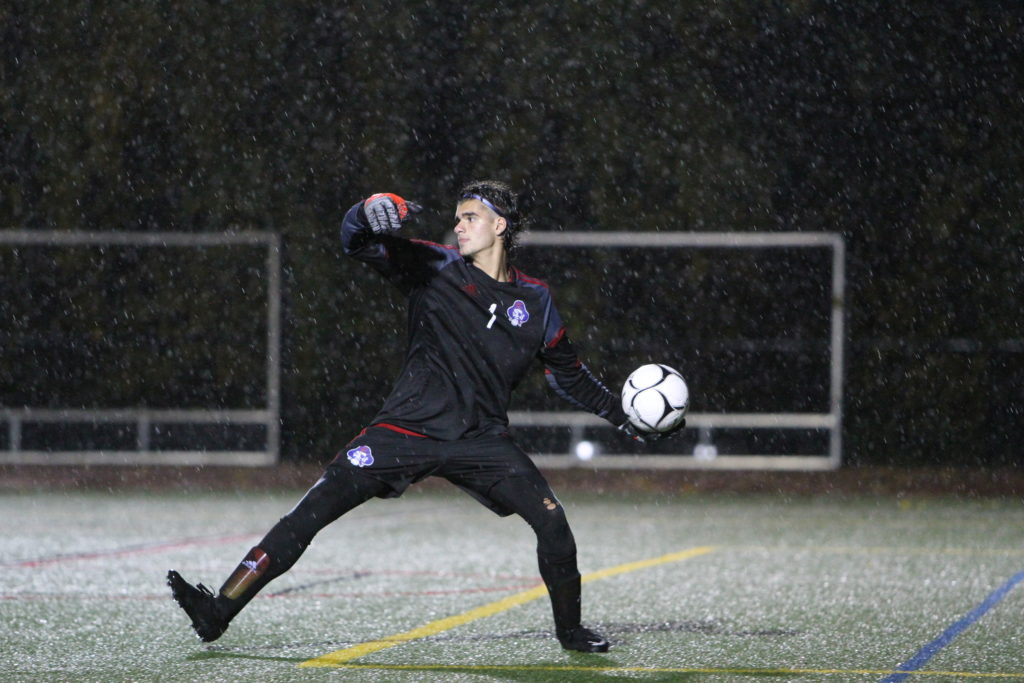 By PAUL GOTHAM
ROCHESTER, N.Y. — Fairport's Michael Nesser was a striker during the 2018 campaign, so when the senior requested a chance to play goalkeeper, head coach Gianni Bussani had his doubts.
Nesser lacked any formal training at the position and his most recent experience came in middle school.
But Bussani thought it was worth the shot.
This weekend, Nesser will be in goal when Fairport makes its fourth appearance this decade in the NYS Class AA semi-finals.
"It's mind-blowing what Michael has done," Bussani said. "He comes to me (during tryouts) and says 'Coach, I want to be a goalie.' I said 'If that's really what you want? If you want to try it, okay.'"
Nesser has allowed 14 goals this season over 1,389 minutes in goal. Only two of those scores have come in the past seven games.
"Michael thought this would be best obviously for the team. He's made the most of the situation. Look what he's done. Look where he's brought us."
One of those goals came in the Class AA final against McQuaid. Nesser redeemed himself stopping three PKs to clinch the Red Raiders' spot in the NYS Far West Regional.
"My approach with Michael is less is more. I just allowed him to do his thing. He's been a stud for us."
The senior goalkeeper is part of Fairport's last line of defense which has come together under the guidance of assistant coach Mark Fish.
"He's always teaching, always coaching," Bussani said of his assistant, the former High School All-American who went on to start at Syracuse University. "He'll bring the defenders together, and I'll work on forwards.
Senior Timmy Hirschler along with juniors Kevin Clifford and Aidan Fish (son of Mark) as well as sophomore Garrett Kucera form Faiport's backline which has five shutouts in the past seven games including a 4-nil blanking of Lancaster (VI) in the NYS Far West Regional.
"He's really done a spectacular job of getting those four to play together," Bussani added about Fish who was head coach at nearby Roberts Wesleyan for a decade. "When the back four are solid and play well, I don't make changes.
"There's no secret. They've come together. They've done well because they work and they're smart. Mark is making that happen."
Fairport (No. 4 NYSSWA) will play Shenendehowa (13-2-1) in Saturday's semifinal. A 9:15 AM kick off is scheduled. The Plainsmen have scored 33 goals this season and allowed six. They shut out Albany (1-0) and Bethlehem (3-0) to capture their 20th Section II Class AA title. Shenendehowa went on to knock off Baldwinsville (III) 3-1 in the regional match to advance to the state semifinals.
The Red Raiders have advanced to the finals in each of their three previous appearances in the semis this decade. This will be the first postseason meeting between Fairport and Shenendehowa. Section V is 15-11-4 all time against Section II in postseason. Shenendehowa is 4-2 against Section V teams with its most recent being a 1-o decision over McQuaid in 2005.
Players to watch: Fairport – Jude Rouhana (11 goals, four assists), Myles Palmer (seven goals, two assists), Ryan Collins (two goals, six assists), Rorie Simpson (five goals, six assists), Caden Brunken (three goals, seven assists) and Kinglsey Malcolm (five goals, two assists).
Shenendehowa – Jaylin Sykes (16 goals, five assists), Reggie Durden (five goals, four assists), Rhys Hourmont (three goals), Darien Espinal (three goals) and Noah Flint (66 saves, .920 save percentage).
What's at stake: A spot in Sunday's NYS Class AA finals against the winner of Brentwood (XI) vs. Ossining (I).