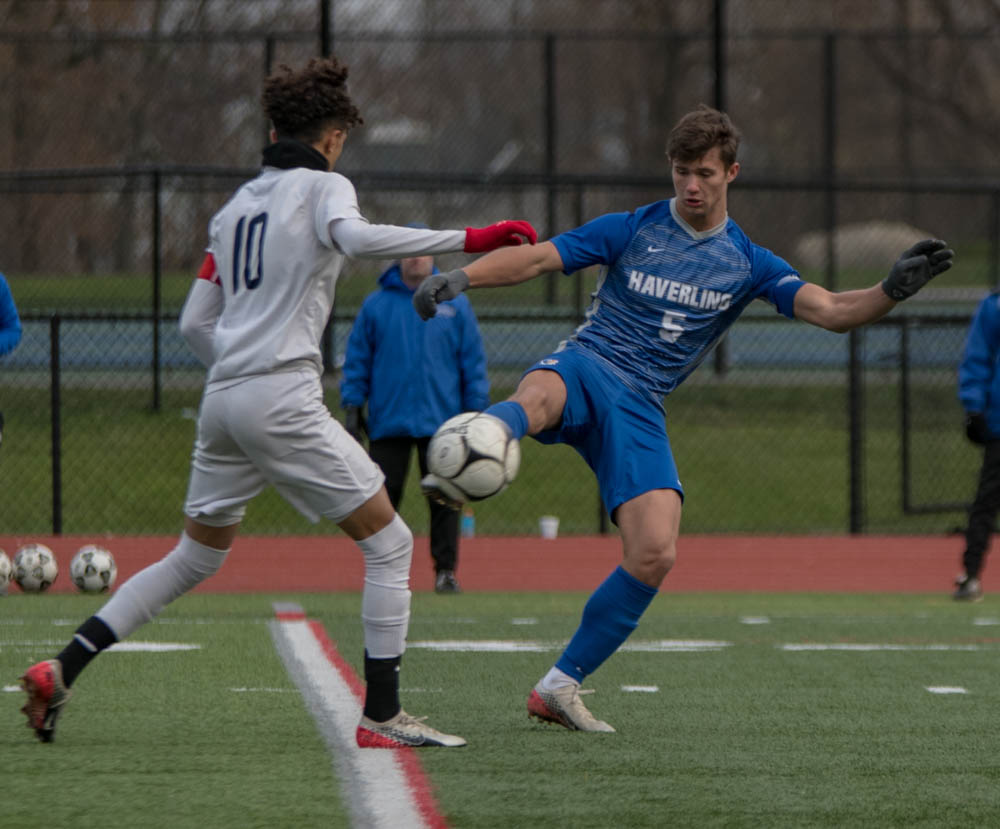 By PAUL GOTHAM
ROCHESTER, N.Y. — Credit Matt Hill with the ability to recognize talent then having the patience to let skill meet its potential.
Three seasons ago, Hill brought then-freshman Thomas Binkowksi up to the varsity squad, but the Bath-Haverling boys' soccer coach didn't rush the youngster into the starting lineup. Instead Hill offered a proving ground.
Binkowski took advantage of the opportunity.
This weekend, Bath-Haverling boys' soccer will return to the state semi-finals for the first time since 1996, and Binkowski stands at the forefront of the Rams' offensive attack.
"He's been the go-to guy for a while," Hill said. "It's always a great thing to have someone you know you can go to that can really score a goal at any time. When you have that, pretty much anything can happen."
Anything has happened 68 times in Binkowski's career. The top scorer in Hill's 19 years at the helm, Binkowski has found the back of the net 31 times this season to lead Bath-Haverling (No. 1 NYSSWA) to a 21-0-0 mark.
VIEW MORE SUE KANE PHOTOS HERE.
"He's very strong," Hill noted. "He can get through two or three people and still keep the ball on his foot. He can go either direction and crack a shot with the same pace either way."
In the past two seasons, the Rams have 41 wins, 1 loss and zero ties. That one defeat, though, keeps Binkowski and his teammates focused. Last November, the Rams improved to 20-0-0 with a win over Palmyra-Macedon. One week later, they fell to East Aurora.
"It's nice to be able to get us back to the state semis after 23 years," Binkowski said. "It's something we were close to last year, so it was a goal this year."
This season, Bath-Haverling puts a three-pronged attack on the pitch with Lorenzo Serafini (14 goals/2 assists) and Keefer Calkins (12 goals/8 assists) contributing to the squad's 86 markers.
"Opponents can't concentrate on just one player up top because we have all three coming at them," Binkowski stated. "If opponents do, Lorenzo and Keefer can score goals left and right. They're really good with finishing the ball. If opponents try to concentrate on me, they'll just go on the outside and put balls in the back of the net pretty easily."
It was Serafini who started the scoring in Bath-Haverling's 2-0 win over Lackawanna in the NYS Class B Far West Regional.
"It takes a little pressure off him," Hill said of the effect on Binkowski.
With three players on the attack, Binkowski's total offensive production has increased this season with the forward collecting 18 of his 55 career assists.
It's the kind of offensive balance Hill had in mind when he promoted Binkowski as a ninth grader.
"There were veterans on the team who thought they were going to be starting in a spot up front, but here's comes this freshman along and he was probably better than them," Hill said recalling his decision. "I let him sub in for a couple of games and prove that he needed to be in the starting lineup instead of me giving it to him right out of the gate. There was no question he was going to be a starter a few games into the season."
Binkowski cemented the decision a year later when he delivered an overtime goal on homecoming as the Rams swept the season series from Livingston County rival, Livonia.
"That was right in front of our bench, and that was a big moment because Livonia had won sectionals five times in a row at that point."
This Saturday, Bath-Haverling takes on Skaneateles (III) in a 1:45 PM kick off from Faller Field.
"We wanted to get to Middletown and now we just have to take it one game at a time," Binkowski said. "Hopefully we play in the championship game on Sunday."