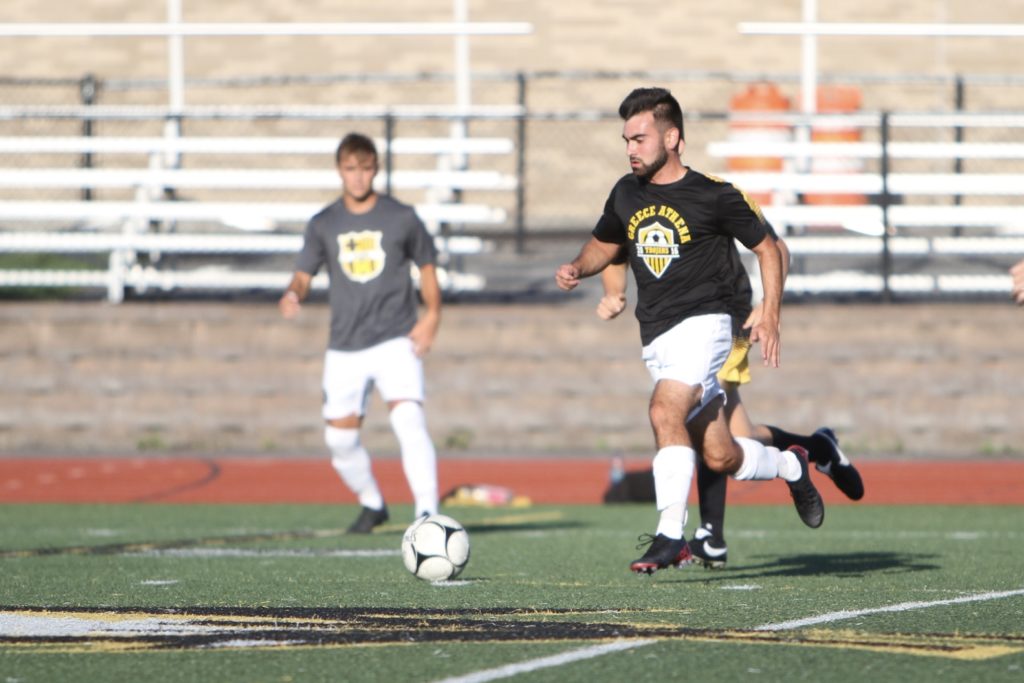 By PAUL GOTHAM
ROCHESTER, N.Y. — On September 21st, the Greece Athena boys' soccer team walked off the pitch at McQuaid Jesuit High School with a three-all draw. Trailing 3-1 at halftime, Mike Butler's squad needed a pair of second-half goals to level the match.
The outing capped a three-game winless stretch for Athena. They had opened the season with victories over Spencerport, Brockport, Greece Arcadia and Pittsford Mendon, but after the draw at McQuaid, the Trojans' mark stood at four wins, two losses and a tie (4-2-1).
This Saturday, Athena will face Section III champion Jamesville-Dewitt  in the NYS Class A semifinals. In their 14 games since September 21st, Athena has won 13 and tied one.
When Butler talks about the turnaround, the sixth-year coach points to a lineup adjustment which saw junior Michael Tracey move from an attacking midfield spot to center back.
"We knew he'd be good," Butler said. "We didn't know he'd be quite as good as he's been."
How good?
During that three-game rough patch, Athena gave up a combined 10 goals. Aside from the McQuaid tilt, they dropped decisions to Monroe County Division III rivals Brighton (4-1) and Pittsford Sutherland  (3-2).
After allowing more than three goals per game in the winless stretch, they've allowed just 10 goals over the nearly two-month span since then.
"Since he's been back there, he's been terrific," Butler continued. "Nothing gets by him. He played outside back for us all last year. We knew he eventually would be there, but Mike can play anywhere."
With a combination of speed and skill, the 5-foot-9 Tracey also possesses the ability to see one play ahead. Mix that with a sure first touch as well as a knack for stepping to the ball, and it's easy to see how he brings Athena's defense together.
"Mike makes everybody better. They're able to play looser because they know Mike's not going to get beat."
Still there was a sacrifice.
It was Tracey who netted the game winner when Athena went on the road and beat Pittsford Mendon in overtime. He took advantage of a mistake and converted for his only goal of the season. It was the fourth game of the year. There was the possibility of more in future matches.
"I feel like everybody wants to be the goal-scoring hero like (Lionel) Messi or Cristiano Ronaldo," Tracey said referring to the FC Barcelona and Juventus FC stars. "The most heroic thing I felt that I could do for my team was to fill in the role that was needed. I was completely fine with going to center back."
Like a defender on the basketball court denying an opponent a chance to catch the ball or forcing that opposing player outside his or her shooting range, Tracey takes away threats before they occur.
"That's a big part of what we preach," Butler said. "Like if a player checks back toward the ball, we want Mike to be right tight with him and the other guys help behind. Don't let him get comfortable. Don't let him get it. If we stay at the other end, then you don't have to play defense. That sounds simple, but it really is a part of it."
Never was this more apparent than during the third meeting of the season  between Athena and Sutherland, this time during the Class A regional qualifier.
Sutherland's Dylan Kladstrup ran on to a pass along the right flank about 35-40 yards from the goal. It was a familiar spot for Kladstrup (the Monroe County Division III Co-Player of the Year with 19 goals and 12 assists). With speed and a deft touch on the ball, the junior had frequently been able to get around the corner and cause the defense to retreat and cover up on a shot or cross to an open teammate.
On this night, though, Tracey cut down his opponent's angle to the goal before stopping the ball with a slide tackle. Kladstrup, in full stride, overran the play. Tracey cradled the ball between his legs, wheeled, got back to his feet and turned upfield with the ball.
Threat eliminated.
In Sutherland's 3-2 win over Athena earlier in the season, Kladstrup scored twice and assisted on another. In the final two meetings between the rivals, Kaldstrup was held scoreless in the Trojans 5-1 win in the regular season. Athena advanced to the Far West Regionals with a 3-nil victory.
"The Kladstrup kid is a really good player. In two games, I don't think Mike allowed him a clean look at the goal. That's all because he's there.
"We can't let the ball hit the ground when it's kicked out of the goalie's hands and all those other things. We got to win balls, and if we stay at the offensive end, we have more of a chance to score. He's the head to all that. He's the key."
In five postseason games, Athena (17-2-2) has registered four shutouts and outscored opponents by a combined total of 17-2.
"He facilitates everything in the back," junior goalkeeper Jared Burns said. "He's that one player you need. He's a leader. He gives everyone more confidence when he's at center back."
Athena and Jamesville-Dewitt will kick off at 8:45 AM from Faller Field in Middletown, New York.
In 2014, Butler's first season at the helm, the Trojans  beat Byram Hills (I), 2-1 in the semifinals before taking a 4-2 decision over East Hampton (XI) to claim the program's first state title.
Tracey was a middle schooler at that time.
"Seeing all my older friends going to states, it's something that I wish I could've been there. I feel like it's our time to win it. It's our time. It's something we've worked for. It's something we deserve to take."
***Article originally had an incorrect opponent for Athena in Saturday's state semifinal game. Update has been made.