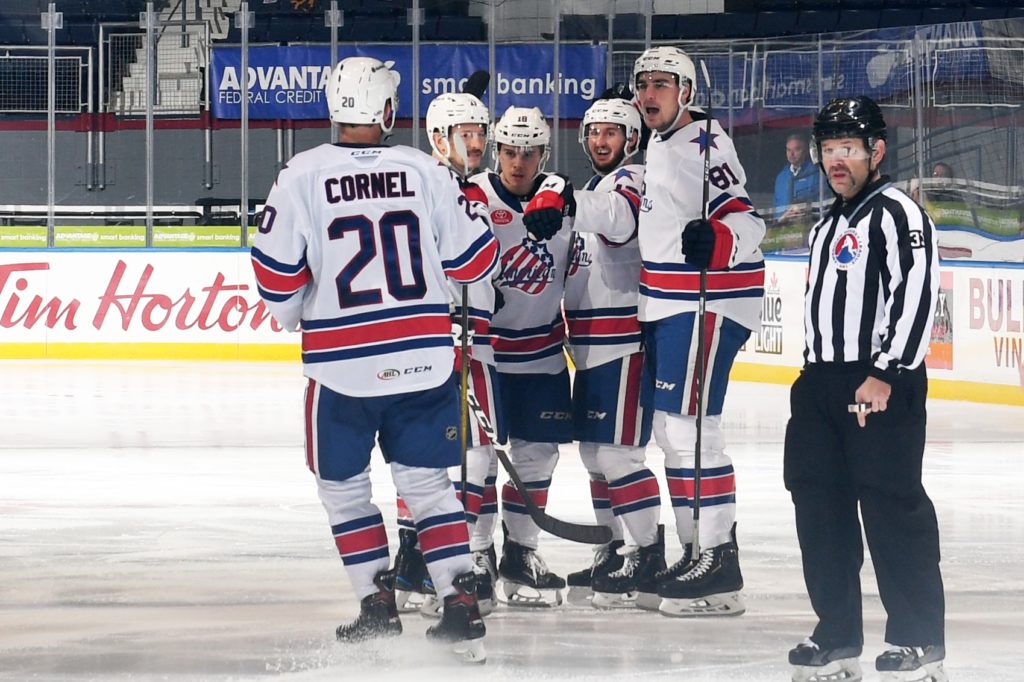 By KEVIN OKLOBZIJA
Two things happened on Wednesday that haven't happened very often this season for the Rochester Americans.
They scored a power-play goal on home ice and they squandered a lead but then recovered to win.
Eric Cornel's power-play goal 1:13 into the third period snapped a 3-3 tie and the Amerks held on to win 4-3 behind the clutch-save goaltending of Jonas Johansson.
Here's your Wednesday Amerks Six Pack:
1. Cornel's high-quality tip-in
Eric Cornel hasn't been given a lot of power-play time in his four seasons with the Amerks but every now and then he gets his chance.
On Wednesday he took advantage, finding free space near the left hash marks as defenseman Jacob Bryson was shooting from the right point. As the waist-high slap shot sailed in, Cornel reached up and redirected it just inside the left post.
"I just try to come up with loose pucks and go to the net and I got a good bounce," he said.
2. Murray making contributions
Rookie winger Brett Murray enjoyed the first two-point game of his career. He assisted on the game's first goal, a rebound put-back by Kevin Porter, and then set up Bryson at the point on the game-winner.
In nine games, he has 2 goals, five assists and 7 points. Considering he sat out the first five games as an extra forward, he has fit in nicely of late, thanks first to hard work in practice and then to production in games.
"That's what you want a young guy to do, punch a hole in the lineup," Amerks interim coach Gord Dineen said.
Murray has points in four of his past five games and has fit in nicely on the left wing with Porter and Andrew Oglevie.
"I feel pretty confident," he said. "We're playing well as a team."
The assists provide tangible proof of contributions.
"It's nice to put anything on the scoresheet — other than a minus," Murray said.
3. Seven and counting for Malone
Third-year forward Sean Malone ran his points streak to seven games when he helped set up Tyler Randell's first-period goal.
It's been slow and steady for the 24-year-old Buffalo native, with one point per game. That's after going without a point in the first four games he played.
More importantly, he's able to play several roles — even in the same game.
He started Wednesday as the center for Randell and Dalton Smith and ended up on the left wing with Rasmus Asplund and Tage Thompson after Scott Wilson was injured.
"I want to be that guy that's versatile and can fill in in different spots and contribute," Malone said.
Said Dineen: "I hate to say utility, but it's great that he has that versatility."
4. It's more about when, not how many
Johansson made 28 saves in the game and at least five would be considered high-quality stops.
His best save may have come early in the third period, when he kicked out his left leg to rob Chris Mueller of what could have been the tying goal.
"J.J. was our best player in the third period," Dineen said.
5. That needed snarl
Veteran defenseman Andrew MacWilliam was his usual ornery self against the Crunch.
He delivered big hits on Boris Katchouk and Alexander Volkov in the first period. He missed the first portion of the third period because of injury but returned to finish the game.
"He came back and really shored things up," Dineen said.
6. Another injury
Wilson suffered a lower body injury and Dineen said he wouldn't have an accurate prognosis regarding his playing status until Thursday.
He joins C.J. Smith, Remi Elie and Jarrett Burton as forwards on the injured list, and that doesn't include Taylor Leier who is recovering from off-season surgery.