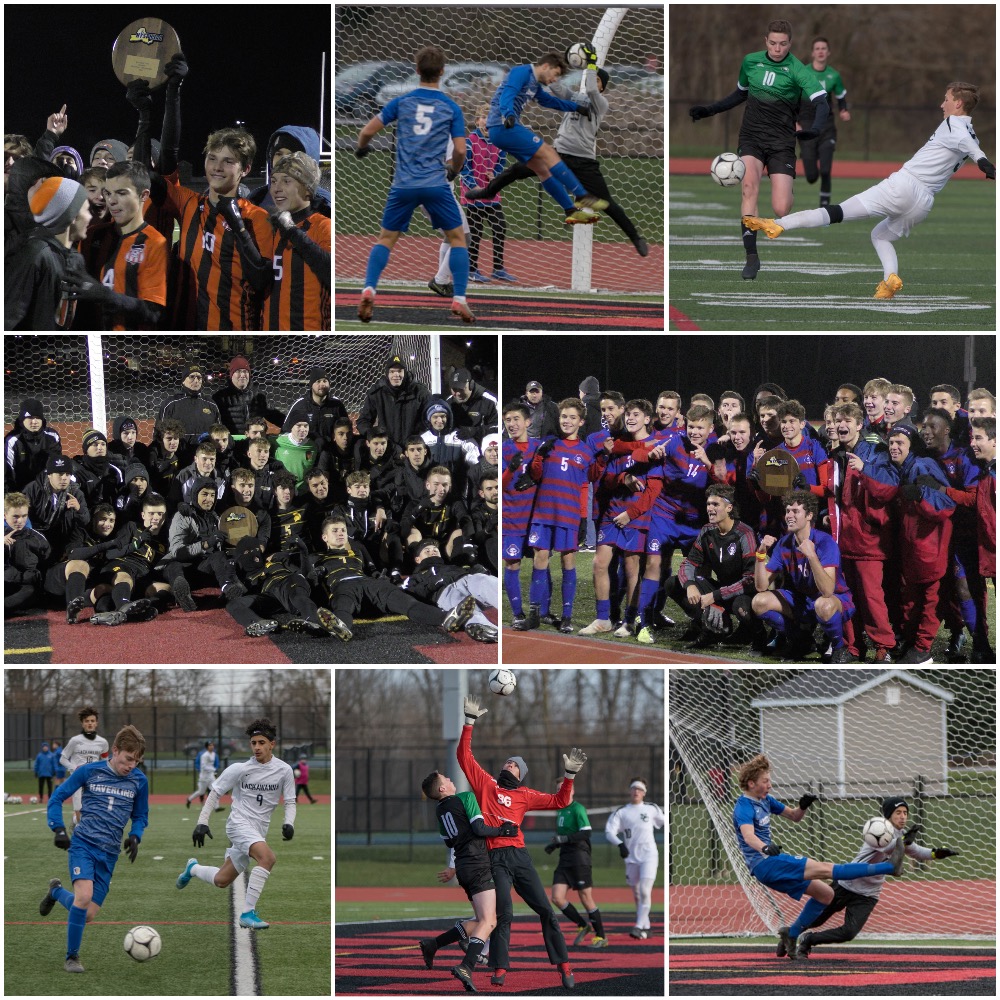 Scores and recaps from the New York State Boys' Far West Regionals played at Hilton's LeBeau Field.
CLASS AA
LANCASTER (12-6-2) 0
FAIPORT (14-3-3) 4
Kingsley Malcolm found back of the net from 30 yards out to open the scoring in the seventh minute of the match, and Timmy Hirschler finished a corner kick opportunity with 30:32 to go in the first half. Jude Rouhana scored his team-leading 10th goal of the season and freshman Myles Palmer completed the scoring in the second half for Fairport (No. 7 NYSSWA). READ MORE.
CLASS A 
NIAGARA WHEATFIELD (17-2-1) 0
GREECE ATHENA (17-2-2) 3
Ryan Fitzgerald didn't need a detailed explanation. With Othman Belhseine and Dylan Rice shouldering the bulk of the scoring in recent games, the junior midfielder knew his two teammates would receive added attention in Friday's New York State Class A Far West Regional. Fitzgerald one-timed the rebound off his original shot for a 1-nil lead with 14:23 remaining in the first half. Emmitt Rosado doubled the advantage in the 65th minute when he connected on his first varsity goal. Dylan Rice put the game out of reach for Athena (No. 12 NYSSWA). READ MORE.
CLASS B
LACKAWANNA (18-4-0) 0
BATH-HAVERLING (21-0-0) 2
Keefer Calkins netted the only goal necessary 23rd minute, Bath-Haverling (No. 1 NYSSWA) advanced to the New York State Class B semifinals for the first time in 23 years. Four minutes into the match, Lorenzo Serafini was helped off the field after getting undercut while going for a 50/50 ball. His return to the field, eighteen minutes later, generated the go-ahead goal just a minute after his re-entry. From a little before midfield, he fed a through ball to his counterpart, Calkins, who rolled the ball into the left corner of the net, barely missing the outstretched leg of Lackawanna (No. 11 NYSSWA) keeper, Yousef Albakri. READ MORE.
SEE MORE SUE KANE PHOTOS HERE.
CLASS C
MAPLE GROVE (17-3-0) 1
KESHEQUA (21-0-0) 4
Reese Powers netted a pair of goals including the first of back-to-back strikes, and Keshequa boys' soccer (No. 7 NYSSWA) clinched its first appearance in the NYS semifinals. Maple Grove (No. 5 NYSSWA) came into the game having allowed just eight goals on the season. READ MORE. 
CLASS D
NORTH COLLINS (9-8-0) 0
FILLMORE (19-1-1) 3
Eighth grader Eben Schilke and junior Isaiah Voss scored three minutes apart in the first half to propel Fillmore (No. 5 NYSSWA) to the New York State Class D semifinals for the first time since 2007. In the ninth minute, Levi Webb redirected a corner kick from Ethan Peet out of mid-air to give Fillmore a lead it wouldn't surrender. The goal came after an onslaught of pressure from the offense, consisting of three corner kicks and four saves from North Collins (No. 9 NYSSWA) keeper, Dominic Fricano. READ MORE.