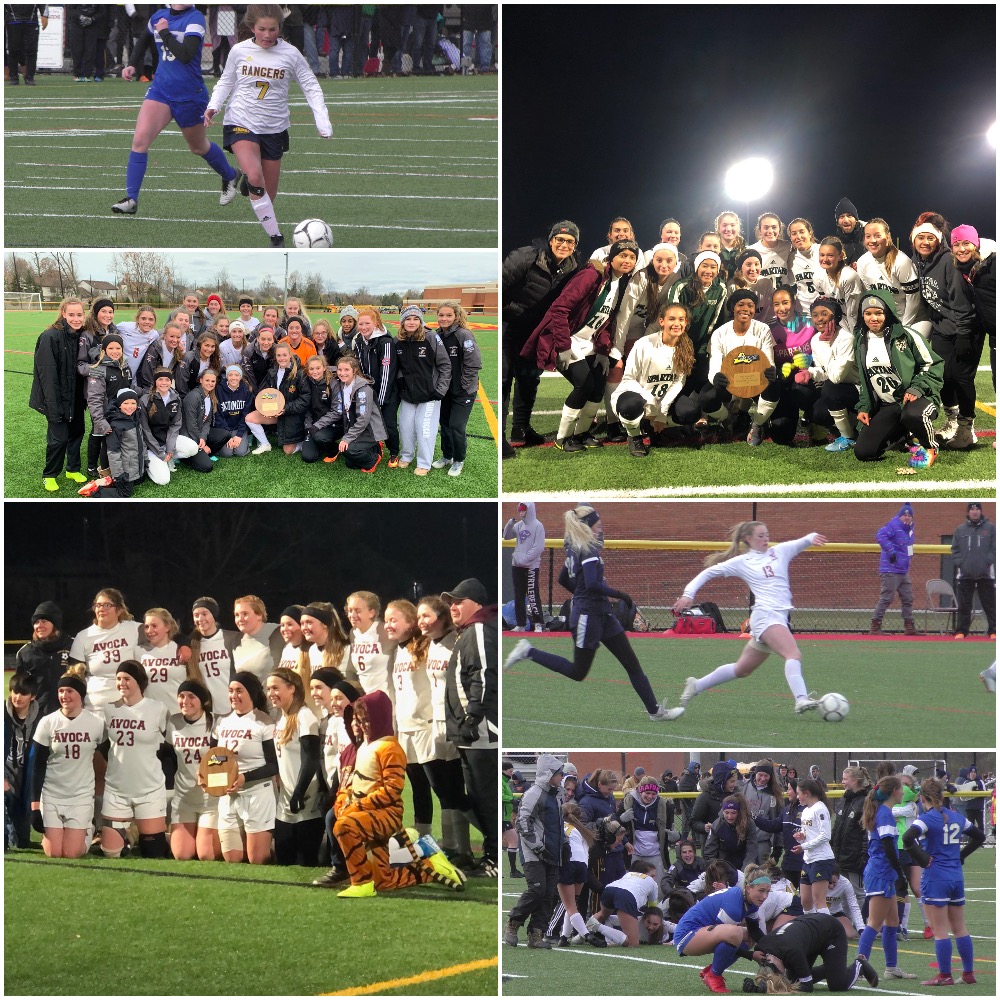 Recaps from the 2019 Girls' Far West Regionals. All games were played at Williamsville East High School in East Amherst, New York.
CLASS AA
PENFIELD (14-2-3) 2
CLARENCE (16-2-2) 3
Kailey O'Brien netted a pair of second-half goals, and Clarence (No. 13 NYSSWA) erased a 2-1 deficit to win the Class AA regional championship. Penfield (No. 10 NYSSWA) broke a one-all tie with a goal in the 44th minute.  The loss ended Penfield's season. The Patriots shared the Class AA title with Webster Schroeder (No. 11 NYSSWA).
CLASS A
SPENCERPORT (15-3-2) 2
GRAND ISLAND (17-3-1) 1 (OT)
Maddy Brongo connected in the second sudden-victory overtime period to lift Spencerport (No. 3 NYSSWA) which will make its fourth straight trip to New York State semifinals. The Rangers will play Pearl River (I/No. 4 NYSSWA) in a rematch of the 2017 state final, a game that ended in a tie and both teams shared the title. READ MORE.
CLASS B
GREECE OLYMPIA (17-3-1) 1
IROQUOIS (19-2-0) 0 (OT)
Kuditra Derosa scored four minutes into the first overtime session, and Greece Olympia (No. 7 NYSSWA) advanced to play Pleasantville (I/No. 1 NYSSWA) in next Saturday's semifinal at Cortland High School. Giana Dimora made 18 saves for the shutout. The Spartans have not allowed a goal in the post-season, outscoring their opponents 6-0 over five wins. Olympia has 10 clean sheets on the season.
CLASS C
MARION (20-1-0) 4
FREWSBURG (15-5-1) 0
Chloe DeLyser scored twice while Abigail Marotta had a goal and assist to lead Marion to its first state semifinal appearance since 2010. DeLyser started the scoring with an assist from Sarah Lange. Marotta followed with an unassisted tally. DeLyser and and Alaina Taylor connected in the second half. Marotta assisted on both scores. Jenna Crego made three saves for the shutout. Marion (No. 5 NYSSWA) will play Stillwater (II/No. 1 NYSSWA) next Saturday at Cortland High School. DeLyser has scored 75 goals to go with 30 assists this season. Marotta has 20 goals and 34 assists.
CLASS D
AVOCA (19-2-0) 7
NORTH COLLINS (8-7-2) 1
Delaney Stowe scored three goals including a pair during the first half when Avoca (No. 9 NYSSWA) jumped to 4-nil lead. Stephanie Longwell started the scoring three minutes into the contest. Stowe followed with the next two tallies, and Selina Jud added to advantage 28 minutes into the match. Alexis Weldy and Isabella Crane collected an unassisted goal apiece in the second half. Jud had two helpers in the win. Rebecca Holmes scored the lone North Collins (No. 11 NYSSWA) goal. Maddie Turnbull assisted on the play. Jolien Gray made six saves in the win. Avoca will make the program's first ever appearance in the state semifinals against Hammond Central (X/No. 3 NYSSWA) next Saturday at Homer High School.