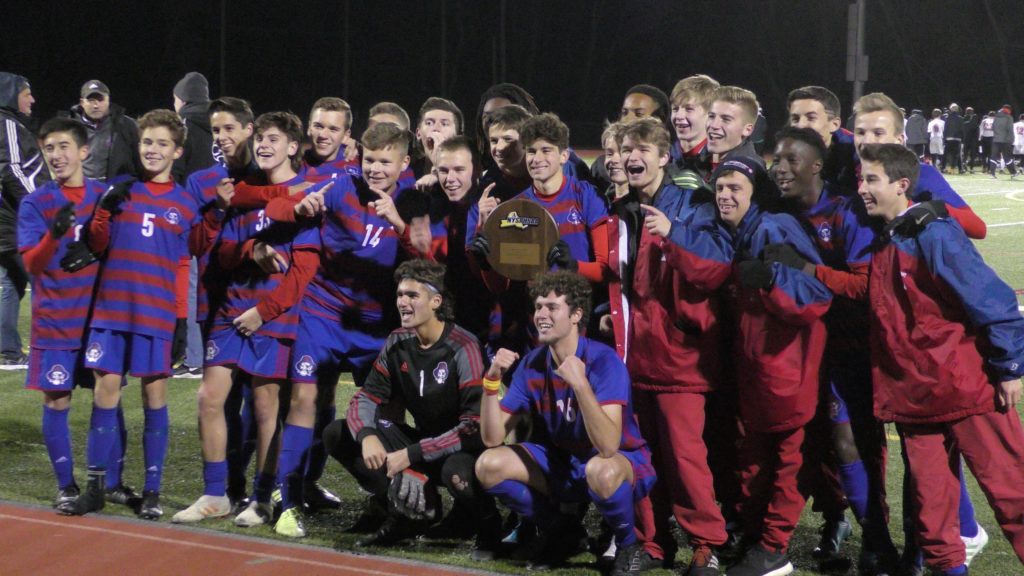 By PAUL GOTHAM
HILTON, N.Y. —  Fairport head coach Gianni Bussani felt pressure before the opening kickoff of Saturday's New York State Class AA Far West Regional.
With fellow Section V schools going undefeated in matchups against Section VI over the previous two days, Bussani's squad took to the pitch Saturday night for the last game of the weekend.
The Red Raiders didn't disappoint.
Kingsley Malcolm and Timmy Hirschler scored back-to-back goals in the opening 10 minutes and Fairport never looked back.
Timmy Hirschler doubles the advantage. NYS Class AA Far West Regional: @FptMensSoccer 2 Lancaster 0 pic.twitter.com/DfvnLzWbY3

— Paul Gotham (@PickinSplinters) November 9, 2019
"We're excited to not let Section V down," Bussani said after his club clinched a spot in the NYS semifinals for the first time since 2016. "We won all of them here this weekend. We were the last team. We were excited that we didn't let anyone down."
Fairport didn't just win, they dominated in a 4-0 victory over the Lancaster Legends.
"We were rather clinical tonight, finishing," the 25th-year coach said. "We missed maybe a couple of big chances out of six. We buried four."
Malcolm found back of the net from 30 yards out to open the scoring in the seventh minute of the match, and Hirschler finished a corner kick opportunity with 30:32 to go in the first half.
"Take nothing away from Lancaster," Bussani added. "They play nice soccer. They move the ball well. They've got a real nice team, very well-coached. I thought we had more bite in our game than they did."
Jude Rouhana scored his team-leading 10th goal of the season and freshman Myles Palmer completed the scoring in the second half for the 4-nil win.
46' Jude Rouhana converts the PK. @FptMensSoccer 3 Lancaster nil NYS Class AA Far West Regional pic.twitter.com/OvRxk7YXuL

— Paul Gotham (@PickinSplinters) November 10, 2019
Fairport improved to 14-3-3 with a balanced scoring effort that Bussani noted is indicative of his squad.
4:04 remaining Myles Palmer makes it 4-0 @FptMensSoccer will be returning to Middletown pic.twitter.com/mGOFcg37ql

— Paul Gotham (@PickinSplinters) November 10, 2019
"That's our team. That's who we are. We are all for one; one for all. There is no one player that we have to rely on."
After making quarterfinal exits in the sectional the past two seasons, Fairport won its fourth regional title this decade.
Bussani pointed to a win at division rival Victor earlier this season as an indicator of what was to come.
"It was their homecoming game under the lights. We went there and beat them four-to-nothing. I thought 'Wow! That's a lot. What we just did was special.' That win propelled us."
The Fairport XI are undefeated in their past seven and have allowed just two goals during that stretch.
Rorie Simpson springs Jude Rouhana, but Lancaster's Logan Menna makes a spectacular stop. 5 to go in the half @FptMensSoccer leads 2-0. pic.twitter.com/Jv5nmPbT64

— Paul Gotham (@PickinSplinters) November 9, 2019
"We've had some important pieces that have come together. One, Mike Nesser, he's stepped up in goal, stopped penalty shots and takes charge back there. That was a pleasant surprise. Rorie Simpson, up top, played injured a lot last year. This year he's healthy. That was another real kind of pleasant surprise. Our backline has come together."
Earlier in the day, Section V's Bath-Haverling (Class B) and Fillmore (Class D) advanced with wins. Those triumphs came after Section V representatives Keshequa (Class C) and Greece Athena won on Friday night.
"I didn't want us to be the only team that didn't go, right?" Bussani said smiling. "That was in the back of my mind of course."
For Simpson, a trip to the state semifinals is a chance to fulfill a dream.
"As a freshman, I remember watching my brother (Lucas) play in the state finals. This is my last chance to make that dream come true. I want to go out there and do it.
"It's going to be big. We're going to do what we can."
Fairport will play Shenendehowa (II), which rallied to beat Baldwinsville (III), in Saturday's NYS Class AA semifinal. A 9:15 AM kickoff is scheduled at Twin Towers Field in Middletown, N.Y.