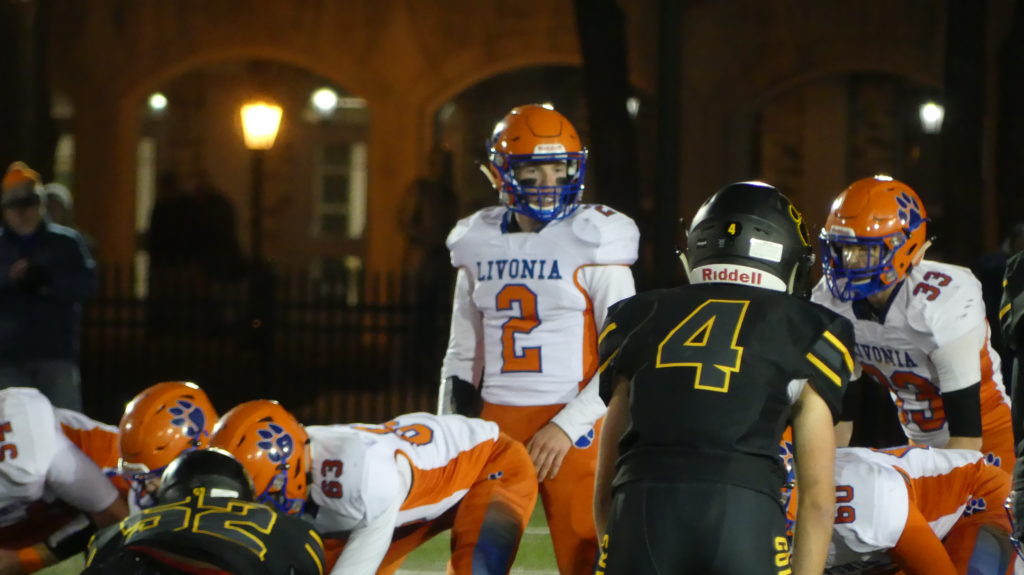 By CHUCKIE MAGGIO
PITTSFORD, N.Y. — Alex Minnehan's teammates swarmed their quarterback, anticipating a postgame announcement that was hardly a surprise.
The Livonia Bulldogs won the Section V Class B championship Saturday night, blanking the Honeoye Falls-Lima Cougars 12-0 at Growney Field on the campus of St. John Fisher College. Minnehan, who accounted for both touchdowns and intercepted two passes from the safety spot, all in the first half, was the clear Most Valuable Player.
Minnehan, a junior, completed three passes for 89 yards and kept the ball 12 times for 60 yards. He threw for a touchdown and ran one in, recorded two picks defensively without committing any turnovers himself, and tallied six tackles.
Not bad for someone who hadn't played organized football since sixth grade before this season, returning when his friends decided to put on the pads again.
"It just means so much to this community. You saw all the students (storm the field) after the game," Minnehan said. "All week in school everybody was talking about it… everybody's just been waiting for this for so long. I'm honored to be a part of it."
The long wait the players, coaches and fans referred to all night was a 26-year gap between sectional titles. The Bulldogs appeared in four of the last six finals, most recently a two-point loss to Hornell in 2017, but hadn't won the big one under coach John Gammon's leadership until Saturday. This is the fifth title in school history.
The complete scoring summary took place in the first quarter. Livonia recovered a squib on the opening kickoff around midfield and took advantage of the prime field position by scoring the first touchdown on a two-yard Minnehan keeper just two minutes into the game. As the first quarter was winding down, Minnehan connected with tight end Steffan Gwyn to make it 12-0.
Gwyn caught two passes for 67 yards, while Joel Smith had 12 carries for 61 yards.
The rest of the game was a defensive showcase by a group that hasn't given up a point since Oct. 25. After breaking up a deep pass at the beginning of the second quarter, Minnehan intercepted the very next throw to preserve the shutout. He thwarted a budding drive with 4:32 until halftime with a second pick. Sean Mayo brought in the Bulldogs' third takeaway when he jumped a route at the start of the fourth quarter.
HF-L commenced several drives in Livonia territory and was threatening in the red zone multiple times. Some costly penalties and great Bulldog defense prevented them from ever reaching paydirt.
"This group's very special to me because I started with them in youth football several years ago, when they were eight years old," Gammon said. "They went to four straight championships then and now they're here again, so they're used to being in big games and coming out on top. It's a special group."
The tight-knit Livonia community embraced its special group, packing the visiting stands designated for the lower seed and vacating them to celebrate on the field when time expired.
It was an unusual sight, non-players joining in the handshake line and congratulating the players on a great season. But it made sense to the people they were cheering on. That's how big football is in Livonia.
"It's everything," Minnehan said. "Friday nights, everyone in town comes out to the games. It's a community. It's more than football, and that's what you're seeing tonight. Everyone's so happy for us."