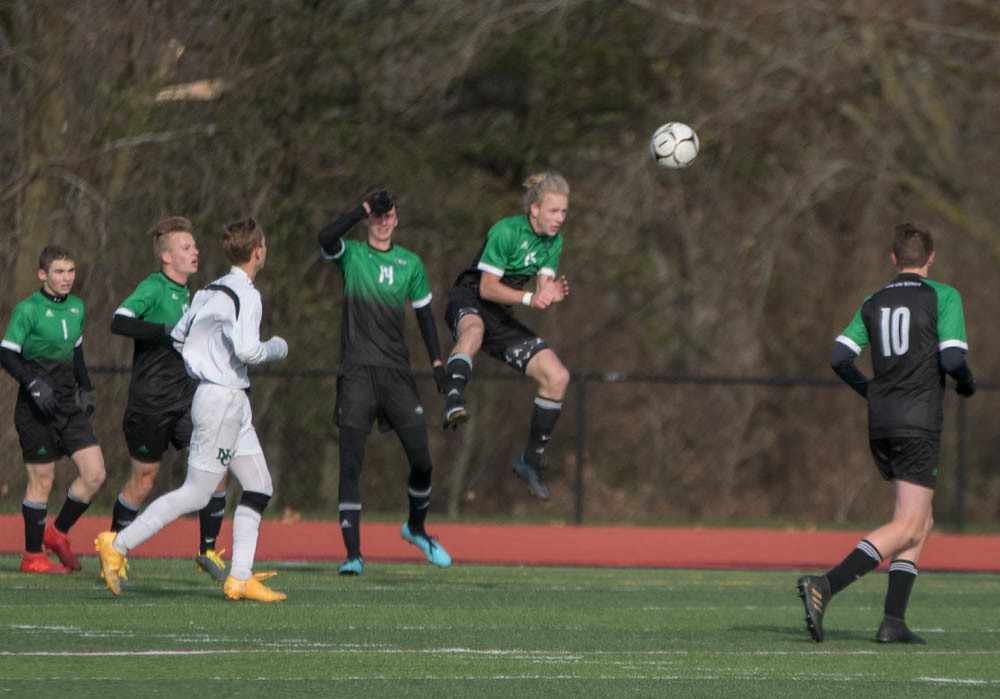 By CARSON WERNER
HILTON, N.Y. — Eighth grader Eben Schilke and junior Isaiah Voss scored three minutes apart in the first half to propel Fillmore over North Collins, 3-0 as the Eagles advanced to the New York State Class D semifinals for the first time since 2007.
Trailing 1-0 in the 17th minute, North Collins forced a scramble in front of the Fillmore net and managed to punch the ball by the keeper, tying the game. However, underneath the celebrating fans and players, the line referee stood poised with his flag signaling an offside.
The waved-off tally turned out to be crucial in keeping the momentum on Fillmore's side.
Before North Collins had another chance at evening the score, Voss doubled Fillmore's lead on rebounded shots from Tobias and Levi Webb.
After two rebound chances, Isaiah Voss doubles Fillmore's lead with 8 minutes remaining in the first half.

Fillmore 2
North Collins 0 @PickinSplinters pic.twitter.com/nkNI30gHjk

— Carson Werner (@CarsonWerner1) November 9, 2019
Shortly after, Eben Schilke capitalized on another rebound chance to give Fillmore a 3-0 lead going into halftime.
VIEW MORE SUE KANE PHOTOS HERE. 
In the ninth minute, Levi Webb redirected a corner kick from Ethan Peet out of mid-air to give Fillmore a lead it wouldn't surrender. The goal came after an onslaught of pressure from the offense, consisting of three corner kicks and four saves from North Collins' keeper, Dominic Fricano.
An early chance for Fillmore stopped by the post.

6 minutes have passed in the first half. @PickinSplinters pic.twitter.com/7emUZwAFgK

— Carson Werner (@CarsonWerner1) November 9, 2019
The second half was very unlike the first in terms of control. It seemed that whichever side could use the wind to its advantage was able to keep the opponent pinned in its own end for longer durations. When the sides switched, North Collins's possession time improved while Fillmore's game plan turned to a defensive focus. After scoring the game's first goal, Levi Webb found himself at sweeper to contest North Collins' drives in the second half.
"That was a game of two halves," Fillmore head coach Jamie Mullen said. "I thought we actually played good soccer in the first half. In the end, I was just trying to survive. The wind changed the whole flow of the game. Their punts were ending up in our box. At that point I was trying to be pragmatic and pull out a win."
Early in the first half Fillmore's third top goal-getter, Mitchell Ward, left the match with a shoulder injury, something that has plagued him throughout the year. The freshman has 12 goals and six assists so far in his inaugural varsity season.
Later in the match, senior assist-leader Ethan Peet sat the majority of the second half due to an injury as well.
With only five substitutes, including two eighth graders, the Fillmore roster can't afford injuries, particularly this late in the season.
"I mean it's devastating," Mullen said. "Ethan has been the most consistent player all season long and Mitch keeps ripping his shoulder apart, puts it back in and tries to play again. At that point I'm just grasping at straws. I have no tools, no options."
"Normally Peety [Peet] doesn't come out of the game and there's a few guys I count on to put in those man hours and tonight I had to split the job. But you know what? When Eben Schilke, an eighth grader, goes out and scores a huge goal and Isaiah, who only gets 10 minutes a game, comes through with another big goal. I'll take that any day."
Fillmore will play Section IV Class D champions, the Marathon Olympians, on Nov. 16 in the state semifinals. Kickoff is scheduled at 1:00 PM at Faller Field in Middletown, N.Y.