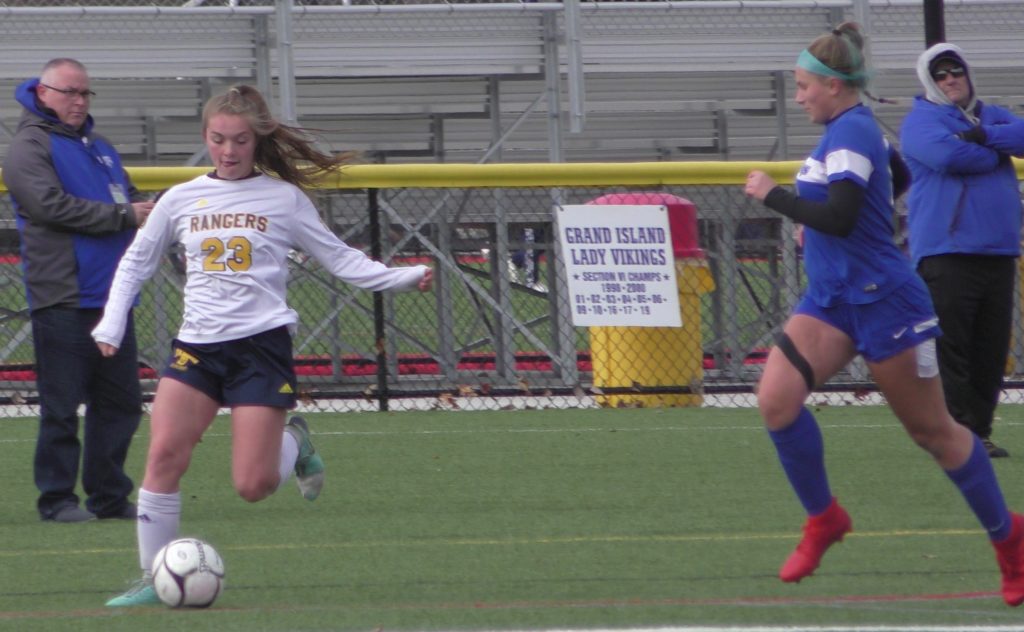 By PAUL GOTHAM
EAST AMHERST, N.Y. — Maddy Brongo connected in the second sudden-victory overtime period to lift the Spencerport girls' soccer team to a 2-1 win over Grand Island (VI) Saturday in the New York State Class A Far West Regional.
With the victory, Spencerport clinched its fourth straight trip to New York State semifinals.
"Four years of schooling, four years of states," the senior captain said after her goal less than one minute into the final overtime session clinched the win.  "All I can say is it's insane. I couldn't have imagined it.
"I was like getting ready for the goalie to punt it, backing up and just like that it's over. It was in the net.  I don't even think it's real right now."
When Grand Island mishandled the ball inside the 18-yard box, Brongo was there to capitalize.
"It wasn't necessarily a great tactical goal, but we worked hard in the midfield and made something happen," Spencerport head coach Jamie Schneider said.  "And she finished it."
The winning sequence started with Amy Cannan playing a service from midfield. Brongo and her sister Lily created enough pressure to cause a mistake.
"Really it goes out to Amy Cannan," Maddy Brongo said. "Her hard work throughout the game was the difference. She chipped it in. Me and my sister just went in. We wanted it."
Lily Brongo gave Spencerport a 1-nil lead when she converted a penalty kick with 12:27 remaining in the first half.
Lily Brongo coverts the PK to give @Rangers_GSOC a 1-nil lead. 12:27 to go first half NYS Class A GSOC Far West Regional pic.twitter.com/fjfm7vdkNV

— Paul Gotham (@PickinSplinters) November 9, 2019
Grand Island needed less than six minutes of the second half to level the match. Trinity Meinhart scored on a second chance from a free kick opportunity for the equalizer.
The teams played 25 minutes of overtime before Brongo scored with 4:28 remaining until the teams would have gone on to PKs.
Early corner kick opportunity for @Rangers_GSOC NYS Class A GSOC Far West Regional pic.twitter.com/yqXFGtf61Q

— Paul Gotham (@PickinSplinters) November 9, 2019
"This one was a lot of effort," Schneider said. "That was a very physical, demanding game as far as work load. That just took a lot of work, a lot of heart to keep it going.
"Today I felt like it was a midfield battle. Grand Island is a very good team. Tactically us winning the midfield was key."
Spencerport (No. 3 NYSSWA) will play Pearl River (I/No. 4 NYSSWA) next Saturday at SUNY Cortland for the right to play in the state championship game the following day. A 12:30 PM kickoff is scheduled on Red Field. Spencerport and Pearl River met in the 2017 NYS championship game.