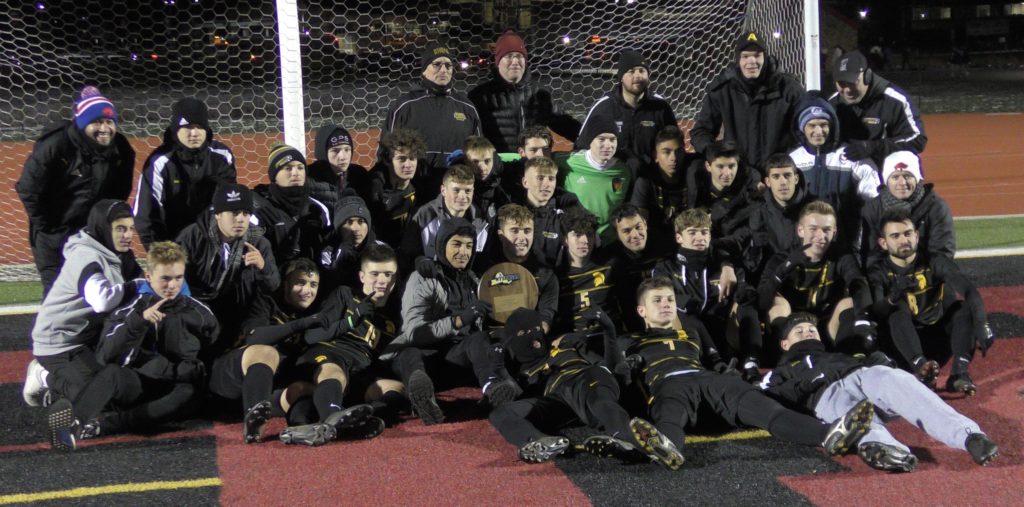 By PAUL GOTHAM
ROCHESTER, N.Y. — Ryan Fitzgerald didn't need a detailed explanation. With Othman Belhseine and Dylan Rice shouldering the bulk of the scoring in recent games, the junior midfielder knew his two teammates would receive added attention in Friday's New York State Class A Far West Regional.
Fitzgerald's first-half goal started the scoring and Greece Athena went on to a 3-nil win over Niagara Wheatfield (VI).
"We knew they were a great team, and they were going to lock them down pretty good," Fitzgerald said of the Falcons (17-2-1). "We knew somebody had to step up today. Luckily I could do it."
Fitzgerald one-timed the rebound off his original shot for a 1-nil lead with 14:23 remaining in the first half.
"In practices, we've been working on that," he explained. "Just like we drew it up."
The play started near the left corner flag. Gavin Rice used a head flick off a Belhseine throw-in to set up Fitzgerald just outside the 6-yard box. His original attempt rang off the left post. He made sure of the second opportunity.
"Othman, he has the biggest throw on the team. Gavin has a great flick, so he just flicked it. I was wide open. Trapped it. Luckily it went off the post and it fell right back to me."
Less than two minutes later, Belhseine went down with an injury. The senior attacker, with 19 goals and five assists on the season, did not return in the second half. Neither did Mark Maio who also went to the turf with an injury.
"I thought we were playing great," Athena head coach Mike Butler said. "When Othman went down, I thought it shifted right then. I thought we were on our heels for a while at that point. It was a little scary. We tried to regroup at the half. We played a lot more guys than we have. Some guys came in and gave us some good efforts obviously."
Emmitt Rosado doubled the advantage in the 65th minute when he connected on his first varsity goal. Dylan Rice put the game out of reach with 2:22 left on the clock.
15:55 remaining Emmitt Rosado gives @AthenaHigh a 2-0 lead NYS Class A Far West Regional pic.twitter.com/VMQ4uuZ3Bp

— Paul Gotham (@PickinSplinters) November 9, 2019
"I thought we started the game great," Butler added. "I thought we knocked the ball around beautifully, and we were the better team. They worked hard and were physical.
2:22 remaining Dylan Rice seals it. @AthenaHigh 3-0 pic.twitter.com/X4OEaS5zuh

— Paul Gotham (@PickinSplinters) November 9, 2019
"I thought where we really started to click at the end when Ryan Fitzgerald went up top. I hope "Oth" is back next week, but if he's not, that's going to have to be the guy. He looked good."
Athena (17-2-2) advances to the New York State Class A semifinals for the first time since 2014 when the Trojans won the title.
Niagara Wheatfield dropped to 17-2-1 with the loss. The Falcons had only allowed five goals in their previous 19 games and had not allowed more than one tally in any single outing this season. They came into the game outscoring their previous four opponents 8-1.
Late corner kick opportunity for Niagara Wheatfield denied by @AthenaHigh 4 remaining pic.twitter.com/0RnJCNBMQO

— Paul Gotham (@PickinSplinters) November 9, 2019
"We thought we would possess the ball better than they would," Butler stated. "We knew if we could take away 16 (Jake Vallas 22 goals/12 assists), we might be okay. In the first half we man-marked him. In the second half we said we got to get back to kinda knocking the ball around, so we went away from that. He didn't hurt us. We were able to neutralize him a little bit more in the second half than the first half."
Athena will play the Jamesville-Dewitt (III) vs. Burnt Hills-Ballston Lake (II) winner next Saturday at Faller Field in Middletown, New York.