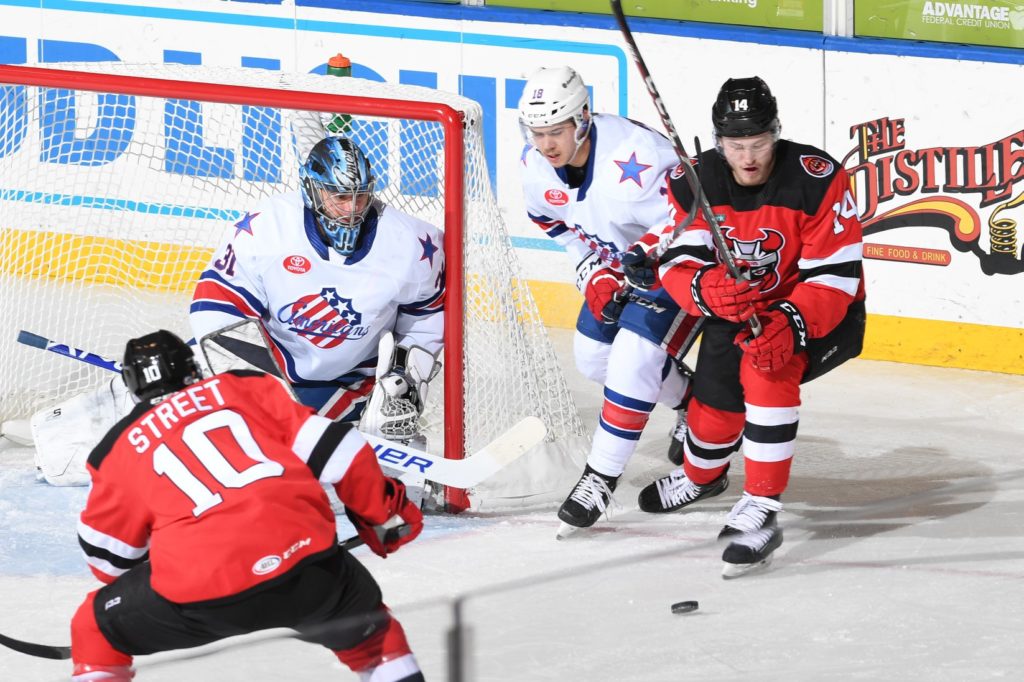 By KEVIN OKLOBZIJA
On Saturday, the Rochester Americans blitzed the riding-high Utica Comets 6-0 on the road, their signature win for the first 30 days of the season.
On Friday on home ice, that same Amerks team opened a 2-0 lead against the finding-their-way Binghamton Devils and managed to lose.
Brett Seney scored an extra-attacker goal with 45.6 seconds left, then Ben Street scored the only goal in the tiebreaker shootout on the fourth round and the Devils left town with a 4-3 victory.
Yes, the Amerks earned a point, and their record sits at 7-3-1-2 with 17 points through 13 games.
But when you're playing an inferior team, and when you build a 2-0 first period lead and take a 3-2 lead into the game's final minute, you're supposed to win.
When you don't, there are no consolation prizes, no positives to trumpet.
"Whenever you have a lead in the third, that's the poise you want to exhibit," interim coach Gord Dineen said. "I don't think we did that."
Of course, it's difficult to win in today's game when your power play is inept, especially at Blue Cross Arena at the War Memorial. The Amerks have scored just one power-play goal at home — in 32 attempts. That's a league-worst 3.1 percent. Overall, they're connecting just 9.2 percent of the time.
"Our power play was awful tonight," captain Kevin Porter said after an 0-for-6 showing. "We definitely have to fix that."
Tage Thompson had given the Amerks that 3-2 lead 3:03 into the third period. He attacked through the neutral zone with speed and gained a free entry into the Devils zone when Joey Anderson stumbled while trying to get position.
Thompson then zipped a bullet wrist shot past the glove of goalie Gilles Senn and into the top right corner of the net for his team-leading sixth goal.
"It was a highlight goal as far as using his speed and his shot," Dineen said.
But when it came time for the Amerks to close it out, they failed. As Street passed from the right point down to Chris Conner at the right edge of the crease, Seney came flying down the left side of the slot, behind Curtis Lazar.
Conner then passed through the deep slot and Seney one-timed it past goalie Jonas Johansson.
"I probably got a little too extended," Lazar said, "but there's a reason they have an extra skater. As good as we are as a team, we have to find a way to close it out."
Both teams had chances in overtime, including Thompson, whose rocket wrister from the middle of the slot slithered between the pads of Senn but the goalie was able to fall backward and smother the puck before it crossed the goal line.
"I thought I had that spot picked; he made a great save," Thompson said.