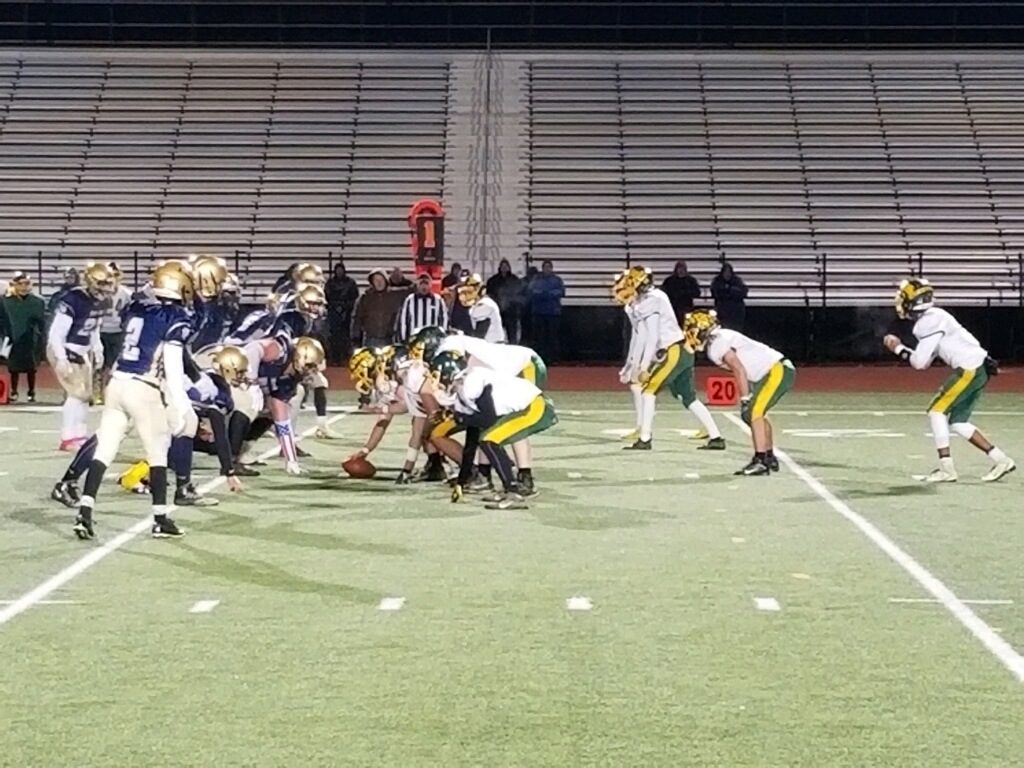 By JOHN LIKANJE
BROCKPORT, N.Y. – The Notre Dame Batavia varsity football program had been the most dominant team in Section V, exploding for 42.8 points per game while allowing only 7.0 en route to an undefeated record. The Fighting Irish were coming off a 52-6 dominating victory in the semifinals as well.
So when senior tailback Jedidiah Reese scored a 27-yard punt return touchdown for a 14-0 lead, it seemed as if Joseph Zambito's squad was destined to blow away Alexander again, similar to their regular season matchup three weeks prior. However, the Fighting Irish needed all of those points to hold off the defending champions, 14-7, and win their first sectional title since 2012.
"I couldn't be happier for the kids," Zambito said. "This is all about the kids. They did a fantastic job. They deserve this win. They were up against it and they did their job tonight."
The Fighting Irish's offense came out hot in the frigid temperatures of Eunice Kennedy Shriver Stadium. On their first drive of the game, junior quarterback Gabe Macdonald charged his way to a pair of first downs with runs of 14 and six yards, respectively. After Reese was shoved back for a three-yard loss, Macdonald found Mark Sanders, Jr. for a nine-yard completion to keep the possession alive. Reese redeemed himself from his previous run with a two-yard carry before bursting through the line of scrimmage for a 17-yard touchdown.
"I know that we bend, but don't break and come together as a team, as a family," Reese said. "I said that all year. That's what it came down to."
.@SecVFootball D Final – @NDHSSports vs. @Alex_Schools: Jedidiah Reese 17-yard TD run. Cody Henry 2-point conversion. 1:34 1Q: Notre Dame 8 Alexander 0. @PickinSplinters pic.twitter.com/L8vW9cxP6i

— John Mitchell Likanje Junior (@jml5798) November 9, 2019
Despite being held to 57 rushing yards, Reese scored a pair of touchdowns to bring his season total up to 23. Macdonald bullied his way to 108 rushing yards and completed four passes for 32 more. The Fighting Irish ran 34 of their 37 plays for Macdonald and Reese. The duo combined for all of the Fighting Irish's carries as well – 16 for Macdonald and 15 for Reese.
Sanders caught three passes for 29 yards while Cody Henry had a reception. Henry led the defense with 12 tackles. Senior defensive lineman Dakota Sica added nine tackles, including two for a loss, and Anthony Zambito had eight.
"It's my senior year and another game, another week of practice," Sica explained about playing at least one more game. "It's just coming to an end soon, but we love each other so much. It's incredible how close we've become together."
The Fighting Irish defense racked up 64 tackles, including eight for losses. Zambito's line rushed for three sacks and deflected four passes as well.
The Alexander Trojans made an early adjustment by sliding Tyrone Woods, Jr. to quarterback. From there, the senior used his pure athleticism to glide his way to 131 rushing yards on 22 carries. Woods threw a 21-yard touchdown pass to Kameron Lyons to cut the deficit in half with 10:10 remaining in the game.
"I knew they were going to bring it," Zambito said in praising Alexander. "I told our guys all week. I mean, they're the champs. It's hard to dethrone the champions and they played a great game tonight. They played really hard. We had a few times where we could've put the game away and they just wouldn't let us salt it away. I give them a lot of credit."
Notre Dame Batavia advances to the New York State Far West Regionals next weekend back at Brockport. The Fighting Irish will take on the Section VI winner of Clymer/Sherman/Panama and Franklinville/Ellicottville Friday at 5 p.m.