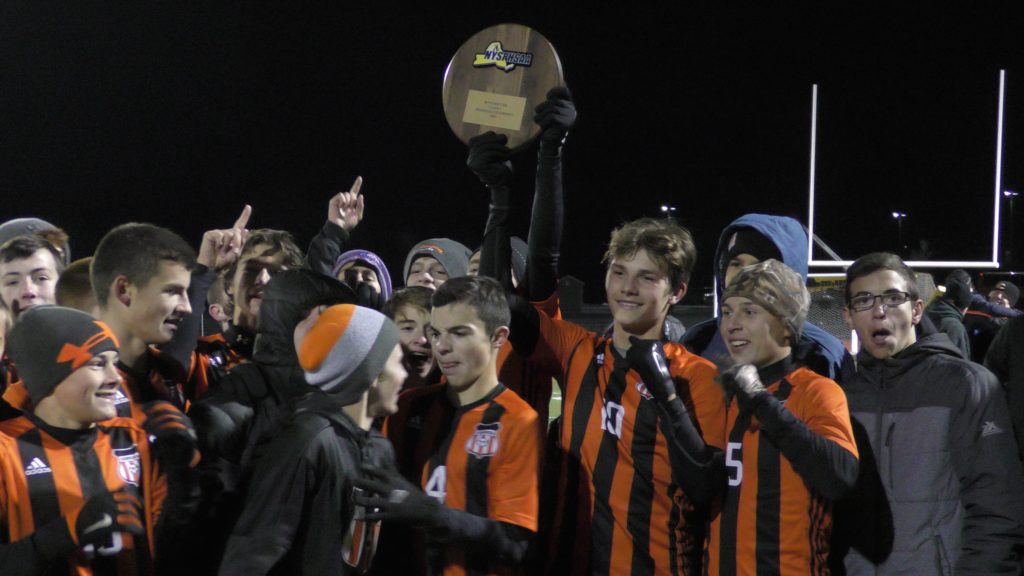 By PAUL GOTHAM
ROCHESTER, N.Y. — Reese Powers netted a pair of goals including the first of back-to-back strikes, and the Keshequa Indians advanced to the New York State Class C semifinals with a 4-1 win over Maple Grove (VI).
"That's all my teammates," the sophomore midfielder said. "I owe all my goals today to them just basically the whole game."
He started the scoring in the 22nd minute finishing a combination along the left side with his teammate Aidan Wood.
"My teammate Aidan Wood went straight by everyone basically. He took it around the keeper and the defender and laid it off to me for an open net. That's all him."
Less than 30 seconds later, Avery Strobel took a Riley Rease pass and found the back of the net.
"The kids so deserve it," head coach Ron Macomber said. "They've trained so hard, played in the offseason so much. They're a great group to be around."
Rease and Powers added to the lead less than 10 minutes into the second half.
33:22 remaining NYS Class C Far West Regional – Riley Rease gives Keshequa a 3-nil lead over Maple Grove. pic.twitter.com/lkXfa3bbtQ

— Paul Gotham (@PickinSplinters) November 8, 2019
Maple Grove (17-3-0) came into the game having allowed just eight goals on the season. The Red Dragons had allowed more than one goal in a single game just once this season.
"They played us very high which kinda played into our hands a little bit," Macomber explained. "Once we started realizing that and playing the ball early we got a lot of chances. It was awesome."
Keshequa (No. 7 NYSSWA) improved to 21-0-0 on the season. The Indians knocked off the state's top ranked Class C team in East Rochester to reach Friday's Far West Regional.
"We won the ball more in the midfield than normal," Powers noted. "We just played much better as a team and as a unit.
"The momentum is so much. Winning against a seeded-one team is astounding."
Keshequa will play the Lansing (IV) vs. Bishop Grimes (III) winner next Saturday at Faller Field in Middletown.
"We're going to enjoy this right now and take it as far as we can go," Macomber said. "We've been taking everything one game at a time, and we'll do the same next weekend."