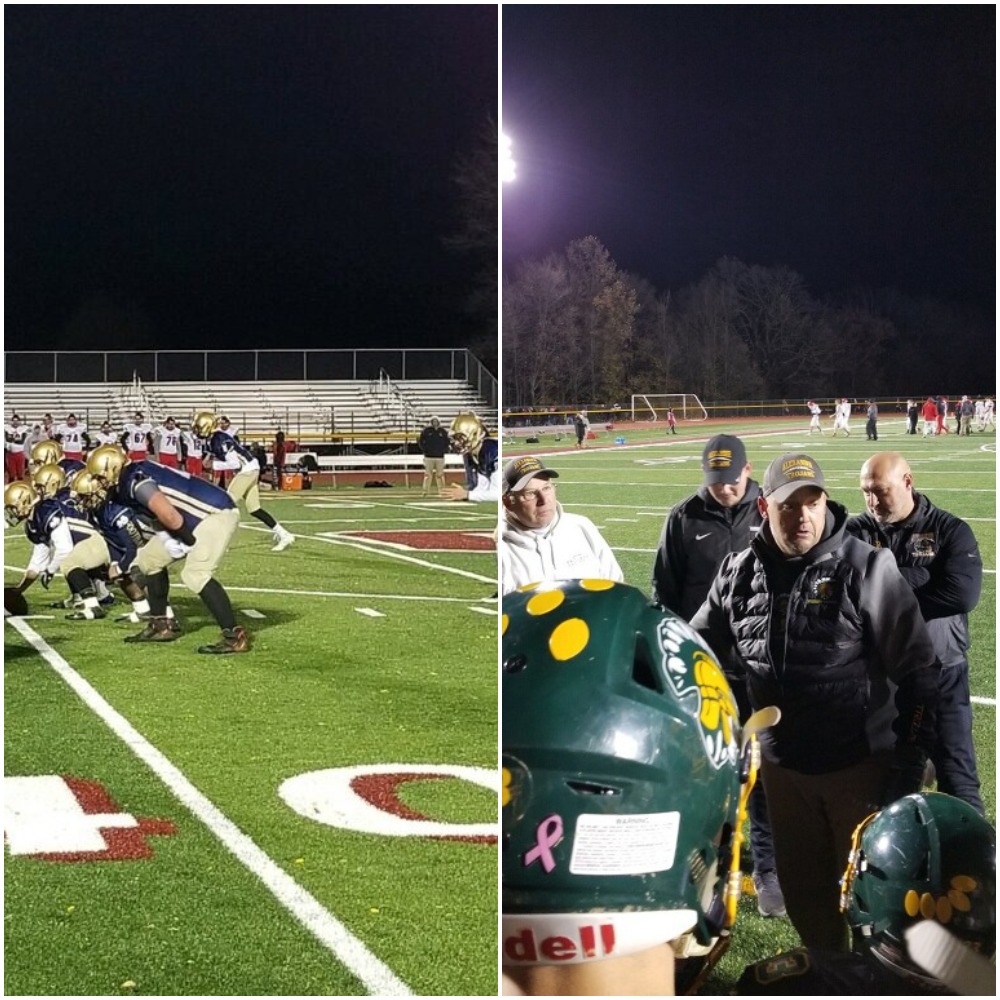 One team is looking to win its first title since 2012. The other wants to win its third in four years. Notre Dame Batavia and Alexander will meet Friday to decide the 2019 Section V Class D Football Championship. Here's the breakdown:
No. 1 seed NOTRE DAME BATAVIA FIGHTING IRISH (9-0) vs. No. 2 seed ALEXANDER TROJANS (8-1)
How they arrived here: Notre Dame Batavia (No. 4 NYSSWA) defeated No. 8 seed York/Pavilion, 26-0, before downing fifth-seeded Bolivar-Richburg, 52-6, in the semis.
Alexander (No. 6 NYSSWA) beat No. 7 Clyde-Savannah by a 30-0 score in the quarterfinal round. The Trojans took down No. 3 Red Jacket, 8-0, in the semifinals.
Points scored per game: Notre Dame Batavia (42.8), Alexander (23)
Points allowed per game: Notre Dame Batavia (7), Alexander (9)
Last time they met: Notre Dame Batavia shut out Alexander, 40-0, in the regular season finale.
Trends: Despite Notre Dame Batavia's explosive offense, their defense has allowed only 63 points this season. Dating back to last season, Alexander has won 18 of the last 20 games. The Trojans' defense has allowed only 81 points this year as well.
Names to know: Notre Dame Batavia – Cody Henry So. RB, LB 63 tackles, 2 interceptions, 2 sack; Gabe Macdonald Jr. QB, RB, LB 864 rushing yards, 823 passing yards, 20 touchdowns, 56 tackles, 4 interceptions; Jedidiah Reese Sr. RB, LB 1,682 rushing yards, 21 touchdowns, 30 tackles, 2 interceptions; Mark Sanders, Jr. Jr. RB, WR, DB 407 receiving yards, 212 rushing yards, five touchdowns, 37 tackles, 4 interceptions
Alexander – Dylan Busch Sr. QB, LB 1,029 passing yards, 10 touchdowns; Devin Dean Jr. LB 41 tackles; Kameron Lyons Sr. WR, DB 298 receiving yards, 2 touchdowns; Tyrone Woods Sr. RB, LB 929 rushing yards, 164 receiving yards, 11 touchdowns, 46 tackles
Coaches: Timothy Sawyer (Alexander), Joseph Zambito (Notre Dame Batavia)
History 101: Notre Dame Batavia is seeking their seventh sectional title in program history and first since 2012. The Fighting Irish won back-to-back class C championships in 1980 and 1981. Alexander is the defending champion and seeking their third sectional title in the last four years.
What they're saying: Zambito – "We haven't been to a sectional final in a long time. We're real excited for the sectional final game. It's always tough to beat a team twice. We're just going to put in the effort that we put in the film room and on the field at practice and hopefully, next Friday night, we'll show up to play another one."
Sawyer – "We don't want to get ahead of ourselves. One week at a time. We're clearly the underdogs and I understand that. It's not a role that we're used to, but we're going to embrace it and put our best effort in practice this week and be prepared."
What's at stake: A spot in the NYS Far West Regional against the winner of the Section VI final between Clymer/Sherman/Panama (No. 3 NYSSWA) and Franklinville/Ellicottville (No. 2 NYSSWA).
A 7 p.m. kickoff is scheduled Friday at the College at Brockport.