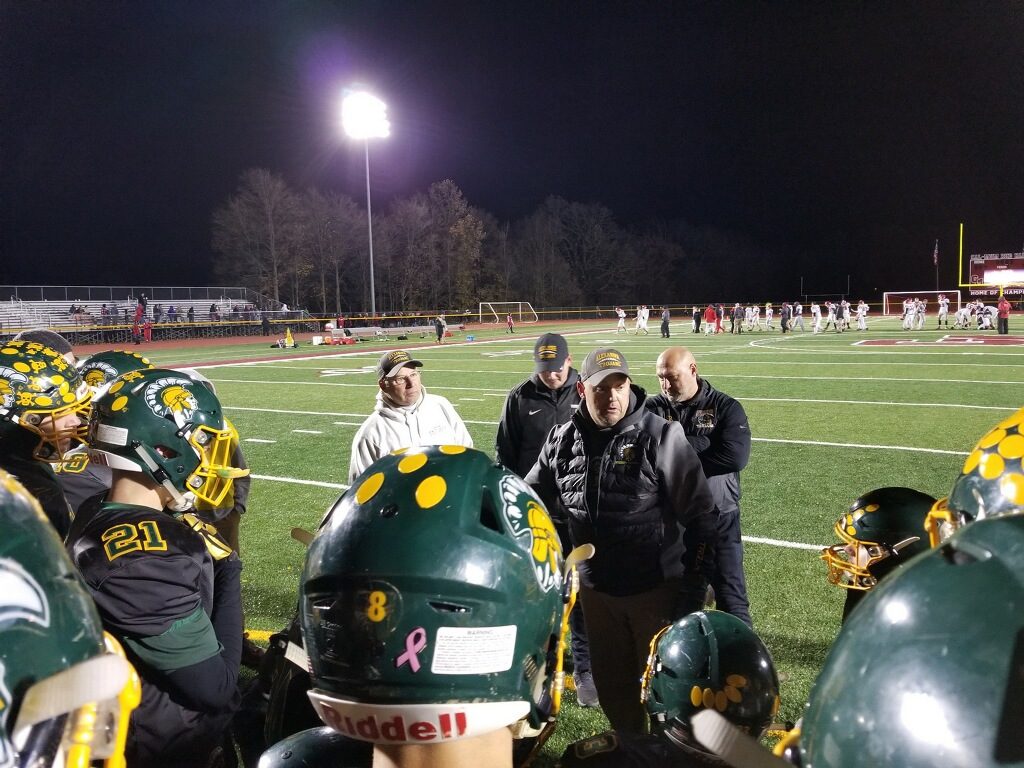 By JOHN LIKANJE
CALEDONIA, N.Y. – Alexander scored all of its points in the first quarter and made them stand, grinding out an 8-0 shutout victory over Red Jacket in the sectional semifinals.
"Excellent effort tonight," Alexander head coach Timothy Sawyer said. "We did enough offensively to win the football game. I mean, we'd like it to be more efficient and smoother. We struggled through the offense, but our defense did their job and brought this victory to us."
Senior quarterback Dylan Busch scored his first rush touchdown of the season on a one-yard sneak for the only score of the game. On the third drive of the game from their 25-yard line, Tyrone Woods, Jr. got the Trojans going with a couple of carries for four yards before hauling in a catch for a gain of 16.
Senior Josh DeVries gained nine yards and Hayden Walton scrambled for seven more to set up a 34-yard sprint for Woods. Woods ran four more yards to set up Busch's keeper.
.@SecVFootball D semifinal – @RJ_Football vs. @Alex_Schools: Dylan Busch jumps over the pile and finds paydirt. Connor Hollands 2-point conversion. 4:43 1Q: Alexander 8 Red Jacket 0. @PickinSplinters pic.twitter.com/DMSkC776yQ

— John Mitchell Likanje Junior (@jml5798) November 2, 2019
Woods led the offense with 120 rushing yards on 22 carries and two catches for 42 more. The senior tailback has compiled 929 rushing yards and 164 receiving yards this season.
"These guys come up and they're looking to fill shoes," Woods said. "We lost a lot of a good players over the last few years. I feel like a lot of people feel pressure because of how successful Alexander's program has been. These guys are really excited to be part of this and it improves their game play."
Busch completed four passes for 65 yards and racked up 45 with his legs. The senior quarterback has 1,029 passing yards and 10 touchdowns in nine games.
"It feels great to just punch it through man," Busch said.
Senior Ethan Heineman led the staunch defensive effort with seven tackles and a quarterback sack. Devin Dean added six and Hayden Walton had five. Kameron Lyons and Woods each snagged an interception. Lyons' interception came on 3rd-and-Goal from the two-yard line to end Red Jacket's scoring threat.
.@SecVFootball D semifinal – @RJ_Football vs. @Alex_Schools: Kameron Lyons with the Trojans' 2nd interception of the game. @PickinSplinters pic.twitter.com/KiFyw0sQ1h

— John Mitchell Likanje Junior (@jml5798) November 2, 2019
Junior defensive back Jay Morrison recovered a fumble as well. Alexander has held their opponents to 81 points this season – nine per game. The Trojans have shut out both squads they've faced in sectionals thus far.
"It's an incredible defensive effort," Walton said. "Shutting two teams out in a row, especially in sectionals, when everybody's giving it their all. Really tough. But we went out and if we play defense, we'll always have a chance to win."
For Red Jacket, senior Jarrett LeGault led the offense with 13 carries and 71 yards. Matt Record completed three passes for 29 yards – all of which went to wide receiver Chase Rizzo. Record had three carries for 14 yards as well.
Jacob Anderson led the defensive effort with six tackles. The senior ended the season with a team-leading 69 tackles.
Trenton Coyne, Ethan Lenny and Connor Savoir each recovered a fumble. Hunter Fitzpatrick, Lenny and Savoir had a quarterback sack apiece as well.
Red Jacket ends the season with a 6-3 record.
This is the third consecutive season Alexander eliminated Red Jacket from sectionals. The Trojans (8-1) advance to the final next Friday at 7 p.m. at SUNY Brockport. Alexander will match up with Notre Dame Batavia, who defeated Bolivar-Richburg, 52-6, in the other semifinal game. Notre Dame Batavia shut out Alexander, 40-0, in the regular season finale.
"We don't want to get ahead of ourselves," Sawyer said. "One week at a time. This week was all about Red Jacket. We're clearly the underdogs and I understand that. It's not a role that we're used to, but we're going to embrace it and put our best effort in practice this week and be prepared."