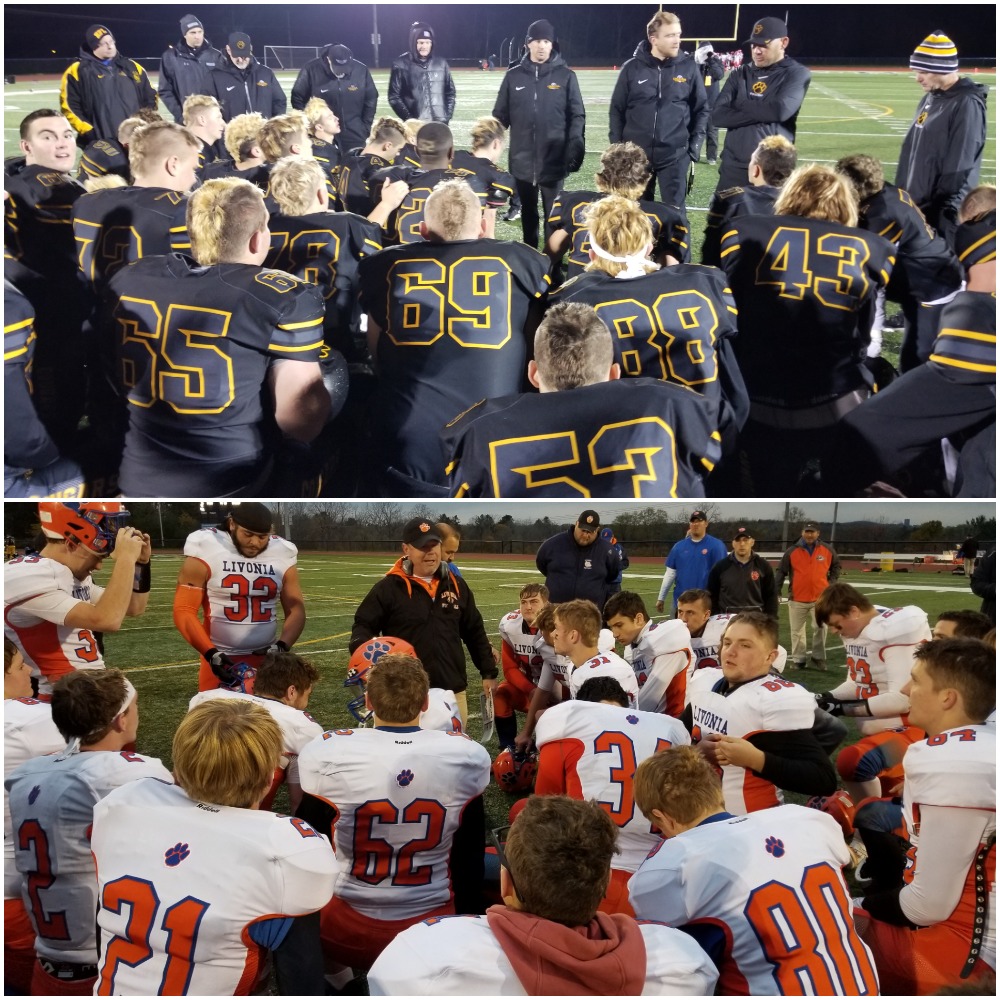 One team is looking to win its first title in program history. The other wants to win its first since 1993. Honeoye Falls-Lima and Livonia will meet Saturday to decide the 2019 Section V Class B Football Championship. Here's the breakdown:
No. 3 seed HONEOYE FALLS-LIMA COUGARS (7-2) vs. No. 4 seed LIVONIA BULLDOGS (7-2)
How they arrived here: Honeoye Falls-Lima (No. 17 NYSSWA) defeated No. 6 seed Wayne, 28-7, in the quarterfinals before downing No. 7 seed Palmyra-Macedon, 14-12, in the semis.
Livonia (No. 15 NYSSWA) beat No. 5 Geneva by a 39-28 score in the quarterfinal round. The Bulldogs took down top-seeded UPrep, 27-0, in the semifinals.
Points scored per game: Honeoye Falls-Lima (29.9), Livonia (34.8)
Points allowed per game: Honeoye Falls-Lima (14.2), Livonia (17.1)
Last time they met: Livonia defeated Honeoye Falls-Lima, 40-14, in the 2017 Class B sectional semifinals.
Trends: Both teams have won five straight. Since scoring seven points in a loss at Brockport on September 27, Honeoye Falls-Lima is averaging 28.6 points per game. Livonia is scoring 36.2 points during the streak.
Names to know: Honeoye Falls-Lima – Mason Ferrara Sr. RB 1,523 rushing yards, 18 touchdowns; Mitch Slymon Sr. WR 534 receiving yards, 7 touchdowns; Turner Wilson Sr. QB 923 passing yards, 241 rushing yards, 15 touchdowns
Livonia – Trevor Allen Jr. OL, LB; Ryan Haugh Sr. RB, DB; Marcus Lewis Sr. RB, DB; Alex Minnehan Jr. WR, DB; Jake Smith Jr. RB, DB
Coaches: John Gammon (Livonia), John Russ (Honeoye Falls-Lima)
History 101: Honeoye Falls-Lima is seeking its first sectional title in program history. Livonia is seeking their first sectional title since 1993 when they won back-to-back class B championships.
What they're saying: Russ – "I look for another classic HF-L/Livonia battle like we had in my day, so we'll be up for the fight and we'll see what happens."
Gammon – "We've been close so many times. We've been in the finals four times in the last six years and we've come up short. This is a special team because I've never seen a team have so much bad luck over the course of a season, but still came out fighting no matter what. That's the type of attitude and grit that you need to pull it out."
What's at stake: A spot in the NYS Far West Regional against the winner of the Section VI final between Albion (No. 14 NYSSWA) and Maritime (No. 12 NYSSWA).
A 7:30 p.m. kickoff is scheduled Saturday at Saint John Fisher College.